Performing Arts and Social Justice 20th Anniversary Festival
Thursday, April 29 - Saturday, May 1, 2021
Change the world from here: 2021 marks the 20th year of Performing Arts & Social Justice at USF. 
To celebrate, the department brought together student, alumni, and faculty artists from the dance, music and theater programs for our first-ever department-wide collaboration. Featuring performances, panels and community-engagement projects, this festival honors the ongoing work of the department and illuminates our vision to use the arts as a tool for positive social change.
THANK YOU
Our first-ever department-wide collaboration has required tough but meaningful conversations. The festival has presented us with opportunities to live up to our values and to better understand performing arts and social justice in practice. Thank you to everyone who has been a part of this process, and thanks to you (yes, YOU!) for being here. We are delighted to share these uniquely "PASJ" creations and collaborations, and we hope you come back to see what the next 20 years have in store.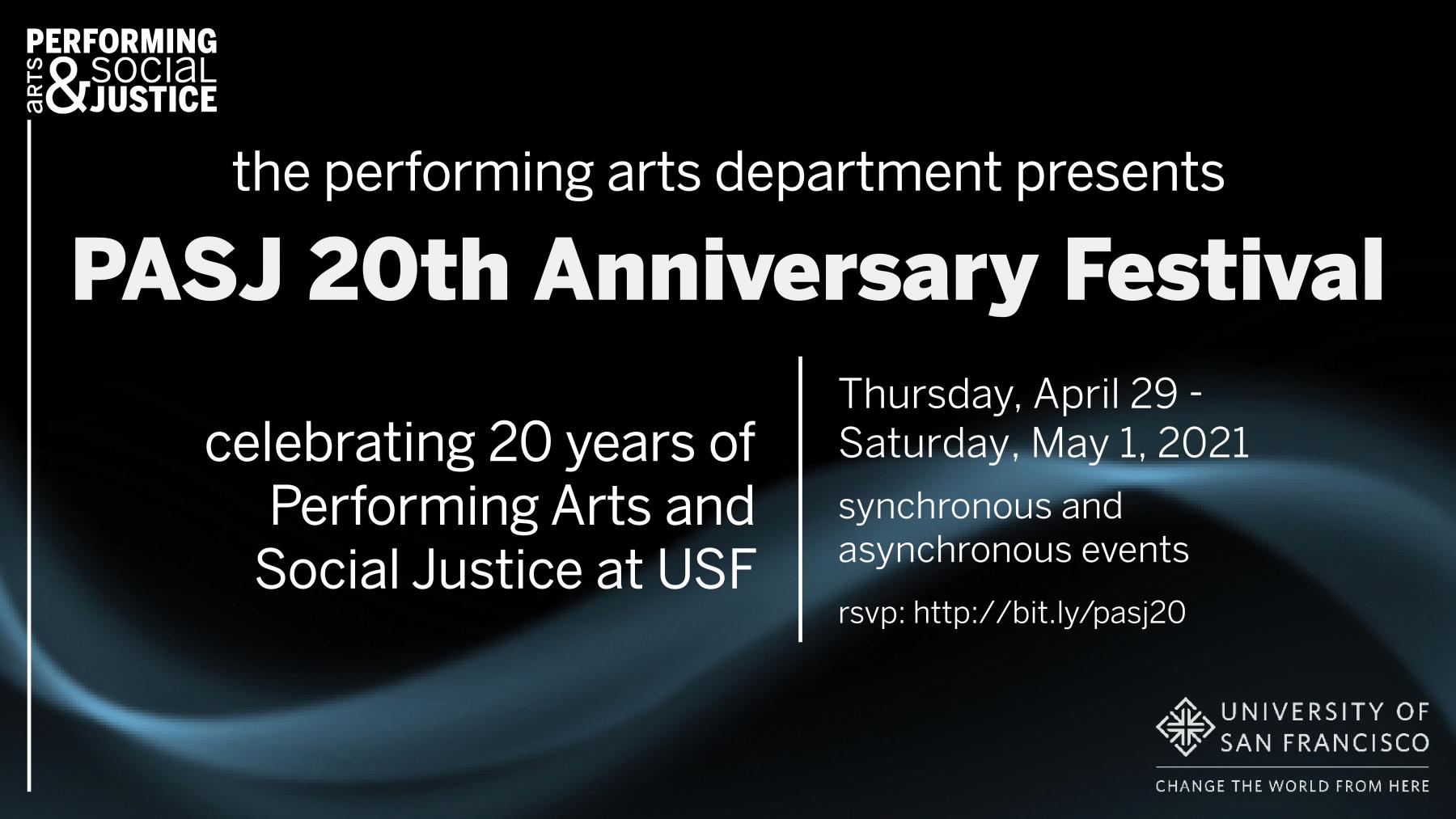 Production Credits
Production Co-Producers: Byron Au Yong, C. Whyler Neubauer, Christine Young
Production Manager & Sound Engineer: Beth Hersh

Video / Editing Consultant & Producer: Loren Robertson Productions

Breathe My Black & Unmute, Engage, Inspire: Natalie Greene

Between the Teeth/Between the Notes: Christine Young

Mentor, Open Air: Eli Nelson

Mentor, Lungs of the Earth: Megan Nicely

Faculty Thought Partners: Amie Dowling, Roberto Gutierrez-Varea

Website:Joshua McDermott

Assistant Producer: Kelli Westad

 

Creative Research and Original Titling & Theme by the Fall 2020 Cabaret Production class:

Instructors -Christine Young and Eli Nelson

Sophie Barajas

Kalan Birnie

Bex Brzostoski

Sophia Dargie

Heidi Erickson

Elena Freiwald

Raychel Hatch

Kelli Westad