XARTS Emergency and Safety
Emergency Assistance – Life or Limb-Threatening
On Campus: USF Public Safety
Campus Phone: 2911
Other Phone: (415) 422-2911
Off Campus: 911 Emergency
Campus Phone: 9, 911
Other Phone: 911
Critical Event Quick Reference
Fire
Alert others in area
Activate fire alarm
Use fire extinguisher (if comfortable)

Pull pin
Aim low at base of fire
Squeeze lever
Sweep from side to side

Evacuate to safe location
Call USF Public Safety:

Campus phone: 2911
Other phone: (415) 422-2911
Earthquake
Drop + Cover + Hold on
If no cover, drop to interior wall, protect head and neck
Avoid exterior walls
After shaking:
Evaluate surroundings
Do not evacuate unless:

directed to do so,
building structure is visibly compromised, or
surroundings are hazardous
Active Shooter
Run — If there is an accessible escape path, attempt to evacuate.
Hide — If evacuation is not possible, find a safe place to hide.
Fight — Last resort, only when your life is in imminent danger, attempt to disrupt and/or incapacitate the active shooter.
Power Outage
Mon-Fri after 5 p.m. and on weekends: Evacuate XARTS
Mon-Fri, 9 a.m.–5 p.m.: Evacuate if unsafe
If faculty/staff remain in XARTS, okay to prop open One Card controlled doors (which automatically lock during a power outage)
Emergency Map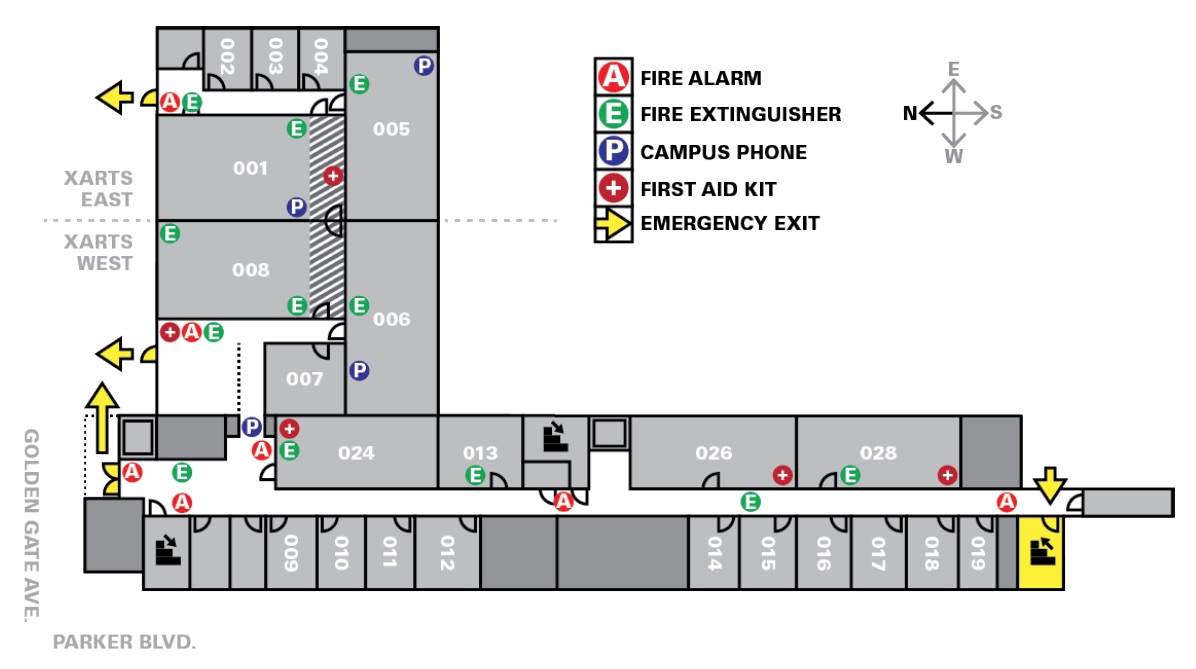 Assembly Location: Koret Soccer Field
Note: If you need the emergency map content in an alternative accessible format, please contact [name of individual and contact info].
Non-Emergency Assistance – Not Life or Limb-Threatening
On Campus: USF Public Safety
Campus Phone: 4201
Other Phone: (415) 422-4201
Off Campus: SF Police Department
Campus Phone: 9, 1, (415) 553-0123
Other Phone: (415) 553-0123
Urgent Building or Facility Issue
Monday–Friday, 9 a.m.–5 p.m.: USF Facilities
Campus Phone: 6464
Other Phone: (415) 422-6464
Monday–Friday, After 5 p.m. & Weekends: USF Public Safety
Campus Phone: 4201
Other Phone: (415) 422-4201