How does MSP work?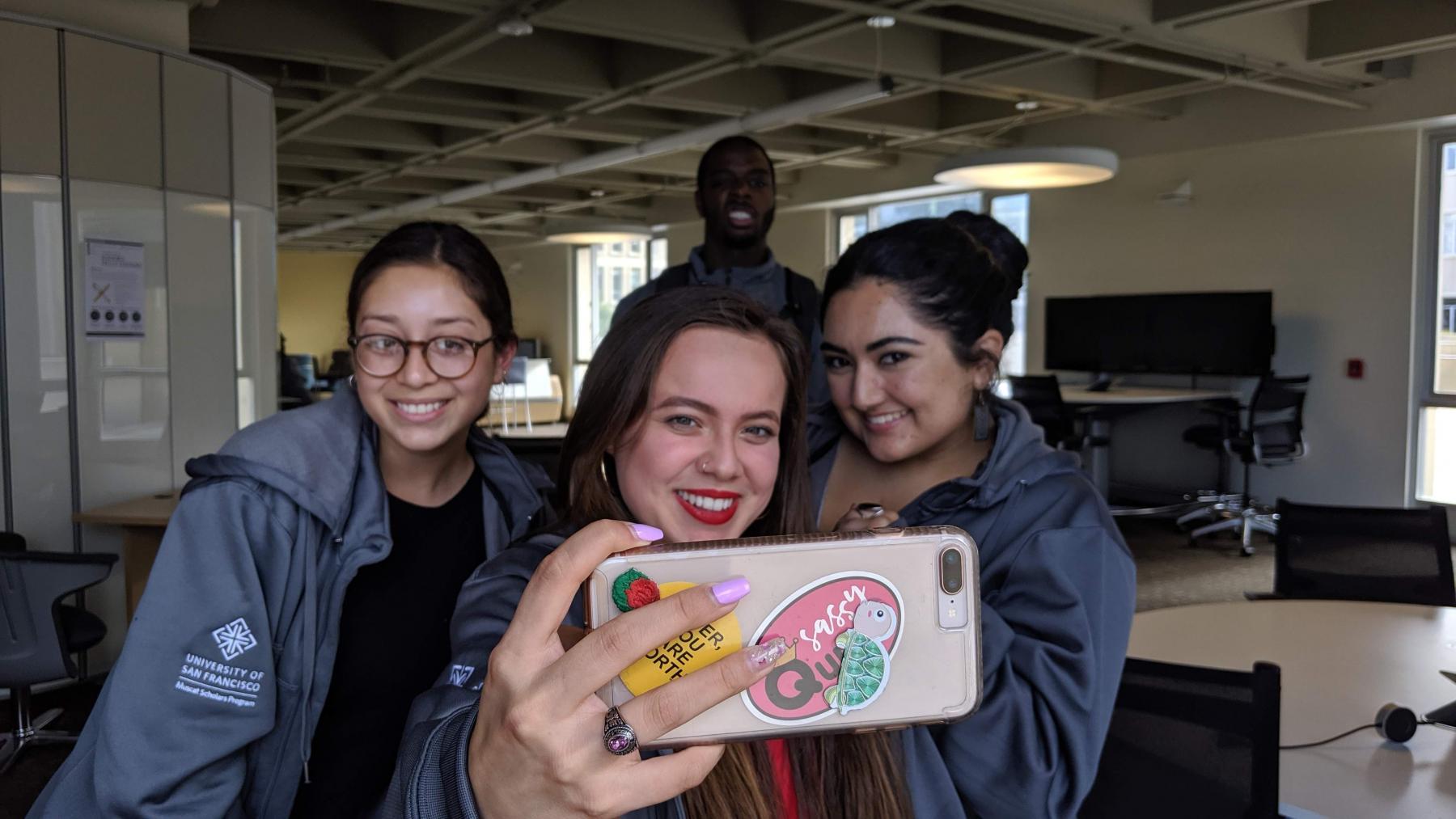 Program Duration
The Muscat Scholars Program (MSP) starts Sunday, June 13 and runs through Friday, August 20th. Scholars will move in on Sunday, August 8th; students who will be living on campus in the Fall will remain in their assigned MSP rooms unless they are part of another living-learning community. Students in BASE and Martin-Baró will move on the 13th to those respective communities.
Program Cost
Upon acceptance into the program, Scholars are asked to pay a non-refundable program fee of $100.00. Students will need to provide their own funds for personal expenses and activities not sponsored by MSP. Please see the application page for more information/deadlines.
Accommodations
All Muscat Scholar Program applicants MUST complete USFRooms by the May deadline established by SHRE.
Housing during the MSP Summer Bridge is in an on-campus residence hall with meals provided. Students will be assigned to single-sex rooms, and participants will live together on the same floors. Each residence hall floor has a shared communal bathroom. Participants should plan to bring their own linens and personal items. All scholars are required to reside in the residence halls for the duration of the program, and are expected to abide by rules and regulations.
Because MSP students are housed together, we ask that applicants for MSP not choose a roommate at this time, they will be matched with a roommate from MSP. If you have chosen a roommate, and they would like to attend MSP as well, you are welcome to both submit an application. If you do not have a roommate, you will be matched with one from MSP.
Classes Credit
This is an academic program. Students will attend classes and workshops; if courses are completed successfully, students will receive two credits toward graduation and grades contributing to their GPA.
Activities
There will be off-campus trips and activities on the weekend and some evenings during the program. Students will have opportunities to get to know the neighborhoods surrounding USF as well as the city of San Francisco.
Resources
Program participants will have access to all campus facilities, including the Koret Health and Recreation Center, the Gleeson Library, and USF's computer labs. Additionally, students will work and interact with many USF faculty and staff members, as well as trained peer mentors and a live-in Muscat Scholar Program Coordinator.
Commitment
The MSP coordinators and mentors make a commitment to develop and lead a program designed to facilitate the success of the student participants. In return, they expect student participants to make the following commitments:
Be free of other obligations for the duration of the program (e.g., jobs, rehearsals, practices, non-MSP classes and activities). The program is intensive and does not allow for outside activities. We have agreements with BASE/Martin-Baró/St. Ignatius Institute to excuse students for their programming.
Reside in the USF residence hall for the duration of the Summer Bridge program, including weekends and overnights, and to adhere to the regulations and rules regarding residency in the halls. If you live in the vicinity of San Francisco, and will not be living on campus during the school year, you are required to live on campus during the program.
Attend and actively participate in classes, workshops, and other activities sponsored by the Muscat Scholars Program.
Participants become official University of San Francisco students once they begin the program. All policies, procedures, and disciplinary policies are expected to be adhered to. See Fogcutter student handbook at http://www.usfca.edu/fogcutter/ for more details.
If Scholars fail to commit to any of these points, we reserve the right to remove participants from the program and/or have participant conduct reviewed by administrative staff.
Peer Mentors
Muscat Scholars are assigned a Peer Mentor who is a continuing student, usually a junior or a senior. The Peer Mentor is a resource that the participant can rely on for assistance throughout the program and during the school year. Each mentor has undergone training and has had prior experience with the Muscat Scholars Program.
Scholars are also placed into groups called Tribes and are lead by a Peer Mentor. Tribes meet in the evenings, discuss activities, and provide support for Scholars. Peer Mentors live with the Scholars for the duration of the program.
Program Coordinator
The Peer Mentors are supported and supervised by the Program Coordinator who also resides with the Scholars and Mentors during the program. The Coordinator oversees the daily program operations and assists with planning during the summer.
Staff Mentor
Scholars are assigned a Staff Mentor who is a member of the Muscat Scholars Program Planning Committee. Participants and Staff Mentors meet during the program and during the school year to check in and provide support.
Academic Success Coach
Every new incoming student at USF is assigned a Success Coach (ASC) who works in the Center for Academic and Student Achievement (CASA). For MSP, the Success Coach is Dr. Charlene Lobo Soriano. Scholars have access to their ASC during the program as well as for all four years at USF.
An ASC provides academic support to students through referrals to resources on campus as well as assistance with forms/ processes. ASCs meet with students to ensure that they are thriving and succeeding at USF.
Muscat Scholars: The First Year
After the intensive summer program, Scholars report that the community feeling that MSP provides is a great foundation for their stay at the University. Scholars also report feeling like they are at home at USF - knowing what resources are available, who to go to, and where everything is!
In the first year, Scholars will meet monthly in cohorts and individually to build and review their Success Plan. This is an essential component of the program and ensures that students stay focused on their success during the school year.
During the school year, students can take The Psychology of Success, a 1-unit course in the Fall. This course will be taught in the residence hall and further builds the MSP experience throughout the school year. There are 2 retreats planned.
In the Spring, students can also take Career Exploration, a 1-unit course to look at the intersections of career and college and how to maximize the college experience.
We believe that our program's structure, intensive support, and its staff, faculty and peer mentors create conditions where participants become self-sufficient and confident as learners and members of the USF community.