Frequently Asked Questions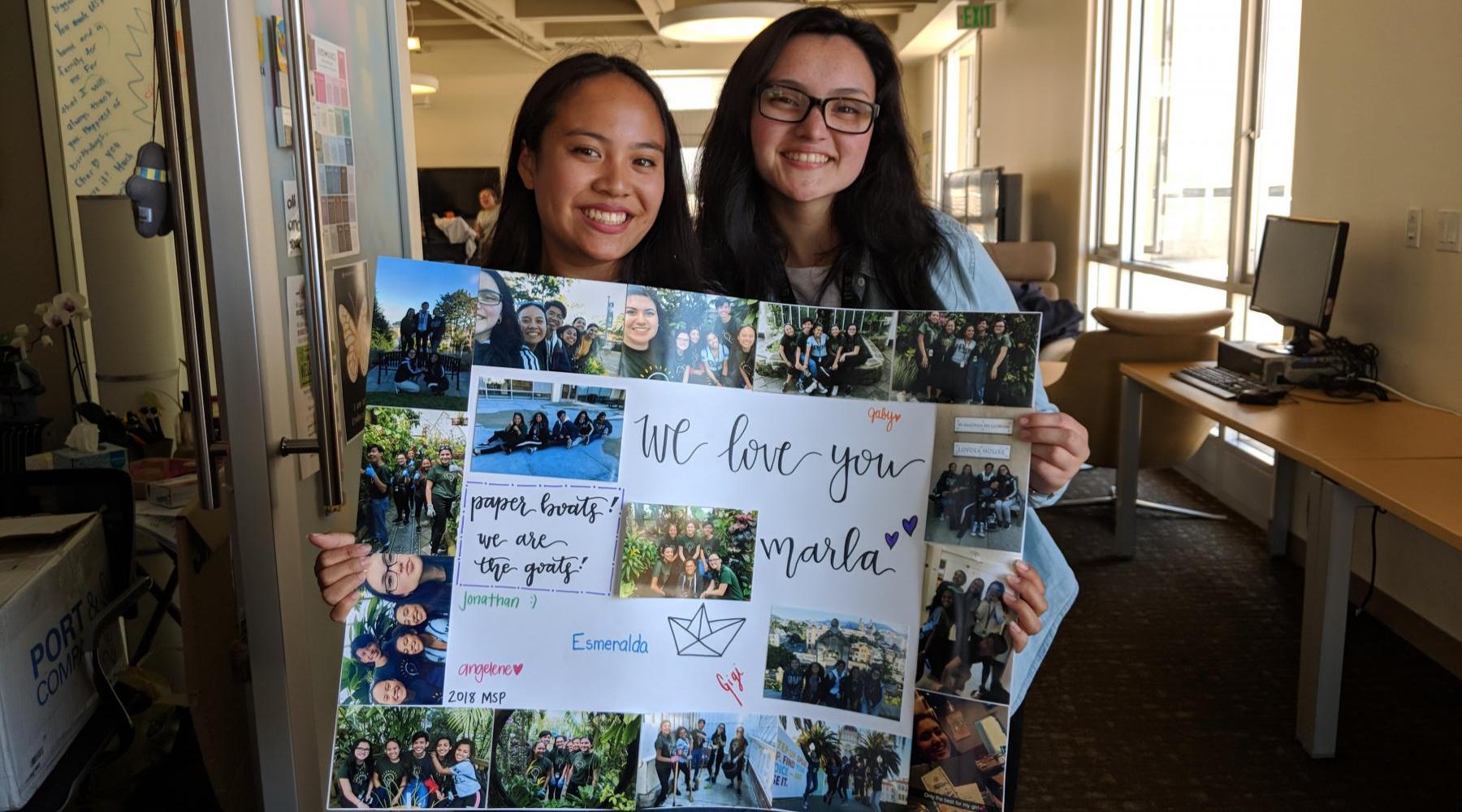 What to Pack
ESSENTIALS
Should you bring your refrigerator, fish tank, and coffeemaker? Is it warm? Is it cold? Will we be walking a lot? There are plenty of things to consider when you're packing up for your new home. Here are some guidelines to help you prepare for your transition.
PACKING LIST:
Clothes (warm and cool weather)
Comfortable walking shoes, rubber flip-flops for shower use
Bedding (sheets, pillow, comforter)
Towels
Toiletries and prescription medication 
Alarm clock (your phone can do this too!)
Laundry detergent
School supplies (remember this is an academic program!)
OPTIONAL ITEMS: (coordinate w/ your roommate)
Television
Radio/stereo/Bluetooth speakers
Computer

There are many printers available on campus that you can send print jobs to no matter where you are, so you won't need to bring one.
Most students will use an Apple Macbook, but Windows/Chromebook machines are also utilized.
Don't have a computer? You can request one. 

Located within walking distance to the campus is a Lucky supermarket, the Haight and Ashbury shopping district, City Target, Office Depot, and a Best Buy. We are also a bus ride away from the Downtown shopping district.
Move In Advice
You can bring everything... or not. You can bring everything with you or wait. You can also have things shipped to you after you have moved into your room.
Plan for cool weather. San Francisco summers are notoriously cool (some would say cold), so remember to pack jackets and sweaters!
School's IN! Be sure to bring all the implements that you will need to be a successful student... you will taking classes: backpack/ book bag, writing tools, etc. If you want to buy new items, the bookstore is open during the summer.
Learn how to do your laundry. When you get to college is not the time to learn how to separate your white clothes from your colored clothes! If you don't already know how, ask someone to show you the way around the washer and dryer.
Bring a computer lock. If you have a laptop, you may want to bring a computer lock that will secure your laptop to a heavy object like a chair or table. Keep your precious investment safe!
Order your supplies at Target for pick up before you arrive onto campus. Less to carry on your trip to campus.
Do not bring:
Full size refrigerators
Candles/incense
Space heaters
Cooking/food preparation appliances (microwaves okay)
Alcohol/drugs prohibited by federal and state law
Cars (first year students are NOT allowed to bring cars to USF and parking is impossible)
A negative attitude. With MSP you will achieve great things!
Meals
Breakfast, lunch, and dinner are provided daily for Muscat Scholars Program Scholars. However, meals while on field trips are the responsibility of the student. Meals are available on the main campus (Bon Appetit). Hours may vary.
A lump sum dollar amount ("Flexi") will be allocated on your One Card for the duration of the program, which will allow you to spend an average of $18 per day on meals. Please budget wisely. We cannot provide additional money on your meal card.
Expenses
The Muscat Scholars Program pays for room, board (basic meals), tuition, books, and Muscat Scholars Program Summer activities for the duration of the summer bridge component. However, other personal expenses are to be paid by Scholars (i.e. health insurance, laundry, snacks, personal outings, etc.). Please plan accordingly.
There are Bank of America and Provident Credit Union ATMs located on campus.
Mail
You can receive mail at your new home, Hayes Healy after the first week of MSP. The address for the duration of the program and during the school year will be (If you are staying in Hayes-Healy):
<Student's Name>
Muscat Scholars Program
Hayes – Healy Room #__
2305 Golden Gate Avenue
San Francisco, Ca 94118-1080
There is a post office located on campus, for your convenience.
Pets
No pets are allowed in the residence halls, EXCEPT approved service animals and animals that can live submerged in water. Tank capacity may not exceed 25 gallons.
MSP Collaboration
The following departments collaborate with MSP: the Center for Academic and Student Achievement, Student Housing and Residential Education, Career Services Center, the Intercultural Center, and the Learning and Writing Center.
You'll meet many other departments when you arrive on campus.
Health Services
Please check the Health and Promotion Services website to get the latest news on the student health insurance program.
All full-time undergraduate students registered for 9 units or more and ALL international students will be automatically enrolled in and have their accounts billed for the University- sponsored Student Health Insurance Plan. The University-sponsored Health Insurance Plan does not begin until Fall semester classes have started.
Domestic students who are able to prove that they have coverage comparable (equal or better) to the University-sponsored plan under a United States-domiciled health insurance company may waive this requirement each academic year online. International Students must waive it in person at the Health Promotion & Services office (UC 5th). If the waiver is approved, the student's account will be credited accordingly.
Contact: Health Promotion Services
Phone: (415) 422 5797
Clinic Phone: (415) 750-5995
Website:www.usfca.edu/hps/
Health Clinic
The USF Student Health Clinic is located a few blocks from campus at 2250 Hayes Street, 3rd Floor. Scholars can seek services during same day appointments.
Summer Hours:
Monday to Friday: 8 a.m. to 5 p.m.
Closed on Saturday and Sunday
After Hours:
Pacific Family Practice
Phone: (415) 876-5762
Location: 1 Shrader Street, Suite 578
Hours: Monday through Friday, 8 a.m. to 9 p.m.; Saturday, 10 a.m. to 4 p.m.
USF does not contract with Pacific Family Practice to provide health services to USF students. Therefore, students or their health insurance plans are responsible for all cost associated with their visits to the Pacific Family Practice.
For medical/mental health emergencies, please call (415) 422-2911 to be connected to Public Safety Dispatch.
Curfew
There is no curfew, however it is the policy of the Muscat Scholars Program that all Scholars must sleep in their residence hall room every night of the 2 week summer bridge program. The MSP aims to thoroughly prepare you for the challenges that college life will present. One important facet of college life is living in the residence halls and learning from the experiences there. By requiring you to stay on campus every night we are challenging you to focus a majority of your time and attention to the program and to your residential experience. 
Although you are free to leave campus after mandatory MSP activities/meetings, we expect you to return every night.
Weekend Activities
The Muscat Scholars Program will be taking Scholars on a community service field on the weekend of the 8th and 9th. You are required to participate in this event from start to finish. We are in the process of planning those events.
Your attendance at these programs and functions is mandatory, as they are a key part of the Muscat Scholars Program community building experience,
You are required to spend weekend nights on campus during the in-person summer bridge prior to New Student Orientation.
Career Preparation and Job Fair
During the Program, you will prepare for jobs on campus by meeting with Career Services Center staff who will work with you to create resumes and prepare for interviews. A job fair will be held on campus to introduce you to campus employers who will be be hiring for work-study and non-work study positions in the Fall.