Muscat Scholars Program
The Muscat Scholars Program (MSP) is a community of Scholars and mentors who work together to develop the relationships, skills, and abilities to be successful in the first year and beyond. MSP was developed for the academic and personal success of first-generation college students at USF.
Learn more about the Muscat Scholars Programs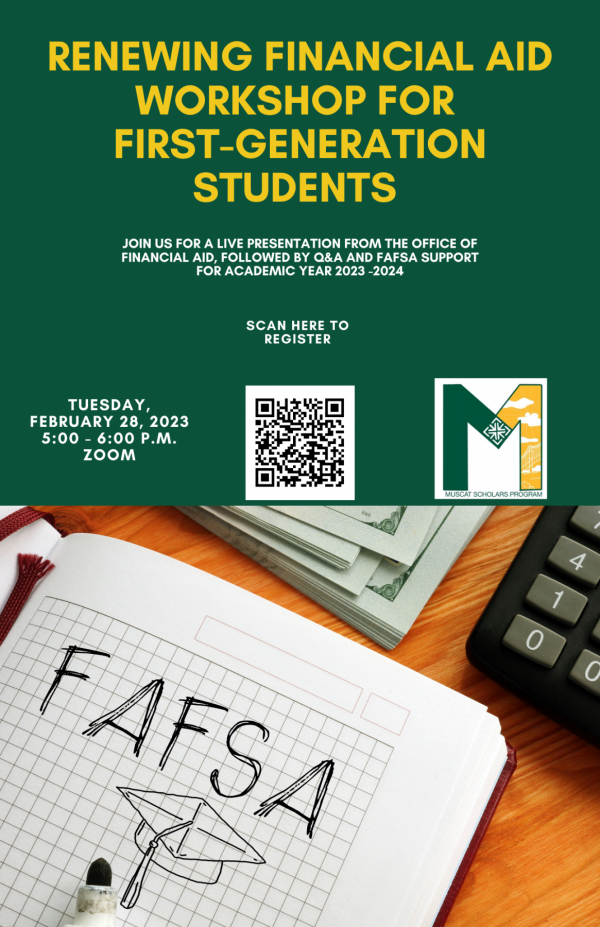 Attention Muscat Scholars and First Generation college students! The University of San Francisco's Financial Aid Office is hosting an online workshop to help you renew your Free Application for Federal Student Aid (FAFSA) and the California Dream Act application. The workshop will take place on Tuesday, February 28, 2023, from 5 to 6 pm on Zoom.
During this workshop, you will receive guidance and support as you complete and renew your FAFSA and Dream Act applications. This is a great opportunity to ensure that you are maximizing your financial aid eligibility and securing the resources you need to succeed in college.
This workshop is open to all Muscat Scholars and First Generation college students, regardless of your level of financial need or experience with the FAFSA and Dream Act applications. Our financial aid experts will be available to answer your questions and provide individualized support as needed.
Don't miss out on this opportunity to secure your financial aid for the upcoming academic year. Register for the workshop today and take the first step towards achieving your academic goals. We look forward to seeing you there!