Social Distancing & Face Coverings
Social Distancing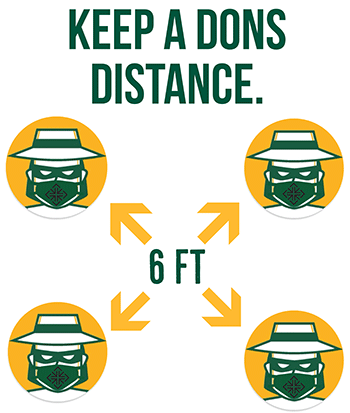 The CDC (Centers for Disease Control and Prevention) currently recommends that people remain a minimum of six feet apart. Here are some other steps you can take:
Limit non-essential interaction across campuses
Increase physical space between your fellow students, faculty, staff, and others who may be on campus.
Limit gatherings (e.g., no face-to-face in-person gatherings; this will include faculty office hours; one person at a time in kitchen areas, etc.).
Use Zoom or alternative meeting tools for person-to-person gatherings.
Avoid physical contact, such as handshakes, hugs, or fist bumps.
Signage will be installed throughout our campuses with reminders about physical distancing, especially in public spaces. Please respect these guidelines.
Face Covering
In light of the State of California public health order on face coverings, the University is requiring all students and employees who are performing work on any USF campus to follow California's requirement of wearing a cloth face covering to cover their nose and mouth. This is an additional public health measure to reduce the spread of COVID-19 in addition to (not instead of) social distancing, frequent hand cleaning, disinfection of work areas and common spaces, and other everyday preventive actions.
Appropriate use of face masks or coverings is critical in minimizing risks to others near you. You could spread COVID-19 to others even if you do not feel sick.
Exceptions to face covering requirement
There are several exceptions to the face covering requirement, including:
People who cannot wear a face covering for health reasons, including anyone who has been advised by a medical professional not to wear a face covering; 
Anyone who has trouble breathing, is incapacitated, or otherwise unable to remove a face covering without assistance;
Any worker to the extent wearing a face covering creates a safety hazard at work under established health and safety guidelines;
While eating or drinking; or
Children 2 years old or younger.
If a student or employee cannot wear a face covering due to a medical condition or disability, the university will work with those individuals to come up with an acceptable solution. Students who require an accommodation should contact Student Disability Services (SDS) at sds@usfca.edu and employees who require an accommodation should contact leaves@usfca.edu. 
If you are unable to wear a medical or fabric mask you are still required to wear something over your nose and mouth to block droplets such as:
Bandana
Gaiter
Face shield (preferably with a drape on the bottom edge)
It is a violation of this policy to harass or intimidate a person who is not wearing a face covering for medical reasons.
Please note that although wearing a face covering is one method for reducing the spread of the virus, it is not a substitute for physical distancing of at least 6 feet and frequent hand washing.
Use and Care of Face Coverings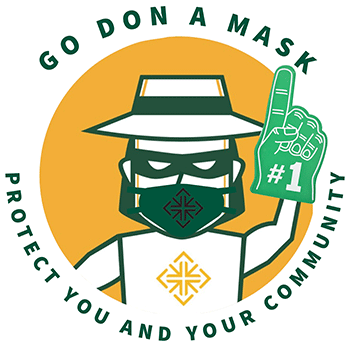 For details regarding cloth face coverings, including how to create, wear and care for home-made face coverings, visit the CDC website.
Putting on the face covering/disposable mask:
Wash hands or use hand sanitizer prior to handling the face covering/disposable mask.
Ensure the face-covering/disposable mask fits over the nose and under the chin.
Situate the face-covering/disposable mask properly with nose wire snug against the nose (where applicable).
Tie straps behind the head and neck or loop around the ears.
Throughout the process: Avoid touching the front of the face covering/disposable mask.
Taking off the face covering/disposable mask:
Do not touch your eyes, nose, or mouth when removing the face covering/disposable mask.
When taking off the face covering/disposable mask, loop your finger into the strap and pull the strap away from the ear, or untie the straps.
Wash hands immediately after removing.
Care, storage and laundering:
Keep face coverings/disposable masks stored in a paper bag when not in use.
Cloth face coverings may not be used more than one day at a time and must be washed after use.
Cloth face coverings should be properly laundered with regular clothing detergent before first use, and after each shift.
Cloth face coverings should be replaced immediately if soiled, damaged (e.g. ripped, punctured) or visibly contaminated.
Disposable masks must not be used for more than one day and should be placed in the trash after your shift or if it is soiled, damaged (e.g., stretched ear loops, torn or punctured material) or visibly contaminated.
Came to campus and forgot A face covering?
Disposable face masks are available in Gleeson Library during building hours for those who are approved to be on campus and forgot a face covering. They are located just inside the entrance. Completion of the Dons Health Check symptom survey is required for access to the building.