About Ally
Ally works seamlessly with Canvas to automatically check course materials against accessibility standards (WCAG 2.0). Ally automatically scans your original content for accessibility issues, and provides guidance and tips for lasting improvements to your content's accessibility.
Improve the usability and accessibility of your course documents and images.
Alternative formats: Ally automatically creates alternative versions of your files. This allows students to choose the type of file they want that best suits their needs. Learn more about alternative formats.
Accessibility score indicators: Ally measures the accessibility of each file uploaded and scores it ranging from Low to Perfect. The higher the score the fewer the issues.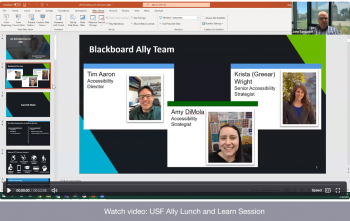 Getting Familiar with Ally
For Instructors
For Students
Ally FAQs
Help with Ally
Contact us at itt@usfca.edu for additional help with Ally in Canvas.
Additional Resources
Accessibility Statement