Ensemble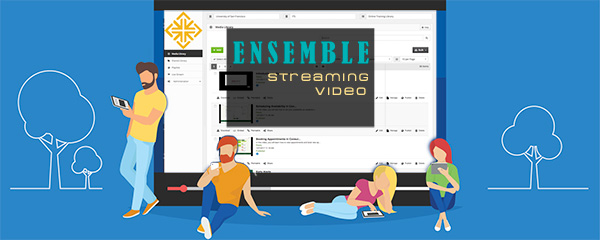 Ensemble is USF's on-site video streaming service. Videos are uploaded into Ensemble, which then generates embed code and URL links to the streaming videos, much like youtube.
Ensemble helps us to keep video content secure and accessible within Canvas and other webpages. The videos are not downloadable and they are most often presented from within Canvas webpages to keep content private to a specific audience - in most cases, a group of students enrolled in a course.
Most of the time, media staff will upload videos into Ensemble on behalf of instructors. Sometimes, when an instructor creates a lot of video content, it is best for them to have their own access to Ensemble where they can upload their content themselves.
If you would like to have media posted onto Ensemble, please contact Mediaservices@usfca.edu and they can upload your course content that you have created or for which you possess the access and display rights.
​If you would like to have your own library within Ensemble, please contact ITT for training.
Accessibility Statement