Faculty Spotlight
Real-time Formative Assessment and Student Learning in Biology

Dr. Kai Blaisdell, Adjunct Professor in Biology, engages her students with polling and gathers insight on their learning to inform her instruction.
---
Teaching Hybrid v.1—Finding Your Technology Threshold

For Adjunct Professor Cynthia Schultes, PhD, limiting the educational technology components in her Masters of Professional Communication course made it more manageable.
Learn More on Teaching hybrid V.1
---

Professor Josh Rosenberg in USF's online Tax LL.M. program structures his courses to support online learning. He makes small changes every semester and gets feedback from his students, support from his program, and guidance from USF's Instructional Design team to inform his process.
Watch the Video on Teaching Tax Law Online
---
USF's Doctor of Nurse Practice Program (DNP) course translates an in-class activity for online learning

The Policy and Ethical Implications for Health Care Outcomes course, developed by Nancy Selix, DNP, FNP-C, CNM, CNL, was redesigned to a hybrid format course from its original format as a face-to-face (F2F) course. Angie Portacio, MA. Ed., instructional designer (ID) for the School of Nursing and Health Professions (SONHP), met with Professor Selix, so they could examine course design options together. In bringing certain facets of the F2F course to online, several gaps were identified during the redesign process.
Learn More on In-class activity for online learning
---
From Slavery to Obama: Transforming and Preserving a Flagship Critical Diversity Studies Course

When USF Distinguished Visiting Professor Dr. Clarence Jones developed and taught his Critical Diversity Studies course, From Slavery to Obama, it was initially offered to a small group of undergraduates who half-filled the stadium-seating in an old lecture hall. Shortly after launching the course, it became clear that the material and the instructor were extraordinarily compelling and of real historical importance. USF's Critical Diversity Studies Department moved to format the course for an online audience. In 2016, the course was published online, extending its reach beyond one classroom at USF.
Learn More on From Slavery to Obama
---
Supporting Active Learning With Video

Kyoko Suda, Associate Professor, Modern and Classical Languages teaches undergraduate Japanese language 100 and 200-level classes. The challenge is finding enough class-time to allow students to practice Japanese language. Echo360 was the recommended solution because it allowed her to easily capture presentations off the computer with audio narration and video.
Watch the video on Supporting Active Learning With Video
---
Authentic Learning In Online and Hybrid Courses

Embracing the challenge of designing effective online and hybrid courses, USF's MAPC Program, headed by Academic Director, David Ryan, creates an authentic learning environment that bolsters its students' professional success.
Learn More on Authentic Learning
---
Promoting Online Group work

The Instructional Design team worked with Dr. Kelly L'Engle, Assistant Professor in the Population Health Sciences department, to bring her project-based course, Program Planning and Evaluation, online as part of the online Masters of Public Health Program.
Watch the video on Promoting Online Group work
---
Creating Multimedia Lessons (and Flipping your Face-to-Face Course)

Associate Professor Marie-Claude Couture, MS, PhD worked with USF's Instructional Design Team during Summer, 2016 to transform her face-to-face masters course, Epidemiology, into online and hybrid versions for USF's Master of Public Health program.
Learn More on Creating Multimedia Lessons
---
Technology Awards for Innovation Award Recipients of 2018
Full-Time Faculty Award - June Lee, Assistant Professor, School of Management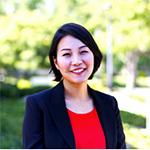 Everything is online all readings, announcements, assignments (including distribution, submission, and grading), the peer discussions, and attendance are all through the Canvas system. She stresses the connection between the tools they learn in class and their applications to industry her course design prepares her students for the real world.
They experience running a social media campaign to reach real-world audiences and use Open Source software to launch an online business. Students develop a LinkedIn profile, a website, and are encouraged to use technology to build their products.
This instructor has worked closely with USF alumni and other online campus resources to introduce relevant technology and concepts to her students. She believes that by presentation, demonstration, hands-on application, and hosting guest speakers from industry, students learn transferable skills.
This faculty member truly motivates her students while also inspiring her peer faculty.
Adjunct Faculty Award - Davis Yee, School of Law

This instructor uses a variety of tools to keep students engaged in his hybrid-designed course. He promotes -- the Flipped Classroom method of instruction which allows for varying levels of communication and interaction with students. He uses Zoom video conferencing to support virtual office hours and accommodates his teaching methods to reach students in different time zones His use of Jeopardy Style PowerPoint has engaged students and made learning fun.
His use of a digital whiteboard has elevated student satisfaction. He has shared his enthusiasm for online technology with colleagues leading them to explore new forms of course delivery. He has co-led a Peer2Peer panel presentation on his use of Zoom to support teaching and learning.
This instructor has taken the art of teaching tax law to new levels.
---
Teaching with Technology Video Series