Student Hub FAQ
The Student Hub is an online platform for students—allowing you to effectively organize and manage your academic lives. Think of this platform as a virtual planner with features to support and facilitate your personal and academic success here at USF. Features include your success team (staff and faculty advisers), calendars, course schedule, holds, tasks, referrals, the ability to schedule appointments and the ability to set communication preferences.
Use the Appointment button in the left navigation menu.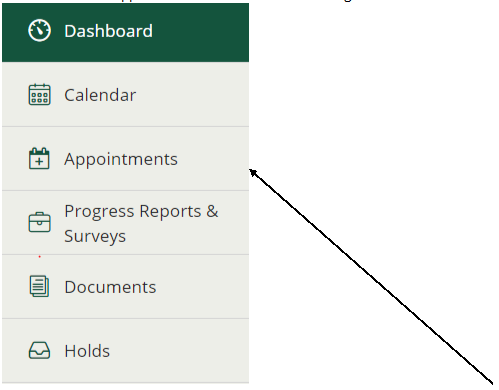 Update your notifications preferences in your profile settings on the Student Hub. Your profile is located in the upper right dropdown. The notification options are text, email and a bell on the student hub.

No, you cannot opt-out of receiving emails for appointment confirmations, new tasks, , progress reports from your professors, and new holds placed on your account. The opt-in options are: appointment confirmation text, appointment confirmation bell, appointment reminder text,appointment reminder bell, task creation text, task creation bell, task reminder text, task reminder email, referral creation text, referral creation email, referral creation bell, progress report creation text and progress report creation bell.
Not yet, but we hope that will be coming later in 2019.
Contact the office that placed the hold on your account to remove your hold. . For example, if you have an "Advising Hold", speak with your major department.
Right now, only Student Disability Services (SDS) specialists. Success coaches and major/minor advisors are automatically updated on your Success Team.
At this time, you cannot add events from your other calendars, but it is a feature we hope to have in the future.
This is a known issue that we are working on.
This is a known issue that we are working on.
At this time, this functionality is only used by the School of Nursing and Health Professions. When you upload a document, it will be attached to your student record in Salesforce. You should notify the office or faculty member who is expecting the document once you have completed the upload. This feature is not for Registrar or Financial Aid documents.
Yes, use the edit button (pencil) and select the quick link to be displayed.