Website Voice and Tone
University of San Francisco
INTRODUCTION
On the web, content is king. The website's design will help USF stand out, but the design is only as good as the writing and imagery it presents. This document will set guidelines for a new consistent writing style for usfca.edu. Voice and tone are the two main components of content writing as explained by Nicely Said: Writing for the Web with Style and Purpose by Nicole Fenton and Kate Kiefer Lee:
"People often use the words voice and tone interchangeably, but they're not the same thing. Your voice is your company's public personality. It doesn't change much from day to day. Like your own individual personality, it comes through in all of your content and influences how people perceive you. On the other hand, your tone changes to fit the situation. While your voice is more about you, your tone is more about your readers and how they feel. Together, your voice and tone make up your writing style."
Adventurous, Active, creative
USF students aren't just looking for a degree, they're looking for experiences and a foundation for a meaningful life. Imagery should depict an environment where students are active participants in their own education. Language should be dynamic and visual. Tell the personal stories of students taking their USF education out into the world.
Creativity isn't reserved for artistic fields. Highlight the ways students in humanities-focused degrees like law and education apply their talents creatively.
Interpreting "active" at its most literal, you can make your language more dynamic by avoiding the passive voice
Connect academic stories to the extra-curricular activities and personal endeavors of your students
Show the results of students' efforts, from artistic output and athletic achievement to successful businesses and happy patients
There are thousands of amazing USF students and graduates who are out in the world effecting real change. Get excited about them, and tell their stories

Global, urban, beautiful, Entrepreneurial
These words might seem disparate at first, but they're all values USF inherits from its location in San Francisco, a city that comes with its own reputation and personality. USF's full integration into the city is perhaps the school's greatest differentiator for prospective students. It's important to make it clear that USF is not just connected to the city through its location, but also through its personality and opportunities.
The best way to convey many of these points is through imagery. Most schools brag about beautiful campuses. Few have photography at the level of quality that USF does. Use it whenever possible
Highlight voices and stories that contrast with the usual suburban experience students see on other college and university websites
Talk to students not just about what they've accomplished, but what drives their ambition. Saying our students want to change the world is one thing. Hearing a student talk about their passion is another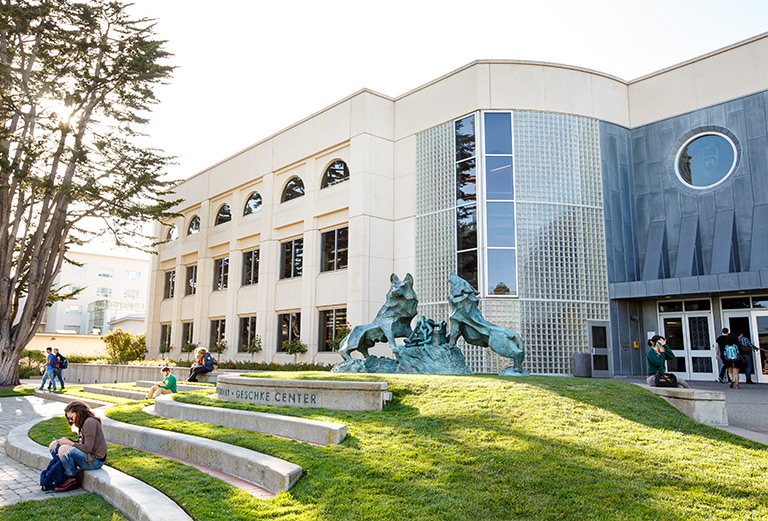 Engaged, caring, accountable
It's important to remember that prospective students, especially prospective undergrads, are young people at a critical juncture in their lives. They're comparing schools based on price, outcomes, and prestige, but they're also looking for a place to fit in. They're going to be overloaded with communications from other schools. They'll be hearing from schools trying really hard to be cool or hip,or from schools trumpeting a long list of benefits and statistics. Warmth and authenticity can go a long way in setting USF apart as an attractive location to spend four very important years.
Demonstrate that a common thread between students and faculty who choose USF is a drive to make the world a better place
Use academic stories to show how engaged USF students are in their classes, and how engaged the faculty are in their students' success
Be sensitive to a prospective student's mindset. It's likely they'll be busy and stressed, so be as helpful as possible
Connect the USF personality to its Jesuit mission. Make the Jesuit affiliation a point of pride and distinction

aware, committed to justice, intelligent
USF should feel fun and creative, but above all else, it needs to feel smart—a place where serious, intelligent work is done. But it's not about knowledge for knowledge's sake. USF students are focused on turning their educations into real-world impact. Along with that focus, they'll have a healthy skepticism of slogans and promises, so it's important to back up mottos like "Change the World From Here" with facts and stories. USF won't be the only school promising intellectual stimulation. In order to make an impact on that front, find eloquent and driven students. Share their stories and quote them whenever possible.
Changing the world can mean many things to many different people. Tell a variety of stories, large and small
Keep the site updated with stories that feel relevant. A school like USF can't exist in a vacuum, and the issues and organizations students work on should be current
Faculty are one of USF's greatest assets. Prospective students, especially graduate students, look at faculty information to get an idea of what academics at USF will entail. Show off their accomplishments and unique personalities
inclusive & accessible, diverse
San Francisco is a fertile ground for ideas of all kinds. Prospective USF students aren't looking to surround themselves with like-minded individuals. The university should be presented as a place where good ideas become great ideas, where anything will be heard but nothing goes unchallenged. Diversity can be a fraught word, but USF has the stats to back it up. Rather than brag, present the school's diversity as a given. An appropriate variety of images and stories will display how diverse the student body is—racially, ideologically, financially, and more.
Use language that is open and inviting. Use terms like "us" and "here" to create a more personal tone
Share diverse voices. Allow for voices from faculty, students, and alumni to tell the USF story. USF is the sum of its parts
USF is a global university. Ensuring that the site is easy to read and accessible to its international prospectives is key. Spend extra care to ensure that writing in areas that are specific to international audiences is as clear, thoughtful, and as welcoming as possible

college and schools
It's important to adapt your tone depending on your audience and their mindset. The site should operate under a unified voice, but each college and school under the USF banner should have its own character, a slight variation of the USF voice.
Remember that these tones are variations on the main USF voice. They are essentially amplifications of certain aspects of USF's brand, not deviations or additions.
College of Arts and Sciences: Adventurous, Diverse, Active, Engaged, Inclusive, Accessible, Creative
School of Education: Engaged, Diverse, Intelligent, Adventurous, Accountable, Aware, Urban
School of Law: Committed to Justice, Engaged, Aware, Caring
School of Management: Entrepreneurial, Global, Urban, Intelligent
School of Nursing and Health Professions: Intelligent, Inclusive, Accessible, Caring, Accountable, Aware
news & stories
Don't just state what happened in the headline. Tell users why they should read the story
This is a college news site, not a newspaper. Be factual, but you can have more fun and personality than the New York Times
Employ a flexible tone, changing when appropriate. Obits, event announcements, and alumni stories are all going to require much different language
Don't just refer to the keywords when you're writing. Use them when selecting the kinds of stories to cover
WRITE LIKE THIS
Jane Smith '87 dreamed of meeting and working with her literary heroes. Today, it's her job.
NOT LIKE THIS
Jane Smith '87 Advances American Literature
For more examples, please review the Writers Guide
Conclusion
It takes a large team to maintain a website of this size. Ensuring that the writing on the website maintains a consistent voice means every writer, contributor, and editor must come to a common understanding. This document can be used to bring new members of the team up to speed, but it shouldn't be set aside after that. Over time, consistency will fray, sections will diverge. Use this guide to periodically audit the site, especially high-level user-facing pages.
In general, remember to refer to the keywords, keep your audiences and their emotions in mind, and never be too rigid to bend the rules and meet their needs.
This document provides the foundation for USF's voice. The best way to build on that foundation is to write, try new things, and refine. For more guidelines on writing for the web and in general, we've provided a list of helpful references.
REFERENCES
Nicely Said: Writing for the Web with Style and Purpose
Nicole Fenton and Kate Kiefer Lee
The Yahoo! Style Guide: The Ultimate Sourcebook for Writing, Editing, and Creating Content for the Digital World
Chris Barr and Senior Editors of Yahoo!
Bird by Bird: Some Instructions on Writing and Life
Anne Lamott
Web Style Guide, Third Edition
Patrick J. Lynch and Sarah Horton