Step 2: Submit Enrollment Deposit
To confirm your enrollment and reserve your spot at USF, you must make a non-refundable enrollment deposit of $750.
Pay online (recommended):
Log into myUSF. Click on the "Deposit" button on the home screen and follow the instructions through the checkout process.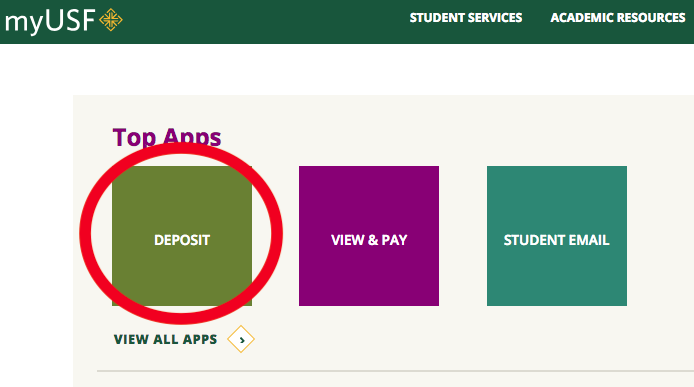 Pay by personal check:
We recommend paying your non-refundable enrollment deposit online. If you'd like to pay by personal check, please complete the enrollment deposit form and include a check for $750 payable to the University of San Francisco. Please write the student ID (USF ID) from the acceptance letter on the memo line of the check.
Mail the completed form and check to:
University of San Francisco
Office of Admission
2130 Fulton Street
San Francisco, CA 94117-1046
Deadline: May 1 (first-year students) or June 1 (transfer students)
Questions?
Office of Admission, Lone Mountain, Room 250
2130 Fulton St, San Francisco, CA 94117
Tel: (415) 422-6612, Fax: (415) 422-2217
Email: appservices@usfca.edu
Web: usfca.edu/admission/welcome