Step 6: Pay Your Bill
Payment for the spring semester is due January 2. In early December, you will receive an email (to your USF email account) that your official billing statement for spring is available online. USF does not send paper bills.
For general information about this year's undergraduate costs, visit the Tuition and Fees page.
Access your official bill
Log in to myUSF and click on the View & Pay box. 

In the "Your Account" box, click on "Make Payment"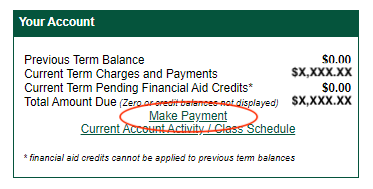 If you do not see your financial aid applied to your bill, you might have outstanding requirements before the financial aid can be applied. Check your financial aid status by going to myUSF → Banner Self Service (Student) → Financial Aid, or contact the Financial Aid office (Step 3).
Choose your method of payment
You may pay your tuition using online e-check, personal checks, international bank wire transfer, or by signing up for the semester payment plan. For more information, please visit the payment methods page. If you are sending a check, please note that all checks must be made payable to the University of San Francisco in U.S. dollars, and include the USF ID number (from the letter of admission) somewhere in the memo or notes section of the check. Missing information may cause a delay in properly crediting your payments to your student account.
Set up an authorized payer
Authorized payers are parents, spouses, employers, etc., who can view bills and make payments online. To set up an authorized payer, go to View & Pay, then click the Add New link located in the "Parents and Authorized Payers" window. For instructions on how to make a payment as an authorized payer, please visit the Authorized Payer page.
International students must register for at least 12 units (course credit hours) to maintain full-time student status for immigration purposes.
If you have not submitted a payment by the class registration period, you must be prepared to pay the balance due at the time of registration, or you must enroll in the semester payment plan.
Deadline: January 2 is the deadline to either pay in full or enroll in a semester payment plan. Failure to meet the payment deadline may result in cancellation of your course registration.
Subsequent payment deadlines:  
Fall: August 1
Intersession: January 2
Spring: January 2
Summer: May 1
Questions?
Office of Student Accounts, Lone Mountain, Room 200
2130 Fulton St, San Francisco, CA 94117
Tel: (415) 422-2571
Email: StudentAccounts@usfca.edu
Web: myusf.usfca.edu/billing-tuition