Step 15: Pay Your Bill
February 1 is the deadline for new, incoming spring students to either pay in full or enroll in a semester payment plan. You will receive your official billing statement in mid-January, after you have registered for classes. USF does not send paper bills.
For general information about this year's undergraduate costs, visit the Tuition and Fees page.
Accessing your official bill
Log in to myUSF and click on the View & Pay box. 

In the "Your Account" box, click on "Make Payment"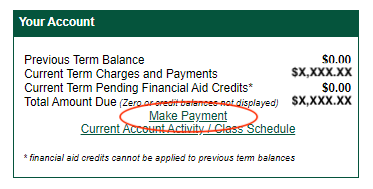 Choosing your method of payment
You may pay your tuition using online e-check, personal checks, international bank wire transfer, or by signing up for the semester payment plan. For more information, please visit the payment methods page. If you are sending a check, please note that all checks must be made payable to the University of San Francisco in U.S. dollars, and include the USF ID number (from the letter of admission) somewhere in the memo or notes section of the check. Missing information may cause a delay in properly crediting your payments to your student account.
Setting up direct deposit
If you have a US bank account, we encourage you to sign up for direct deposit. If there is a credit balance on your student account, direct deposit will help you get your refund faster.
To set up direct deposit, go to myUSF →  Banner Self Service (Student) → Student Account → Direct Deposit Authorization. You may update or change your direct deposit information at any time. Please allow 5 business days for the account to be verified. Payments made prior to verification will be processed as paper checks. Only US bank accounts can be used with direct deposit.
Setting up SMS billing notifications
In addition to email notifications, you can opt-in to also receive SMS billing notifications for when your statements are available. To sign up for SMS billing notifications, go to View & Pay → My Account → SMS notifications.
Setting up an authorized payer
Authorized payers are parents, spouses, employers, etc., who can view bills and make payments online. To set up an authorized payer, go to View & Pay, then click the Add New link located in the "Parents and Authorized Payers" window. For instructions on how to make a payment as an authorized payer, please visit the Authorized Payer page.
Maintaining full-time status
International students must register for at least 12 units (course credit hours) to maintain full-time student status for immigration purposes.
If you have not submitted a payment by the class registration period, you must be prepared to pay the balance due at the time of registration, or you must enroll in the semester payment plan.
Deadline: February 1 is the deadline for new, incoming spring students to either pay in full or enroll in a semester payment plan. Failure to meet the payment deadline may result in cancellation of your course registration and/or late fees.
Subsequent payment deadlines:  
Fall: August 1
Intersession: January 2
Spring: January 2
Summer: May 1
Questions?
Tel: (415) 422-2571
Email: StudentAccounts@usfca.edu
Web: myusf.usfca.edu/billing-tuition