Step 8: Register for Classes
Before you register for classes, make sure you have a basic understanding of the courses you'll need to take this semester: 
Be sure to review the Core Curriculum requirements. They are required for all undergraduate students, regardless of your major. They cover six different areas for a total of 44 units.
Major requirements will be covered in the Webtrack video specific to your major (please see Step 6: Complete Webtrack advising). For additional information on your specific major requirements, you can also reference the program page for your major.
Timeline
You can register for classes beginning January 13, 2020. The last day to add a class is January 27, 2020. We recommend that you make a list of classes you'll need to register for in advance, so you can be ready to register on January 13. All USF students will be registering during this time, so try to register as early as possible to ensure you get the classes you need while they are available.
Registering for Classes
When you're ready to search for classes, go to the Schedule of Classes. Select "Spring 2020" from the dropdown menu.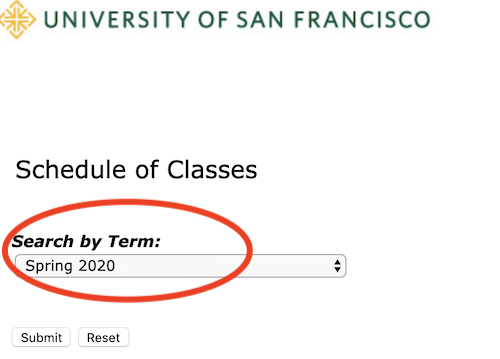 On the next screen, you can find courses based on the course number or using the filters on the side. This Webtrack video explains how to find specific classes.
The course numbers indicate the class level for which the course is primarily intended:
100-199: First-Year
200-299: Sophomore
300-399: Junior
400-499: Senior
500 and above: Graduate students
Please remember that all international undergraduate students must study full time and take at least 12 units (course credit hours) each semester to stay in status for immigration purposes.
Academic English Courses and the Academic English for Multilingual Students (AEM) Program 
If your admission decision letter indicates that it might be necessary for you to take Academic English Courses, you will be assigned a Faculty Academic Adviser who teaches in the Academic English for Multilingual (AEM) Students Program. 
Your AEM Faculty Academic Adviser will decide which AEM courses you should take, if any, based on the TOEFL or IELTS scores you submitted as part of your application. Your AEM Adviser will send you a course list for your first semester and other important information to your USF email address. Please be sure to review this information and to be in touch with your AEM Adviser with any questions before you register for classes.
In order to ensure that your AEM course schedule is correct, you will be required to take a two-part (written and oral) English Language Placement Test During Welcome Week. Your test results will be used to confirm or revise your AEM course registration for spring 2020.
Deadline: Registration begins January 13. Classes begin January 21. The last day to add a class for spring 2020 is January 27.
Questions?
Office of the University Registrar
Tel: +1 (415) 422-7260
Email: registrar@usfca.edu, Web: myusf.usfca.edu/sem/registrar