Transfer Summer Program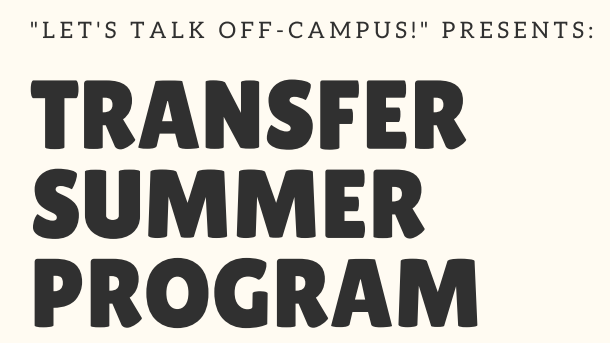 The Transfer Summer Housing Program (TSP '19) is an opportunity offered to USF transfer students who have submitted their enrollment deposits for the Fall 2018 semester. We invite our newly admitted transfer students to stay in our residence hall and explore San Francisco while learning about the housing market and conducting a housing search. Opportunities will be provided for students to meet with an academic coach, talk to financial aid as well as meet fellow transfer students. Read more information below to find out when the 2018 Summer Transfer Programs will take place! 
Program Details
The 2019 Transfer Summer Programs have not yet been schedule for this coming Summer. Please note that each session begins on a Thursday evening and ends on a Sunday morning, and are typically in May, June, then July.
Session 1: TBA
Session 2: TBA
Session 3: TBA
Transfer students who participate in this exciting event will receive the following: 
Lodging in a shared double room 
Invitation to two housing search workshops 
Weekend Muni transit pass to explore the city of San Francisco 
Thursday dinner and Friday breakfast 
View the TSP 2018 flyer for an example of the program. If you are interested in registering or would like to request more information about this program, please contact Andrea Rocha at rochaa@usfca.edu.