Chariot Shuttle Service
Chariot is a commuter shuttle service that aims to provide a fast, reliable, affordable, and comfortable commute service to riders. The company operates brand new 14-passenger "chariots", running fixed routes throughout San Francisco.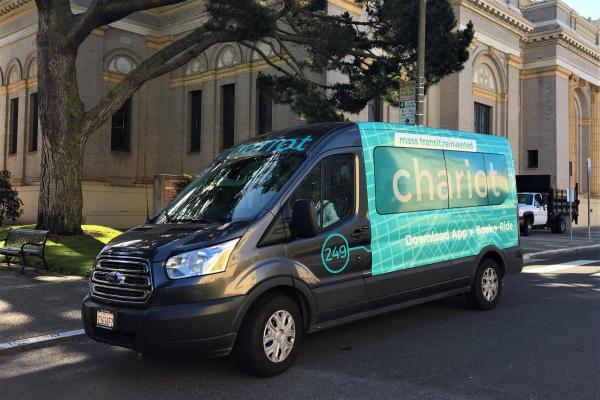 USF-Chariot Partnership
USF has teamed up with Chariot to establish stops around the USF campus on the Richmond Racer route (morning) and the Geary Galloper route (afternoon/evening). These routes also pick up and drop off at the following transportation hubs:
Civic Center BART station
Embarcadero BART station
Caltrain station
Ferry Building/Transbay Terminal
Subsidized Rides for Full Time Faculty and Staff
Benefits-eligible, full-time faculty and staff at USF can ride Chariot for $1 per ride, which can be paid by setting aside pre-tax dollars using your My Commuter Check (MYCC) account. USF will subsidize the rest of the per ride cost.
To be eligible for the subsidy, you must sign up for Chariot using your @usfca.edu email address. Approval for the subsidy may take up to five business days. For any questions regarding the subsidy, please contact USF Human Resources. 
For all others, including students and non-benefits eligible staff and faculty, rides cost $3–$5 depending on peak times. Ride credits and unlimited monthly passes can be purchased on the Chariot website.
Chariot FAQs
FAQs for Full Time Faculty and Staff