Annual Report

Hello, USF Undergrads!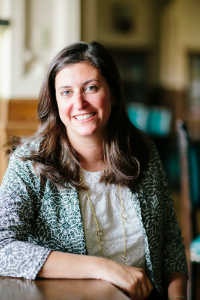 I am honored to introduce you all to the first run of the Associated Students of the University of San Francisco (ASUSF) 2018-2019 Annual Report. Inside this annual report you will find out: How your money is tracked. See how the senate spends your student activity fee. Want to know more? Reach out to ASUSF as they want to be in conversation with all of you. How to make an impact. I am confident you will be inspired by the progress made by Sage, Sabrina, Marcus, Sehaj, Hector, Samantha, Cilo, Tatiana, Lianna, Sarah, Jessica, Marcelo, Abigail, Natalie, Irene, Jordan, Sarah, Noelle, and Anthony. Perhaps you will be inspired to seek out involvement in leadership by running for office next year, attending senate meetings or the many other ways to get more involved in the campus community? How to seek empowerment. Join a student organization, attend campus events, apply for conference travel, or organizational development. Don't see an organization listed that you want to join? Create one. Thank you to this year's senate for creating a strong, vibrant student community focused on social justice and advocacy. I am proud of the work you have done to maintain transparency, reflect inclusiveness, push involvement, and build trust across the university. I am so excited for you, our undergrad students, to read about the amazing accomplishments!
Enjoy,
Julie
---
NEW BEGINNINGS
---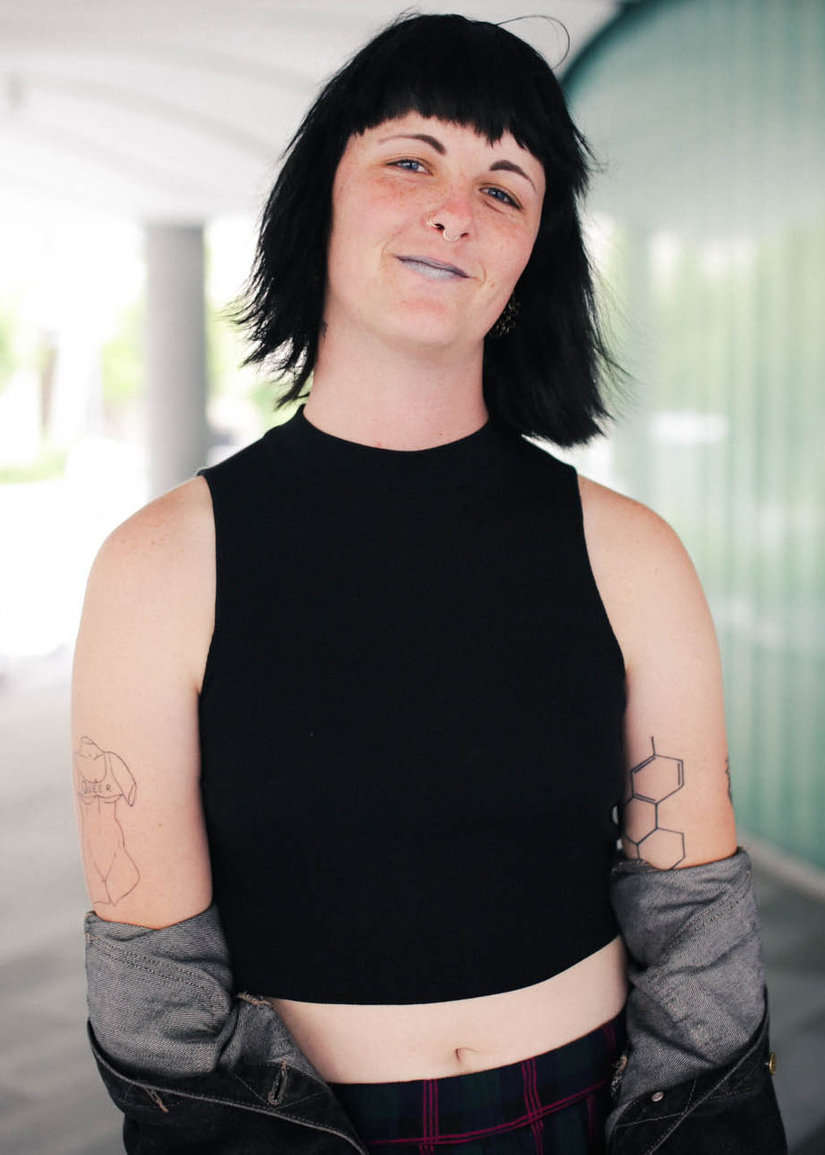 My name is Sage Hapke and I am the current Associated Students of the University of San Francisco (ASUSF) President for the university. I am honored to be able to introduce to you to this new issue that we as ASUSF Senate, and many other student organizations as well, have worked extensively on this academic school year – the ASUSF Annual Report. Historically, the student body at USF have not had a collective, universal work to highlight all the community organizing and advocacy that we as a community do here on-campus. As we know, the student body here at USF is full of diversity that must remain being highlighted, uplifted, and pushed to the forefront of the university's strategic planning that further shapes our college experience.
At USF, there are over 120 student organizations that, year after year, hold meetings for respective community members, events to ground us in social justice and the city of San Francisco, and a collection of discussions and conferences that create space for conversations centering diversity, equity, and inclusion. As a Jesuit university that grounds itself in these ideals, it is vital that the student body, as well as the rest of the campus community, be included and informed of the many different events that student leaders hold for one another.
I am enthusiastic that this first-annual report will cause a ripple effect for others, and that we may be able to graciously hold one another accountable through our work as student leaders. Immense appreciation goes out to Sehaj Kasture (Vice President of Marketing & Communications) who originated this idea, and has seen it grow and expand under her powerful leadership with the rest of her Public Relations Committee under ASUSF Senate.
Likewise, thank you to all the student leaders and organizations that have, thus, made this report possible.
In community,
Sage Hapke,
ASUSF President
ASUSF 2019-2020 Board

PRESIDENT - Hector Bustos

VICE PRESIDENT OF INTERNAL AFFAIRS - Elijah Evans

VICE PRESIDENT OF FINANCE - Tiana Valerio

VICE PRESIDENT OF MARKETING & COMMUNICATIONS - Irene Nguyen

VICE PRESIDENT OF ADVOCACY - Paolo Sayas

SCHOOL OF NURSING & HEALTH PROFESSIONS - Simardeep Pajetta

JUNIOR CLASS REPRESENTATIVE - John Iosefo

GENDER & SEXUAL DIVERSITY STUDENT REPRESENTATIVE - Leo Gaona

TRANSFER STUDENT REPRESENTATIVE - Tatiana Hernandez

STUDENTS WITH DISABILITIES REPRESENTATIVE - Marisol Castro

MILITARY VETERANS STUDENT REPRESENTATIVE - Doan Tran
---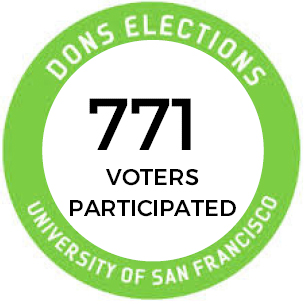 ---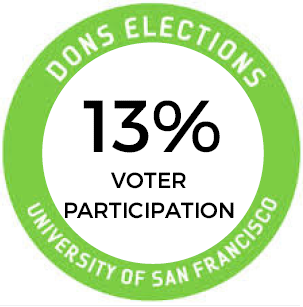 ---
A Quick Look at Numbers from across the Campus
---
The Leo T. McCarthy Center for Public Service and the Common Good
4,144 VOTERS REGISTERED
84 VOLUNTEERS FOR VOTER REGISTRATION
Student Leadership and Engagement
64 STUDENT LEADERS HIRED ON CAMPUS
Purchasing and Ancillary Services
1,638,746 COPIES AND PRINTS BY STUDENTS ON CAMPUS
ASUSF SENATE
---
7 RESOLUTIONS
Official statements passed by senators to match the mission of the school and vision of the students
3 REFERENDUMS PASSED
A referendum is a proposal wherein the entire campus is invited to vote on
Utilization of additional van for students with disabilities
Protective priority housing for undocumented and foster youth
Students-at-Large Representatives
Vice President of Public Relations name change
4 LETTERS
Official statements for the purpose of solidarity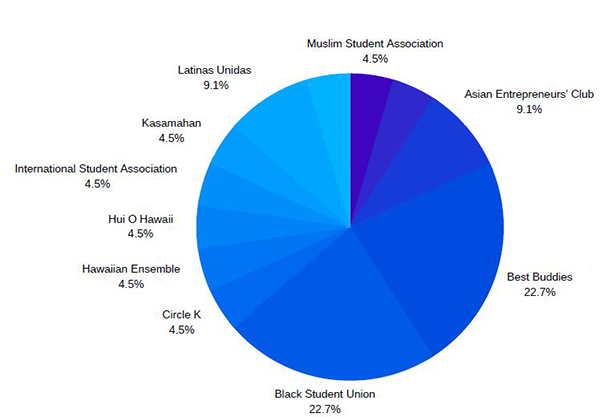 POTS OF MONEY GRANTED FOR EVENTS ON CAMPUS
---
$70,000 TOTAL EVENT FUNDING AWARDED
8 Cultural multi-cultural & international orgs
2 Special interest orgs
3 Academic honorary & professional orgs
2 Service orgs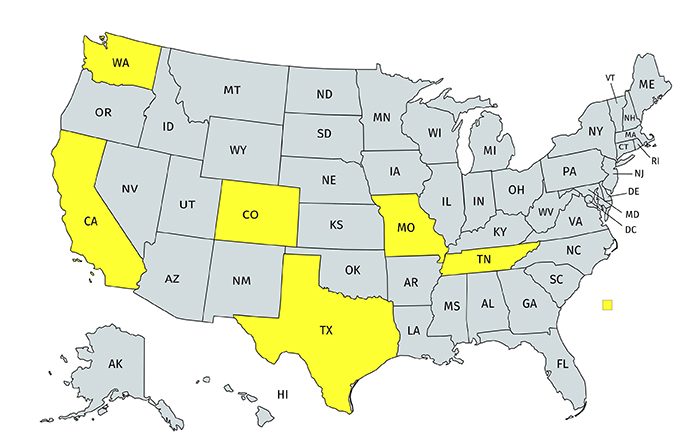 POTS OF MONEY GRANTED FOR STUDENT DEVELOPMENT TRAVEL
---
$60,000 TOTAL TRAVEL FUNDING AWARDED
1 Cultural multi-cultural & international orgs
3 Social fraternity orgs
2 Political orgs
3 Service org
1 Academic honorary & professional orgs
THE STUDENT NEWSPAPER AT THE UNIVERSITY OF SAN FRANCISCO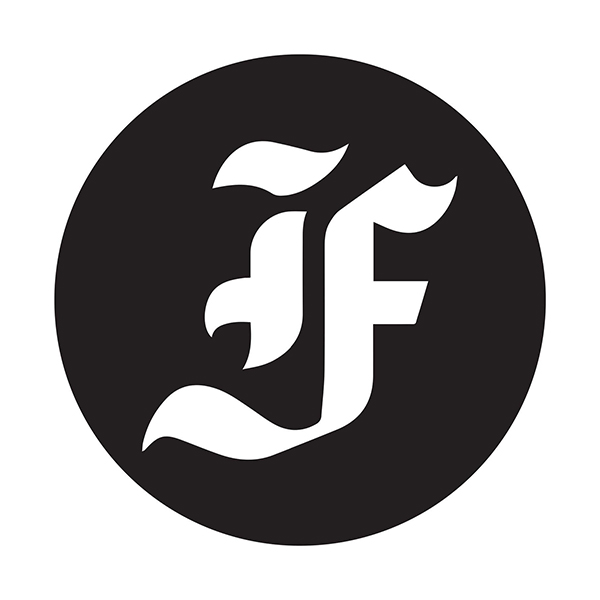 ---
The University of San Francisco's school newspaper, The Foghorn, has had a year packed full of enriching and diverse stories written by various student writers, along with an additional online presence utilizing podcasts. Going into the school year, their goal was to be a more investigative body of the school. With that being said, The Foghorn covered a wide range of topics ranging from investigative articles such as "USF Bought a Farm," to features articles like "How to Keep Going." Successfully putting out a new issue each week, The Foghorn has continued to keep our community informed and engaged.
MORE THAN 270 STORIES WRITTEN THIS SCHOOL YEAR MORE THAN 300 PEOPLE INTERVIEWED
PLANNING EVENTS FOR THE USF STUDENT COMMUNITY
---
CAB has had a blast planning and producing numerous events throughout the school year. They have been grateful to host activities that the entire undergraduate community can take part in and look forward to future events.
1,004 Instagram Followers
1,000 Donaroo Tickets Sold
1,400 Don's Night Out Attendees

OVERSEES CULTURAL STUDENT ORGANIZATIONS
---
4 STUDENT ORGANIZATIONS HAVE USED THE CULTURAL INITIATIVE FUND
Lunches with Leadership provides a very unique experience to sit down with USF administrators and speak openly with them.
Social Justice Forum is a critical space for the culturally focused clubs to educate our community and be open to learning about their communities, histories, and what they value as an organization.
The Cultural Initiative Fund is the way that certain culturally focused clubs are able to financially support events at all levels. Small organizations sometimes get left out, and the fund prevents further marginalization. Members of these organizations deserve the opportunity to celebrate their culture.
The Culturally Focused Clubs Council is a student run organization that encourages collaboration among all of the culturally focused green and gold organizations. The CFCC creates and plans events that are catered to community, social justice and identity. The council is a way to bring together all of the culturally focused student organizations, to learn more about each other and to ultimately support our peers in the University of San Francisco community.

PROVIDES DESIGN SERVICES TO CLUBS AND ORGS
---
39 Clients for the academic year
The Graphics Center, or GC, exists for the purpose of providing promotional and advertising services for the University of San Francisco. They strive to provide open communication, maintain and build university networks, and create a strong sense of community.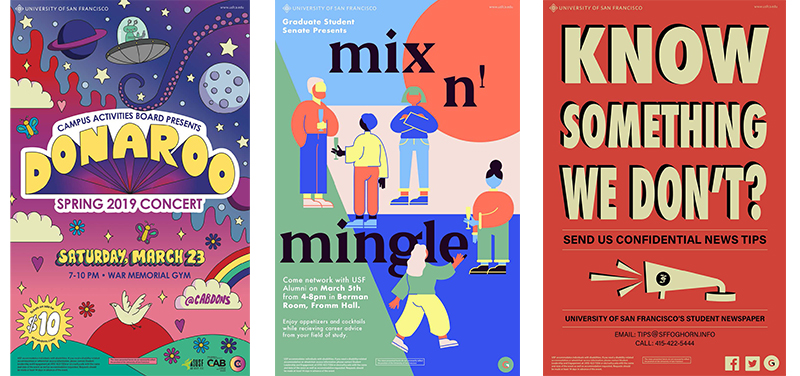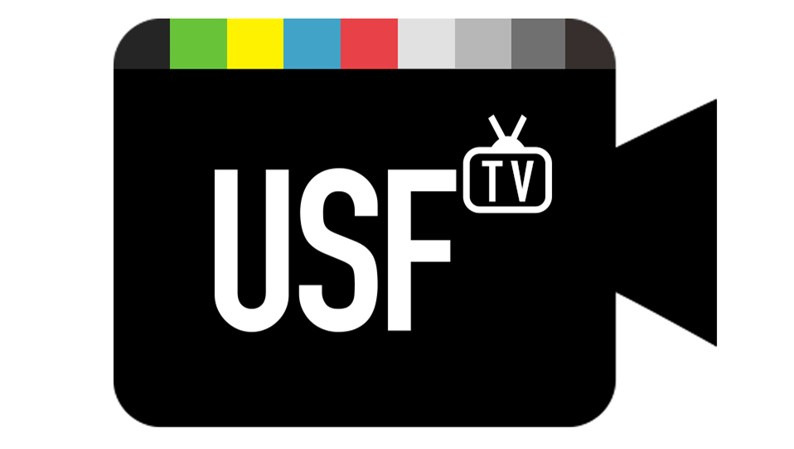 PRODUCING VIDEO CONTENT FOR THE STUDENT BODY
---
33 Videos Produced
79,100 Total Views
177 New Subscribers
THE LARGEST CHOIR GROUP ON CAMPUS AT USF
---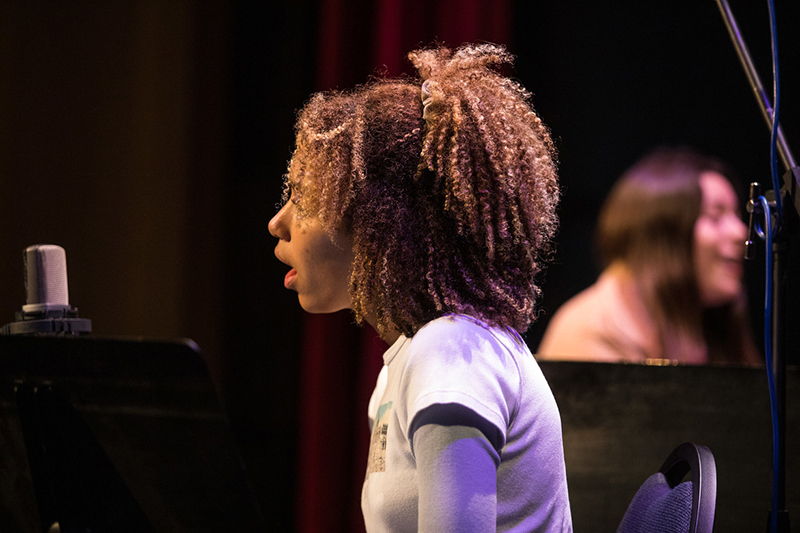 30 YEARS OF VOICES
Voices is compromised of five ensemble groups here on campus, including Voices, Basso Voices, Treble Voices, Jazz Voices, and SIX voices, all with varying focuses. Each year, they perform both on and off campus, giving students opportunities to be seen and heard, all while being part of a group. Just this school year, ASUSF Voices held their 30th Anniversary Spring Concert.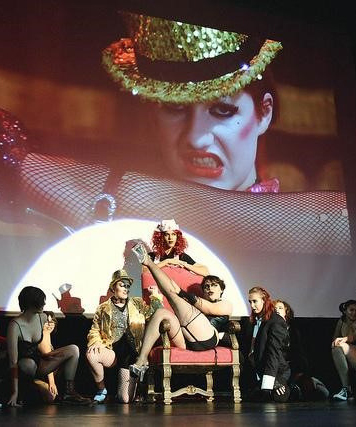 LIVE THEATER PRODUCTIONS MADE BY STUDENTS
---
75 Active college players
6 Productions in the 2018-2019 school year
The University of San Francisco is proud to have the oldest run student theatre West of the Mississippi. Founded in 1863, College Players provide their members with training and leadership opportunities in performance, design, technical theatre and theatre management. This year they put on Rocky Horror Picture Show, Through The Eyes of Persephone, A Memory, A Monologue, A Rant, and a Prayer, the musical Into the Woods, One Minute Play Festival, and She Kills Monsters.