ASUSF Senate Senators
Meet the 2019–20 ASUSF Senator Representatives
There are thirteen senator representatives that make up the voting membership of ASUSF Senate. Senators serve as the voice of all undergraduate students.
ASUSF College of Arts and Sciences Representative
Sarah Arce
saarce@dons.usfca.edu
B.A. Candidate | May 2021
Major: Latin American Studies
Minor: Public Service and Community Outreach
Hometown: Dana Point, CA
Pronouns: She/Her/Hers
Sarah Arce is a first-generation, Latinx student current completing her third year at USF. During her first two years on campus she felt a sense of not belonging and found that many of her peers felt the same way. This prompted her to want to join Senate and be involved with the change made towards improving student life. She is looking forward to working with the students and faculty of the College of Arts and Sciences.
ASUSF School of Management Representative
Vacant Position
Military Veterans Student Representative
Vacant Position
ASUSF School of Nursing and Health Professions Representative
Simardeep Pajetta
skpajetta@dons.usfca.edu
B.S Candidate | December 2021
Major: Bachelors of Science in Nursing
Hometown: Dublin
Pronouns: She/Her/Hers
Simardeep has been a Licensed Vocational Nurse for two years with over a year of patient experience. In her spare time she is working on her website simithenurse.com aimed to help nursing students in their progress and she believes that happiness is found in the service of others. She believes that happiness is found in the service of others. She brought this idea to life in her previous term as a senator at Las Positas College when she pioneered the first food pantry coined "The Market" in the Tri-Valley area brining fresh food to the homes of hundreds of students and the community. With the same passion, she hopes to be a voice for nursing students and students of other health professions.
 
ASUSF Senior Class Representative
Vacant Position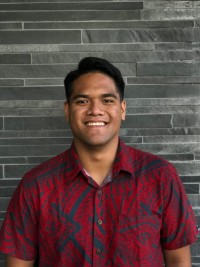 ASUSF Junior Class Representative
John Iosefo
jiosefo@dons.usfca.edu
B.A. Candidate | June 2021
Major: Politics
Hometown: Tafuna, American Samoa
Pronouns: He/Him/His
John was born and raised in the US Territory of American Samoa in the South Pacific Ocean. He is the youngest of 8. His parents, Silivelio and Juliana Iosefo, raised him and his siblings to adhere to the Samoan culture, which places service and humility above everything else. It is this sense of duty and service that led John to run for the Senate. In the Senate, he wants to ensure that the Junior class gets the voice that it has lacked, the leadership it sorely needs, and the representation that it deserves.
ASUSF Sophomore Class Representative
Chloe Famighetti 
cjfamighetti@dons.usfca.edu
B.S. Candidate | May 2022
Major: Entrepreneurship and Innovation
Hometown: Rancho Palos Verdes, CA
Pronouns: She/Her/Hers
Chloe Famighetti is currently a Sophomore at the University of San Francisco, she is majoring in Entrepreneurship and innovation. She enjoyed participating in Mock Trial, volunteering for environmental organizations like Heal the Bay, and interning in the Civil Law department at the Torrance CourtHouse in high school. Her experiences have led her to see that the environment and the people living in it need help and a voice. She is excited to do her part as a Sophomore Representative to fill these needs. She hopes to represent her class to the best of her abilities and make sure the students in her class know that there is a committee striving to make each individual's time at USF beautiful.
ASUSF Freshman Class Representative
D'Vine Riley  
dariley@dons.usfca.edu
B.S. Candidate | May 2023
Major: Psychology 
Hometown: Chicago, IL 
Pronouns: She/Her/Hers 
ASUSF Student of Color Representative
Belen Fonseca  
rbfonseca@dons.usfca.edu
B.A. Candidate | December 2020
Major: Politics
Minor: Latin American Studies/Chicanx/ Latinx Studies/ Gender and Sexuality Studies
Hometown: Sonoma, CA
Pronouns: She/Her/Hers
Belén grew up in Sonoma CA where she found a love for activism. As an immigrant, first generation, student of color she puts her studies above everything else and knows what it means to struggle in places that weren't meant for you. She wants to work in the nonprofit sector to help other immigrants and she hopes her experience in Mock Trial throughout highschool and at USF will help her with her career. She also hopes that during her time as Student of Color Representative, she gives a platform to the different students of color on campus and doesn't generalize what's needed in each community. 
ASUSF International Student Representative
Tanya Sanjay
tsanjay@dons.usfca.edu
B.S. Candidate | May 2022
Major: Marketing
Hometown: 
Pronouns: She/Her/Hers
 
Tanya is an energetic international student from Singapore India and China! Prior to USF, she embarked on a career in the medical field in the U.K. but decided to change course and specialise in digital and multicultural at USF. Ever passionate about leadership, Tanya has consistently held a variety of leadership positions since fifth grade, with the exception of her first semester at USF. She also serves as Vice President of Internal Student Association where she continues to advocate for international students and cultural within USF. Always up for a cup of coffee and good conversation, feel free to contact and get to know her!
ASUSF Gender and Sexual Diversity Student Representative
Leo Gaona 
vmgaona@dons.usfca.edu
B.A. Candidate | May 2022
Major: Fine Arts
Hometown: Ponce, Puerto Rico
Pronouns: He/Him & They/Them
Leo Gaona was born in Ponce, Puerto Rico to two immigrant parents from Colombia that from a very young age encouraged him to work hard and pursue what he felt most passionate about no matter what it may be. For this reason, his sophomore year of high school he moved to Los Angeles to love with extended family and find opportunities he hopes to bring back to his hometown one day. Leo loves to make art in all sorts of mediums such as painting, filming, and photography and incorporates as much as he can his own advocacy for underrepresented communities in his art. Leo is a big believer in the quote "Without liberation for all, there is none at all" and hopes to be able to reach out to USF's LGBTQ+ community and allies to help in moving forward to accomplish goals of equality and transcend into only a more inclusive but proud campus.
ASUSF Transfer Student Representative
Gillian Torres 
gotorres@dons.usfca.edu
B.A. Candidate | May 2021
Major: Politics
Hometown: 
Pronouns: She/Her/Hers
 
ASUSF Student with Disabilities Representative
Marisol Castro
mmcastro3@dons.usfca.edu
B.S. Candidate | December 2021
Major: Environmental Science
Hometown: San Francisco
Pronouns: She/Her/Hers
Marisol was born and raised in San Francisco by a single mother and attended a high school located in the heart of the city. This exposed her to socioeconomic and cultural diversity. Her experiences as student with a disability has given her the perspective to adapt to a college setting. As the Students with Disabilities Representative, she will ensure that the students with disabilities do not feel marginalized and hopes to help these students feel comfortable being a part of the diverse community at USF.