ASUSF Senate Senators
Meet the 2019–20 ASUSF Senator Representatives
There are fourteen senator representatives that make up the voting membership of ASUSF Senate. Senators serve as the voice of all undergraduate students.

ASUSF College of Arts and Sciences Representative
Sarah Arce
saarce@dons.usfca.edu
B.A. Candidate | May 2021
Major: Latin American Studies
Minor: Public Service and Community Outreach
Hometown: Dana Point, CA
Pronouns: She/Her/Hers
Sarah Arce is a first-generation, Latinx student current completing her third year at USF. During her first two years on campus she felt a sense of not belonging and found that many of her peers felt the same way. This prompted her to want to join Senate and be involved with the change made towards improving student life. She is looking forward to working with the students and faculty of the College of Arts and Sciences.
Office Hours: F: 11 - 1pm, 2 - 3pm
ASUSF School of Management Representative
Vacant Position
Military Veterans Student Representative
Alisha Dutt
B.A. Candidate | May 2021
Major: Psychology
Hometown: Fairfield, California
Alisha is currently a junior pursuing her degree in psychology. She's a part of Alpha Phi Omega as well as apart of the Army ROTC on campus. She will be commissioning as a second lieutenant upon graduation and continuing her studies in Psychology in order to achieve her goal of helping as many people as she can in the psychology field. Her mom is a veteran who got injured during her deployment in Afghanistan, giving Alisha first-hand insight and experience with veterans. The military is a huge part of her life and she wants to do everything she can in order to ensure that the Military Veterans on campus have their voices heard. She is very excited to work with the veterans here at USF and hopes to create a strong connection between ROTC cadets and the military veterans on campus. 
Office Hours: R: 12 - 3pm
ASUSF School of Nursing and Health Professions Representative
Vacant Position
ASUSF Senior Class Representative
Vacant Position
ASUSF Junior Class Representative
Rebecca Muñoz
ASUSF Sophomore Class Representative
Austin Downs
aldowns@dons.usfca.edu
B.A. Candidate | May 2022
Major: Marketing
Hometown: Memphis, TN
Austin Downs is currently a sophomore at the University of San Francisco, and he is majoring in Marketing. He is involved in many clubs and organizations on campus including Model United Nations, Campus Activities Board, Saint Ignatius Institute, and ISAP. Being involved on campus is very important to Austin, and he is honored to be able to be apart of the ASUSF Senate. As sophomore class representative, he will represent his class and will strive to make a positive change for the community. 
Office Hours: M: 12 - 2pm & W: 3 - 4 pm
ASUSF Freshman Class Representative
D'Vine Riley
dariley@dons.usfca.edu
B.S. Candidate | May 2023
Major: Psychology 
Hometown: Chicago, IL 
Pronouns: She/Her/Hers 
ASUSF Student of Color Representative
Frances Capupus
ASUSF International Student Representative
Tanya Sanjay
tsanjay@dons.usfca.edu
B.S. Candidate | May 2022
Major: Marketing
Hometown: 
Pronouns: She/Her/Hers
Tanya is a dynamic international student from Singapore, India, and China! She is specializing in digital and multicultural marketing at USF. Ever passionate and leadership, Tanya has consistently held a variety of leadership positions since fifth grade, with the exception of her first semester at USF. She also serves as the President of International Student Association where she continues to advocate for international students and cultural exchange within USF. Always up for a cup of coffee and good conversation, feel free to contact and get to know her! 
Office Hours: T/R: 1:30 - 3pm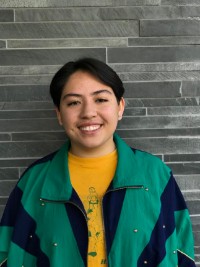 ASUSF Gender and Sexual Diversity Student Representative
Leo Gaona
vmgaona@dons.usfca.edu
B.A. Candidate | May 2022
Major: Fine Arts
Hometown: Ponce, Puerto Rico
Pronouns: He/Him & They/Them
Leo Gaona was born in Ponce, Puerto Rico to two immigrant parents from Colombia that from a very young age encouraged him to work hard and pursue what he felt most passionate about no matter what it may be. For this reason, his sophomore year of high school he moved to Los Angeles to love with extended family and find opportunities he hopes to bring back to his hometown one day. Leo loves to make art in all sorts of mediums such as painting, filming, and photography and incorporates as much as he can his own advocacy for underrepresented communities in his art. Leo is a big believer in the quote "Without liberation for all, there is none at all" and hopes to be able to reach out to USF's LGBTQ+ community and allies to help in moving forward to accomplish goals of equality and transcend into only a more inclusive but proud campus.
ASUSF Transfer Student Representative
Andrea Capella-Castro
ASUSF Student with Disabilities Representative
John Shepard
First Generation Student Representative
Metyia Phillips
mkphillips@dons.usfca.edu
B.A. Candidate | May 2023
Major: Politics
Hometown: Houston, Texas 
Pronouns: She/Her/Hers

Metyia has always had a passion for politics and implementing change. After being apart of the Muscat Scholars Program for first-generation students, she was inspired to run for an at-large position. She decided to petition to become the first generation student representative. As a first-generation and student of color Metyia is dedicated to working hard and making a positive change within her community. She hopes to use her previous student government and public speaking experience from high school to not only make USF an inclusive community for first-generation students, but an inclusive community for everyone.