Student Leadership Conference

Friday, November 5, 2021
1pm - 5pm PT
Virtual Conference via Zoom
---
About the Conference
Each year, Student Leadership and Engagement (SLE) offers a conference that brings together student leaders from student organizations (primarily undergraduate), leadership programs, campus affiliates, and those from within the University community who are interested or passionate about student leadership. Due to the COVID-19 Pandemic, the conference shifted to a virtual domain that enabled our Planning Team to broaden the scope of our conference audience to anyone in the world. 
The mission of our conference is to promote socially-responsible leadership development. That's it. We believe in our Jesuit value of being "people for and with others" and strive to create a space that brings together a community of people who are similarly called to this mission for the communities they are part of. It may be cheesy, but we are truly trying to "Change the World from Here" by connecting leaders, advancing our collective knowledge of local and global issues, and refining our skills to become more effective in achieving our respective goals. 
The conference typically draws between 200-300+ people and is guided by a different theme each year that resonates with our student population. Some of our previous themes include: 
2016: The Lens of Leadership 
2017: Breaking Barriers
2018: iBelieve
2019: Power in a Voice
2020: Putting the ACT in Activism
2021: Click Refresh! Reconnect With Your Server
The conference planning team annually seeks engagement from the community through a call for programs process. The committee seeks between 10-20 different programs to offer attendees that align with the theme of the conference and our mission. 
About our Theme
Given the last year that we have all had, living through a global pandemic while numerous social issues were also being played out, we know that a lot of us have lost our charge. This year's conference is all about reconnecting with ourselves and others as we get our energy back by rediscovering who we are and where our power comes from while navigating the attempt to return to "normal" life. 
What does it mean to unplug and reconnect to a world that does not stay still?  This year's theme, "Click Refresh! Reconnect With Your Server" strives to explain how we can reconnect with ourselves, each other, and our communities in the midst of a global pandemic and unprecedented burnout. Our conference aims to give you the tools to get out of a rut, connect with what matters, and forge meaningful relationships with other leaders seeking to make our world a better place.
Our conference will address questions like, "What role do power and energy play in leadership? What gives people energy versus what drains it? How does one adapt between virtual and in-person leadership?"  We will do so by offering programs that focus on the following three areas: 
Unplug:
Unplugging refers to disconnecting yourself from things that drain you. In order to recharge the power drained from our everyday obstacles, we should first learn to disconnect and free ourselves from barriers that keep our energy from flowing. How will you make yourself a priority? What steps will you take to manage your well-being? What does doing this successfully look like?
Power On: 
Powering on is all about finding where you get your 'charge' from. Powering on goes in tandem with action items and putting our energy towards the things we care about, like our hobbies, passions, and leadership development. Where does your power come from and what motivates you? Where will you focus your power? 
Reconnect: 
To reconnect means to welcome back into your life the things that we may have left behind pre-pandemic. In the ultimate goal of reconnecting, we are utilizing the energy from our sources to rebuild relationships that stimulate a consciousness of service and leadership, producing an environment of unity and advocacy! What have you been keeping on hold? What have you learned about yourself throughout this process?
The Student Leadership Conference aims to serve leaders, like you, in their journey of unplugging, reconnecting, and powering up their leadership skills!
---
Conference Schedule
All listed times are in Pacific Time (PT).
| TIME | DESCRIPTION | Location |
| --- | --- | --- |
| 12:00pm - 4:15pm | Conference Help & Hangout Desk | Zoom |
| 1:00pm - 1:15pm  | Powering On: Conference Opening | LIVE Webinar |
| 1:15pm - 2:00pm | Powering Up: Keynote | LIVE Webinar |
| 2:00pm - 2:45pm | Full Charge: Program Session 1 | Zoom |
| 3:00pm - 3:25pm | Quick Charge: Program Session 2 | Zoom |
| 3:30pm - 4:15pm | Full Charge: Program Session 3 | Zoom |
| 4:30pm - 4:40pm | Powering Down: Closing Session | LIVE Webinar |
| 4:40pm - 5:00pm | Power Cords: Networking | Zoom |
---
Keynote Speaker: Crystal Vega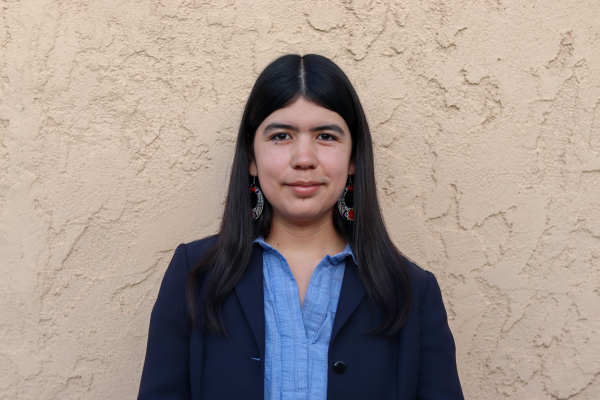 Crystal Vega (they/them) is a nonbinary, Mexican American professional who graduated with a Bachelor's degree in Urban Studies and Critical Diversity Studies from the University of San Francisco in 2018. Currently the Coordinator for Good Robot at Bad Robot Productions, Crystal leads employee engagement activations and supports diversity initiatives across Film, TV, Music, and Games. In 2019, Crystal graduated from the Coro Fellows Program in Public Affairs where they spent nine months in St. Louis, MO in an intensive leadership development program completing placements across the public, private, nonprofit, and government sectors.
During their time as a student at the University of San Francisco, Crystal discovered their passion for youth civic engagement while completing the Leo T. McCarthy Fellowship at the Institute for Local Government and volunteering at various community-based organizations.
Crystal serves as a member of the University of San Francisco's Pride and Latinx Alumni Board, as well as the Southern California Regional Council and Entertainment Industry Board. They are an alum of the Chicano Latino Youth Leadership Project's 2013 Los Angeles Institute and served as a facilitator for their 2021 Virtual Conference. In March of 2021, Crystal founded Beyond Binaries Life Coaching, a coaching practice dedicated to LGBTQ+ young professionals and their allies.
Crystal lives in Bellflower, CA with their partner, Austin, and six furry friends (i.e., two bunnies, two guinea pigs, one dog, and one crested gecko lizard). They hope to continue creating workplace cultures where everyone can show up as their most authentic self. Crystal is committed to LGBTQ+ advocacy, racial justice, and youth civic engagement with the goal of running for local office in the future.
---
Frequently Asked Questions
Who attends?
This year the Student Leadership Conference will be fully virtual and open to all undergraduate and graduate students at the University of San Francisco and to members outside the USF community. We encourage students from other institutions to join us for this leadership opportunity.
The conference is paid for by the ASUSF Student Activity Fee in order to subsidize the leadership development of our students. The conference also has representation from a variety of campus organizations. Campus organizations are expected to send a minimum of two representatives as part of upholding our commitment to strengthening the quality of leadership among student organizations. 
How much does registration cost?
Registration for the conference is completely FREE!
How do I prepare for a virtual conference?
As the university became remote, the conference will be held virtually this year to promote social distancing. Since this is a virtual conference, we recommend that participants access the conference from a Desktop Computer/Laptop so they can engage better than from a mobile device/tablet. We also recommend downloading the latest version of Zoom to fully participate in the features Zoom offers and workshop facilitators may use, such as reactions and annotation. This will be the primary platform for our conference!
USF students can access their fully licensed account via usfca.zoom.us 
How many people attend?
Roughly 200 to 300 USF students attend our annual conference when it has been in person. As a virtual conference, we saw over 325 attendees last year who tuned in from all across the world representing over 20 different institutions beyond USF. 
Why are organizations required to send representatives?
First, we expect that our more visible, prominent, and resourced student organizations demonstrate socially-responsible leadership practices that uphold the values and mission of our University (i.e. Magis, Cura Personalis, People for and with Others, Ad Majorem de Gloriam, and Unity of the Heart and Mind), yet there are few opportunities for students to have hands-on experience with applying values into their day-to-day practices as leaders of their organizations. The Student Leadership Conference serves as one of the premier opportunities to share and examine best practices in socially-responsible leadership within our community. We expect this of our more prominent groups who have access to these resources to demonstrate these practices as their influence often goes beyond those who have less access to resources.
Second, the Student Leadership Conference serves as a space for campus leaders to come together to foster stronger relationships that can promote new collaborations.  Collaboration is an essential value of socially-responsible leadership that demonstrates the reality that each of us (whether as individuals or as groups) exists within a larger community that we each have a responsibility toward bettering in our mission toward social justice. Social Justice cannot be achieved if we do not have relationships the go beyond those who are part of our immediate groups and communities. Thus, by requiring each organization to send a minimum of two representatives we get closer toward that goal of building a community that is both aware of its members and feel a sense of connection and care toward them. 
Lastly, the Student Leadership Conference engages participants in a series of events that promote a stronger awareness of self in relation to others. Self-Awareness is an essential ingredient to be an effective leader who aims to be socially responsible in their leadership practice. Our annual conference offers experiences that encourage participants to examine who they are in relation to the world around them. Leadership is often thought of an individual endeavor, when in fact leadership is actually found in the space between self and others. As a department, we are committed to offering programs that promote self-awareness to better manage oneself in relation to others while in pursuit of making USF, and the world, a better place. 
If there are any other questions, please contact Student Leadership and Engagement at: sle@usfca.edu or the annual conference planning team at: usfcaslc@gmail.com. 

We invite you to follow us on Instagram @usfcaslc for all the latest updates for the conference planning process!