Student Leadership Conference
Fall 2020 Student Leadership Conference
Putting the ACT in Activism!
#USFCASLC2020
Friday, November 13, 2020
3pm - 7pm PT
Virtual Conference via Zoom
That's a wrap!
Thank you to all who were able to engage in this year's Student Leadership Conference. The virtual conference brought together more than 200 people from across the world - literally, to explore topics in leadership development and activism. Take a look at our recap video to see what this year's conference was all about. 
About the Conference
Given the rise of events occurring globally and in our local communities, we are reminded of the many ways we can take action against injustice. This means educating ourselves and our community on the role we play in our own liberation. As many of us are left with the question "what can I do?", the Student Leadership Conference aims to serve us as future leaders in their journey into activism.
This year's theme, "Putting the ACT in Activism" explores the different paths of social change that will equip student leaders with the tools, experiences, and motivation to contribute to the common good within their community. We aim to build the capacity of student leaders to address community-identified priorities and desires. It's time to rise and take action. Join our First Virtual Student Leadership Conference to learn how you can "put the act in activism". 
---
Conference Schedule
All listed times are in Pacific Time (PT).
| TIME | DESCRIPTION | Location |
| --- | --- | --- |
| 3:00pm - 3:15pm  | Conference Opening | LIVE Webinar |
| 3:15pm - 4:00pm | Moderated Keynote Discussion | LIVE Webinar |
| 4:00pm - 4:50pm | Program Session 1 | Zoom |
| 5:00pm - 5:50pm | Program Session 2 | Zoom |
| 6:00pm - 6:15pm | Conference Closing | LIVE Webinar |
| 6:15pm - 7:00pm | Networking | Zoom |
---
Keynote Speaker: Julian Dowell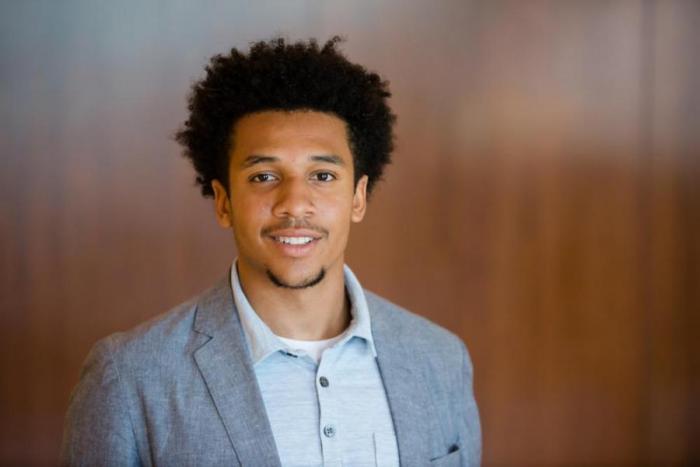 Julian Dowell is a 20-year-old born in Baltimore City and raised in Wheaton, Maryland since the age of 8. Returning frequently to his hometown, he strives to leave an impact in every room he enters and with every person he has the privilege of engaging with. From a young age, he has recognized the importance of providing the voiceless with a platform, and after seeing the stark inequalities between Baltimore City and Baltimore County, it was apparent that indifference to injustice just wasn't an option for him. As a third-year African-American Studies major at Georgetown University, Julian plans to apply the knowledge and systemic analysis he has received to fight against hegemony in its various forms.
Julian wouldn't have been able to find his activist voice without all of the fantastic individuals who impacted his social, emotional, and intellectual development. When his mother bought him Michelle Alexander's The New Jim Crow back in 2014, he committed to challenging the Criminal Injustice System. After reading The New Jim Crow, Julian sought to put what he had learned into practice. At the age of 14, he became the youngest intern of the NAACP Washington Bureau, participating and facilitating student movements for justice. For example, developing a social justice critical competency curriculum for all DC Public High Schools, as well as leveraging Augmented Reality and Virtual Reality as a Tool for Social Justice.
Currently, Julian is the founder of Arkitekt X, an Augmented Reality and Virtual Reality studio that strives to center diverse perspectives in order to create powerful AR and VR experiences. Arkitekt X wanted to take the time to shine a light on Breonna Taylor, before her name had been commodified by the mainstream, and create an AR mural to highlight her radiance. The firm is currently developing a range of experiences centered around marginalized peoples displayed year-round.
---
Frequently Asked Questions
Who attends? 
This year the Student Leadership Conference will be fully virtual and open to all undergraduate and graduate students at the University of San Francisco and to members outside the USF community! We encourage students from other institutions to join us for this leadership opportunity.
The conference is paid for by the ASUSF Student Activity Fee in order to subsidize the leadership development of our students. The conference also has representation from a variety of campus organizations. Campus organizations are expected to send a minimum of two representatives as part of upholding our commitment to strengthening the quality of leadership among student organizations. 
How much does registration cost? 
At this time, registration for the conference is FREE! 
How do I prepare for a virtual conference? 
As the university became remote, the conference will be held virtually this year to promote social distancing. Since this is a virtual conference, we recommend that participants access the conference from a Desktop Computer/Laptop so they can engage better than from a mobile device/tablet. We also recommend downloading the latest version of Zoom to fully participate in the features Zoom offers and workshop facilitators may use, such as reactions and annotation. This will be the primary platform for our conference!
USF students can access their fully licensed account via usfca.zoom.us 
How many people attend?
Roughly 150 to 200 USF students attend our annual conference.
Why are some organizations required to attend?
First, we expect that our more visible, prominent, and resourced student organizations demonstrate socially-responsible leadership practices that uphold the values and mission of our University (i.e. Magis, Cura Personalis, People for and with Others, Ad Majorem de Gloriam, and Unity of the Heart and Mind), yet there are few opportunities for students to have hands-on experience with applying values into their day-to-day practices as leaders of their organizations. The Student Leadership Conference serves as one of the premier opportunities to share and examine best practices in socially-responsible leadership within our community. We expect this of our more prominent groups who have access to these resources to demonstrate these practices as their influence often goes beyond those who have less access to resources. 
Second, the Student Leadership Conference serves as a space for campus leaders to come together to foster stronger relationships that can promote new collaborations.  Collaboration is an essential value of socially-responsible leadership that demonstrates the reality that each of us (whether as individuals or as groups) exists within a larger community that we each have a responsibility toward bettering in our mission toward social justice. Social Justice cannot be achieved if we do not have relationships the go beyond those who are part of our immediate groups and communities. Thus, by requiring each organization to send a minimum of two representatives we get closer toward that goal of building a community that is both aware of its members and feel a sense of connection and care toward them. 
Lastly, the Student Leadership Conference engages participants in a series of events that promote a stronger awareness of self in relation to others. Self-Awareness is an essential ingredient to be an effective leader who aims to be socially responsible in their leadership practice. Our annual conference offers experiences that encourage participants to examine who they are in relation to the world around them. Leadership is often thought of an individual endeavor, when in fact leadership is actually found in the space between self and others. As a department, we are committed to offering programs that promote self-awareness to better manage oneself in relation to others while in pursuit of making USF, and the world, a better place. 
If there are any other questions, please contact Student Leadership and Engagement at: sle@usfca.edu