Spring 2020 Hiring Newsletter
We know that the semester start is a busy time for all of us at USF. While we understand that many of us have a hefty workload, there are certain baselines that we, as a university, must uphold. Below is a list, and brief description, of each of the common standards and legal requirements we must ensure that everyone is aware of and executing. For detailed information about each topic, simply expand the appropriate accordion section.
Completing the hire process:  The USFWorks hire process is not instantaneous. We truly appreciate that managers are sending students to the office to complete the Form I-9 right away! However, there are multiple steps that must first take place before the Student Employment Office can verify an I-9. Please expand the "Spring Hire Process" section below to view the four steps that are required before your student worker's first day of employment.
Authorizing employment: Federal law requires that all new employees, including domestic and international student employees, submit a valid I-9 on or before their first day of work. The repercussion of allowing an employee to work before I-9 verification is a fine of $25,000 per violating employee. Additionally, students who have not verified their I-9 cannot log time and cannot receive compensation. Working prior to I-9 verification is a violation of federal law and CA Labor Law. 
Hiring students with Federal Work-Study: Prior to updating any student's position to utilize their FWS award, managers must obtain written confirmation of that student's eligibility for, and acceptance of, FWS. A webform is coming! In the meantime, simply reach out to the Student Employment Office for FWS confirmation.
Completing your recruitment process: Students are contacting the Student Employment Office to request information about the (sometimes dozens of) applications they've submitted to on-campus jobs. These students are concerned because they have not received any notifications regarding their applications: Did they choose another candidate? Are they still looking for student workers? To best support our students, all managers are required to decline any candidates not chosen to send an email follow-up. 
Spring 2020 Start: JM Org. Review: All managers are required to complete periodic JM Org. reviews to ensure that the correct student workers are reporting to them, that these student employees are listed under the correct job details, and that those who have graduated or moved on to other positions have their position in your org. ended.
Financial Aid Awareness Month: Student Employment Info Sessions: The Student Employment Office will be hosting two help sessions for students in February for Financial Aid Awareness month. To advertise your job opportunities, send us an email with your job details and we'll promote all open positions to those in attendance!
Delegations: Going on vacation? Delegate certain tasks to the appropriate member within your hierarchy tree to ensure your student workers' timesheets are approved on time.
Spring Semester hiring has gotten off to a great start! The Student Employment Office is receiving requests to hire new and returning student workers, and we are generating offer letters and finalizing hires daily. As a reminder, the following steps must be completed prior to the student's first day of work:
Create: The start of your Spring Semester hiring process begins with creating a job requisition.
Post: Job reqs are typically posted on our internal and external jobs boards: students with active USFWorks profiles should apply internally to avoid duplicate accounts; students who have not yet worked in a USF student employee position or who have been terminated must apply externally. 
Offer: Next, you must offer the job to your student. Once the student has accepted the offer, the Student Employment Office must finalize the hire process, which creates a temporary account for the student. 
Onboard: Finally, the student's onboarding launches. Students must complete all tasks (refreshing their inbox occasionally) before presenting I-9 documentation and before beginning work. Since the I-9 is digital, submitting the I-9 task prior to visiting the Student Employment Office will ensure that employment verification is swift and efficient. Our New Hire Checklist for Student Employees has detailed information and helpful tips for our student workers--please share it far and wide to help ease the onboarding process!
To confirm that a student is ready to begin work, managers can review their USFWorks profile: Their account is complete when their CWID is listed under "Employee ID" and you are able to Enter Time for that worker. Please be sure to review your student workers' profiles before allowing them to begin work.
As you may have noticed, paper work clearances ended with the launch of USFWorks. A student is cleared for work when they have finished their USFWorks onboarding and verified their Form I-9.
The Form I-9 is a federal requirement that authorizes employment eligibility and is required for all new student employees, domestic and international. Failure to satisfy this requirement will result in loss of employment eligibility.

With the launch of USFWorks, the Form I-9 is digital. All new student employees must submit their I-9 task and present original supporting documentation for the Form I-9 in-person to the Student Employment Office on or before their first day of work.
Students who have not yet completed the I-9 requirement are unable to access their USFWorks timesheets. To ensure that your student workers are compensated in a timely manner, please ensure that your employee's I-9 documents have been verified:
New student workers: must present original supporting documentation to the Student Employment Office
Returning student workers: must submit all onboarding tasks related to the Form I-9, then reach out to our office to confirm validity of previous Form I-9
As a manager, you can track where your students are in onboarding via the Onboarding Status Summary Report. You can access this report by typing "Onboarding Status Summary" into the USFWorks search bar, clicking into the report, and then selecting your JM Organization.
Your occasional review of the Onboarding Status Summary Report for those in your JM Org is crucial to ensure that your student workers have completed all new-hire requirements and been authorized to work.
The Office of Student Employment has published a New Hire Checklist for student employees containing detailed instructions and helpful tips for completing all onboarding tasks and new-hire requirements. Please feel free to share this link widely with anyone who may need it: newly-hired student employees, as well as managers who wish to better support their student workers.
For a student's Federal Work-Study award to be applied to their job, the student must be hired or transferred into a Federal Work-Study Job Profile (JC7017-JC7021 / JC7024, JC7025). Requests can be sent to our email (Stuemp@usfca.edu) to make these changes for qualified students.
To confirm if the student has an award, the student will need to access the MyUSF student self service portal. Once there, they can click into the financial aid information and then view their awards. 
Managers also have the ability to convert a student's position to FWS. The Student Employment Office is currently working to make the FWS authorization process smoother, effectively confirming the FWS status of students. Be on the lookout for a new Federal Work-Study Authorization WebForm! In the meantime, managers who have questions about a student's FWS eligibility can contact our office or reach out to the student for written confirmation. Prior to submitting any Data Changes to update a student job's FWS status, managers must obtain written confirmation from the Student Employment Office confirming a student's FWS award.
Campus Job Opportunity (CJOB) is an institutional award that is not subsidized by federal funds: 100% of the earnings paid to a student who has been awarded CJOB are charged to the department budget.

If a student is working under a FWS job profile but has CJOB, or does not have either award and is found ineligible, the department is responsible for reimbursing the federal fund for the student's earnings.
When you've hired your student staff for the semester, you are almost done with the recruiting process! To wrap up your recruiting process, you will decline any candidates who were not hired. Sending a message to candidates to thank them for their time and interest, and to alert them that the position has been filled, ensures that our students feel supported and valued, and fosters an environment of mutual respect--as is the Jesuit tradition.
Managers can find instructions for Dispositioning (Declining) Candidates and Unposting Requisitions on our website, and we're happy to answer any questions you may have.
What if your chosen Spring 2020 student worker is already in your JM Org? You can make sure they're in the right job by completing the Semester Start JM-Org Review (directions below).
All JM Org managers are required to do occasional Semester Org. Checks. This is to make sure that you have the correct students reporting to you in your JM Orgs for the current and upcoming semesters. We know this is still a relatively new implementation by the Student Employment Office, and we're here to support you if you have questions in regards to the process.
Rather than a flurry of EPAFS, managers will now be able to keep most students in their same roles (excluding Federal Work-Study positions and graduating students) between semesters, over summer, and beyond if the student is staying in the same role. If their role is changing, a Change Job process should be done, and if they are not continuing to work for you, they should be terminated/have their additional job ended. The process is explained in the diagram below.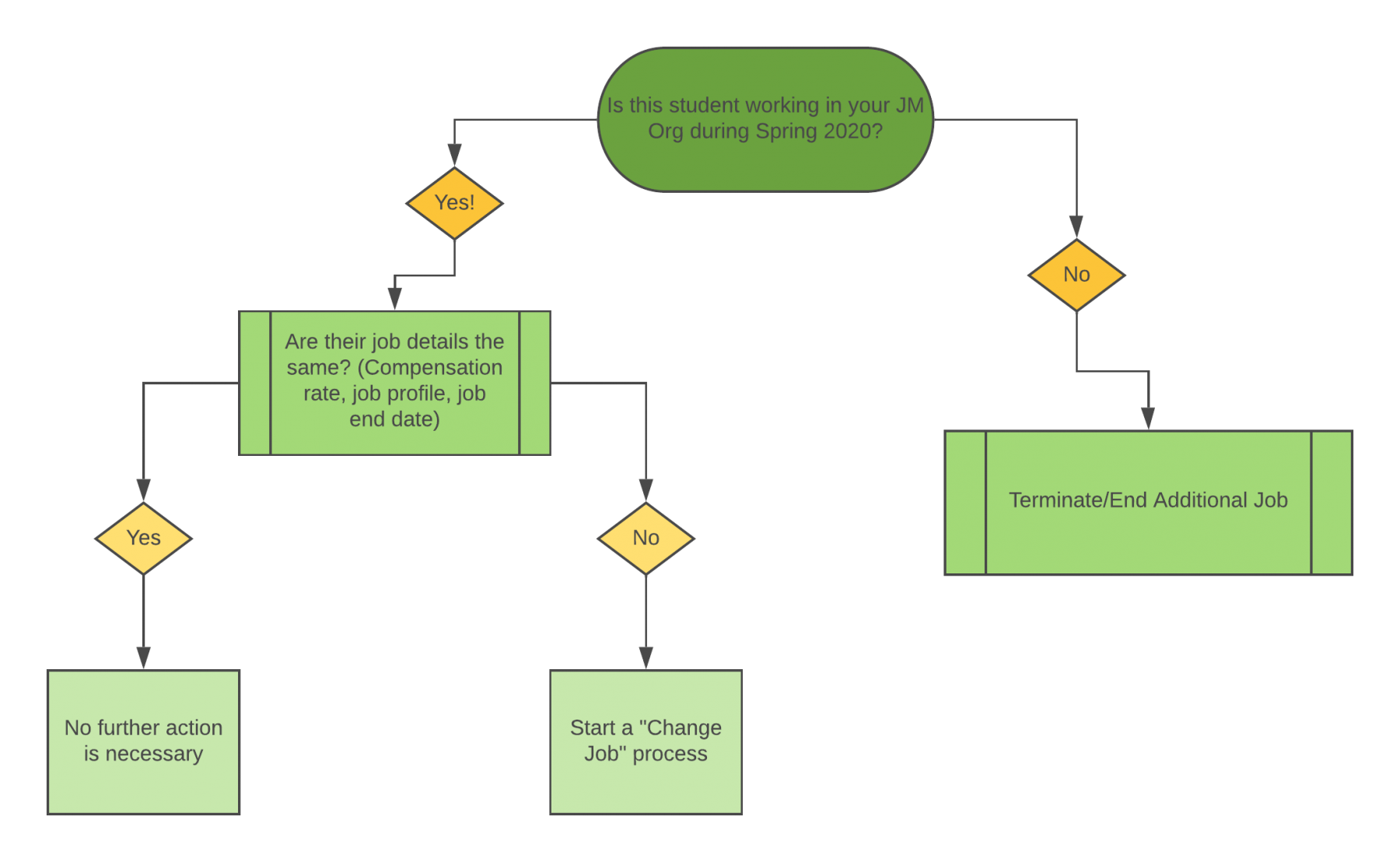 Certain tasks within USFWorks can be delegated to other employees within your hierarchy tree. To learn how, check out this resource. This can be helpful when planning a vacation--you can delegate your managerial duties (like approving student timesheets) to the appropriate staff/faculty member and rest easy on your vacation knowing that your student workers are in good hands.
Student employees accrue 1 hour of sick leave for every 30 hours worked, up to 72 hours. This benefit allows a student to avoid forgoing wages for scheduled hours that were not worked due to illness or injury or the necessity to care for a family member who is ill or injured. Accrued paid sick leave hours are not paid out upon separation and not paid out upon completion of the academic year.
Effective July 1, 2019 the San Francisco city minimum wage was increased from $15/hour to $15.59/hour. Please take the new minimum wage into account when planning your student employment budgets for the year ahead.
All student positions had their minimums increased on July 1st via USFWorks processes. However, job requisitions that were created with a hiring rate under $15.59 will have the lower compensation still active. By doing a compensation change on the job requisition, you can update it to the higher rate. Student Employment is also checking all hires and raising their wages during hiring to $15.59 if needed.
Checking your student workers' compensation rates during your Spring 2020 JM Org Review will help to ensure that all students are being benefiting from this minimum wage increase.
The Student Employment Office is finding that some students are still being hired under the previous minimum wage ($15.00 hourly)--your Spring 2020 JM Org Review is crucial in ensuring that our students receive the compensation rate they deserve.
If you have any questions about this, please feel free to contact out office.
Financial Aid Awareness Month: Student Employment Information Sessions
The Office of Student Employment will be hosting two information sessions for student employees in February to celebrate Financial Aid Awareness month. We'll share employment opportunities and benefits they may be eligible for, explain the difference between Federal Work-Study (FWS) and Campus Job Opportunity (CJOB), and explain all new-hire requirements and laws pertaining to both domestic and international student workers. 
Student employees are invited to join us on Monday, February 10th from 12:00pm-1:30pm in McLaren 250. For those unable to attend, we will also host a webinar on Tuesday, February 18th from 3:00pm-4:30pm. Our webinar will then be posted online for all to review at their leisure.

Still searching for student workers? Interested in advertising your job openings during our info-sessions? Send us an email with the details (job requisition number and anything else you'd like to include) and we'll include your open positions in our job opportunities portion of the help session
Questions or suggestions? Contact your Student Employment Team!
Office Phone: 415-422-6770
Office Email: stuemp@usfca.edu
Your Student Employment / Financial Aid Team
Lauren Pixler
Patricia Otero

The Student Employment Office is a sub-department of the Office of Financial Aid.