Learning Objectives & Outcomes
Set what students will expect from the course and how their learning will be scaffolded throughout the term. Learning outcomes are crafted when a course is approved; however, the assignments and content used to meet these objectives may vary. Design objectives that can be assessed throughout the semester and are centered on student learning to optimize your course's success.
Although sometimes used interchangeably, a learning objective describes what will be covered in the course. Learning outcomes specifically define what a student should be able to do at the course's conclusion. Many are written with action verbs and are informed by Bloom's Taxonomy (below), a model classifying levels of human cognition by level of engagement.
Well articulated learning objectives can provide a useful structure to your course. Find opportunities to check in with students throughout the semester and ask them to reflect on whether they think they're reaching these milestones. Objectives and outcomes should not simply be noted on the syllabus and neglected as the course progresses. Keep assessments grounded in what and how you expect students to engage with course materials. 
Furthermore, learning outcomes should be measurable by what students produce in the course – for instance, products, artifacts, and performances – rather than the instructional technique or content competencies. 
In light of technology-enhanced teaching, a revision of Bloom's Taxonomy serves to inform instructors how to effective bridge the use of educational technologies with clearly articulated learning objectives emphasizing high-order critical thinking.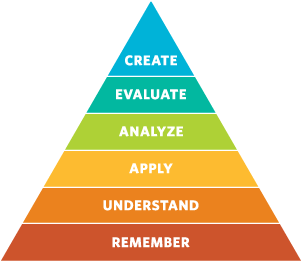 The model prioritizes high-order thinking as knowledge production, thus treating the retrieval and analyzing of materials as a means of scaffolded learning. These action verbs can also be used when writing learning outcomes: what will students learn, how will they achieve these goals, and how can they apply newly-acquired skills?
(Adapted from Arizona State University)
Learn More about Bloom's Taxonomy
Once learning objectives are defined, "reverse engineer" your course by designing course tasks, materials, and assessments around how learning should be evaluated throughout the course term. Build on the levels of learning explored in Bloom's Taxonomy and consider the skills students will develop by being engaged in your course. If this particular course is offered in sequence with others (e.g., language and science fields), how might you provide continuity, and what are subsequent classes' learning objectives?
Wiggins and McTighe offer in their 1998 book Understanding by Design three stages of backward design (adapted from Vanderbilt University):
Identifying learning outcomes: What will students learn?
Collecting of evidence: How will I determine my students are learning?
Creating the learning experience: How will I teach the course?
Planning for assignments around ways in which you will evaluate learning objectives enables to see the relationships between the knowledge produced in class alongside the tasks being used to evaluate conceptual competencies.
Learn More about Backward Course Design
Below are resources available to USF Faculty in support of course development and evaluations. For external community members, we suggest contacting your school's instructional designers and teaching centers for relevant information.
Request Instructional Design Workshops
Our Instructional Designers offer a one-hour workshop on backward design, the act of creating course activities and assignments based on defined learning outcomes and goals. 

For more information, email the Instructional Design team.