Registration Request Form for Screening and Panel Discussion of Flannery O'Connor Film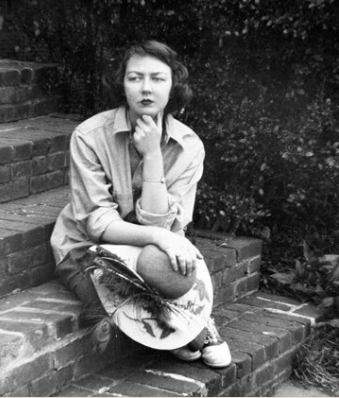 PLEASE NOTE: This event has been postponed until fall 2020. 
Pre-reception | Lo Schiavo Science 104 - Getty Study, University of San Francisco (USF) 
Film screening & panel discussion | Harney Science Center - G56 - Classroom, USF 
Winner of the first-ever Library of Congress / Lavine Family / Ken Burns Prize for Film, Flannery is the lyrical, intimate exploration of the life and work of Catholic author Flannery O'Connor, whose distinctive Southern Gothic style influenced a generation of artists and activists. With her family home at Andalusia (the Georgia farm where she grew up and later wrote her best known work) as a backdrop, a picture of the woman behind her sharply aware, starkly redemptive style comes into focus. Including conversations with those who knew her and those inspired by her (Alice Walker, Tommy Lee Jones, Mary Karr, Conan O'Brien, and more), Flannery employs never-before-seen archival footage, newly discovered personal letters, and her own published words (read by Mary Steenburgen) alongside original animations and music to elevate the life and legacy of an American literary icon. Learn more about the film at: https://www.flanneryfilm.com/
Panelists include Mark Bosco, SJ and Elizabeth Coffman (co-directors of the film) along with Richard Rodriguez, author featured in the documentary. Kimberly Connor will moderate.
Free parking is available for the evening in the Koret lot on the southwest corner of Turk Street and Parker Avenue; no parking permit required. There are two lots with separate entrances: the upper lot is accessed via Parker Avenue; the lower lot is accessed via Turk Street.