Counseling and Psychological Services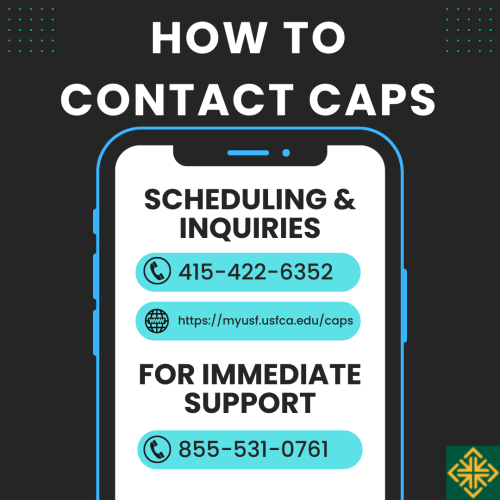 Lots of college students experience mental health struggles. Counseling & Psychological Services (CAPS) can help with sadness, anxiety, loneliness, college adjustment, relationship struggles, and other concerns not requiring medical intervention. Below is a short video with a summary of our current services.
---
Learn More
Visit our YouTube channel or the various sections of our website to learn more about our services, resources on and off campus, and more. Call (415) 422-6352 during business hours to schedule an appointment. There are no out-of-pocket fees for these services. Our annual report is also available below.
24 Hour Cancellation Policy:
CAPS has a limited number of appointments available; we encourage you to keep your scheduled appointments. If you cannot attend an appointment, please call to cancel or reschedule 24 hours in advance to avoid being charged a $30 no-show fine. You may leave a voicemail if lines are busy.
---
Limits to Our Services
CAPS is here to serve USF students. There are limits to the type and length of services we can provide through CAPS. If we are unable to offer a service that you need, we are happy to consult with you by phone or video conference to help you connect with services elsewhere. Please read about our Scope of Services and Limitations to learn more.
Note that CAPS is unable to provide therapy to USF students who are not currently enrolled or who are located outside of California, but we can consult with you about your needs and provide assistance. Read more about potential limitations on services outside of California.
---
Students of Concern
If you are concerned about a USF student and would like someone to follow up with them, please contact the Dean of Students Office (415.422.5330) to learn more about the Care Referral Program. To consult about helping a USF student regarding their mental health, call CAPS during business hours at (415) 422-6352 or call the All Hours Line any time at (855) 531-0761. If you or someone you know is at immediate risk of harm to self or others, please contact Public Safety at (415) 422-2911 if on campus; if off campus, dial 911 and ask for a Crisis Intervention Trained (CIT) officer. Another resource is the National Suicide Prevention Lifeline; call or text 988
National Suicide Prevention Lifeline I 988 I Available Worldwide in 105 languages. Any students seeking support are welcome to call our All Hours Line any time at (855) 531-0761 to talk to a counselor by phone. Student enrolled in USF classes can contact us to schedule an appointment or for assistance finding off-campus services if needed; to reach our office, call (415) 422-6352 during business hours. In addition, we encourage you to stay connected with friends, loved ones, and community and engage in extra self-care. 

Below are some additional resources:

--Crisis Text Line: A national text support service staffed by trained peer volunteer counselors. Provides general support to anyone in the United States. To reach a peer counselor, text HOME to 741741 or visit https://www.crisistextline.org/. To reach a peer counselor of color, text STEVE to 741741 any time or visit https://www.stevefund.org/crisistextline/.
--National Suicide Prevention Lifeline: Call or Text 988. Available 24/7 worldwide in 105 languages. 
--Additional crisis resources are listed on our Crisis Services web page.

Staff or faculty seeking additional support may utilize the Employee Assistance Program via CONCERN, which is accessible 24/7 by calling (800) 344-4222.  
Notice an error on our website, or have questions about the site? Contact 415-422-6352