Human Resources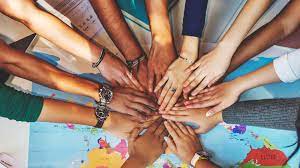 As Father Paul shared on May 16, "The racist hate crime that killed 10 of our sisters and brothers, and injured three more, at a Buffalo supermarket Saturday has affected me deeply. I know that you, too, are grappling with this horrific event, along with the increase in white supremacist violence that is occurring throughout our nation".   We are all struggling to understand such actions of violence and the understandable stress it causes both for ourselves and our children.
Our vendor Concern has provided two resources to help us with facing these events and how to talk about hem with our children.
Coping With Violence and Mass Shootings is intended to help adults find a way to deal with the anger and confusion these actions cause.
Children Coping With Violence is a resources for parents on how to address these events with their children.
---
Ukrainian Crisis: Meaningful ways you can help Ukraine
Our EAP vendor Concern has provided a resource for donating to Ukraine as well as support for those who may have friends or family in Ukraine and for anyone feeling the fear and effects of the crisis.
Ukrainians have compiled a list of organizations where you can donate to help people affected by the crisis. These organizations include:
Source: Global Citizen. For more ideas about how you might help, please check out this site.
---
Our Mission Is Supporting Yours
Human Resources is committed to fostering an inclusive and engaging work environment for all faculty and staff, enabling you to achieve the university's mission.