Office of Financial Aid
Financial Aid Operations and COVID-19 Information
The City and County of San Francisco has issued a  public health order requiring residents to stay home except for essential needs.
To comply with this order, the Office of Financial Aid will not be available in-person. During this time, we will be available to answer any financial aid inquiries by email at Financialaid@usfca.edu or by phones. You may also schedule a Zoom web conferencing or phone appointments online. Once appointment is scheduled, an email will be sent to you with the Zoom meeting link within 12 hours prior to the meeting. Our office will continue daily financial aid processing. We appreciate your patience during this time given the unprecedented nature of the situation. Please check back on our website for any updated information for the Office of Financial Aid. 
If you need to reach Student Accounts Office for billing and tuition inquiries, please email them at Studentaccounts@usfca.edu.
If you need to reach the Student Housing and Residential Education (SHaRE) for housing related inquiries, please email them at Share@usfca.edu.
For University's latest information and resources on COVID-19, please visit the resources page. 
Financial Aid Webinars for Continuing Students
We understand that the 2018 tax records you'll use to complete your FAFSA may not accurately reflect your current ability to pay for college. Our financial aid staff may be able to help you appeal your financial aid package in certain circumstances. Join us for a webinar to discuss these circumstances and how we might be able to help. 
Monday, June 15
6:00 PM–7:00 PM PDT
Thursday, June 18
5:00 PM–6:00 PM PDT
Register 
How To Pay for Your USF Education Webinar
The recording of our "How To Pay for Your USF Education" webinar is now available!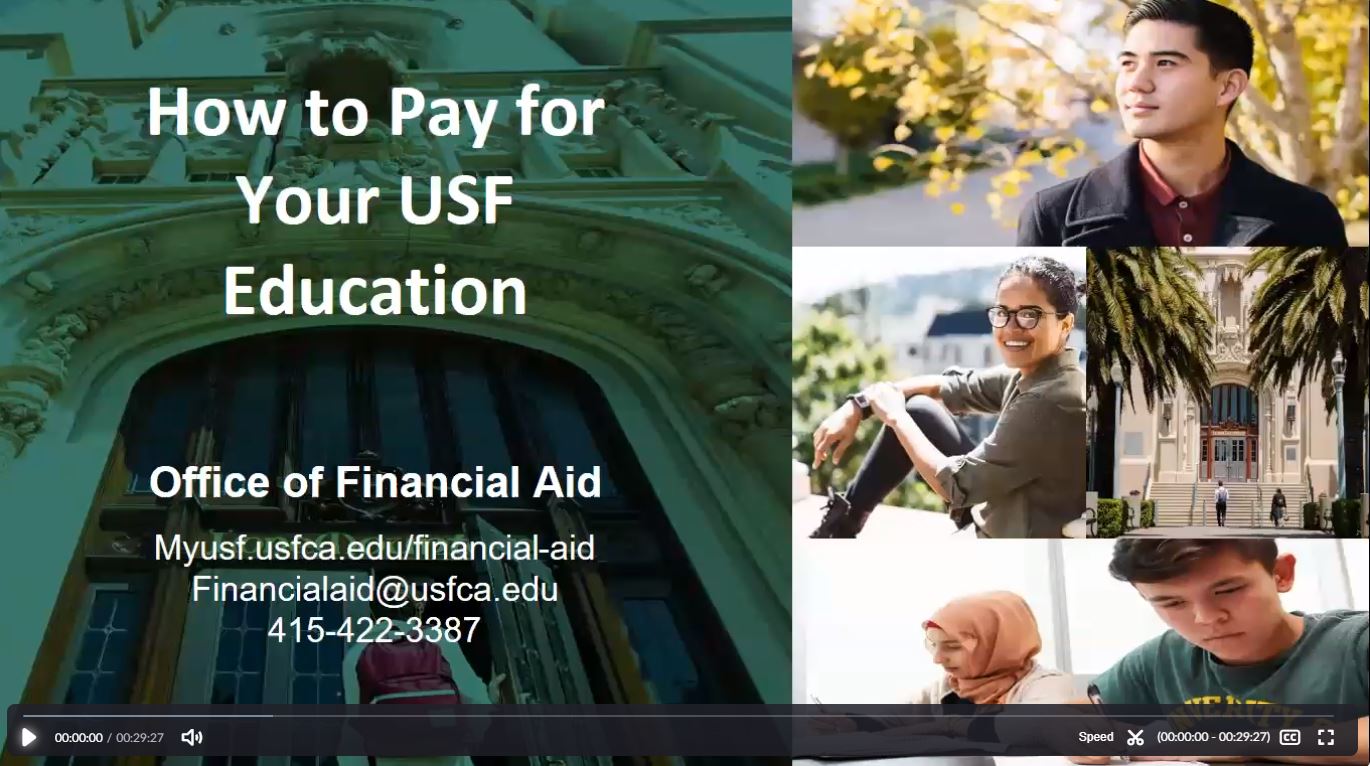 Summer Financial Aid
Will you be enrolling in summer classes and using financial aid? Undergraduate students may be eligible to use Federal student aid with a minimum 6 units enrollment or 3 units for graduate students. Federal Pell Grant and Direct Loan annual limits apply. Please ensure that a 2019-2020 FAFSA is completed. 
Which Financial Aid Application Should I File
Disbursement Information
Undergraduate and Graduate (excluding law)
Fall....................…………....................... August 10, 2020
Spring..................………...................... January 15, 2021
Summer Session I, II, and IV............... May 14, 2021
Summer Session III,V, and VI.............. TBD
Summer Session VII............................ TBD
Private Loans*…………......................... Vary Depending on Lender
For more information about refunds.
For more information about disbursements.
Video Tutorials
Need help finding your financial aid self-service, accepting your award offer, or submitting an online form? Use the financial aid videos page for help! Click to view more tutorials.