Koret Health and Recreation Center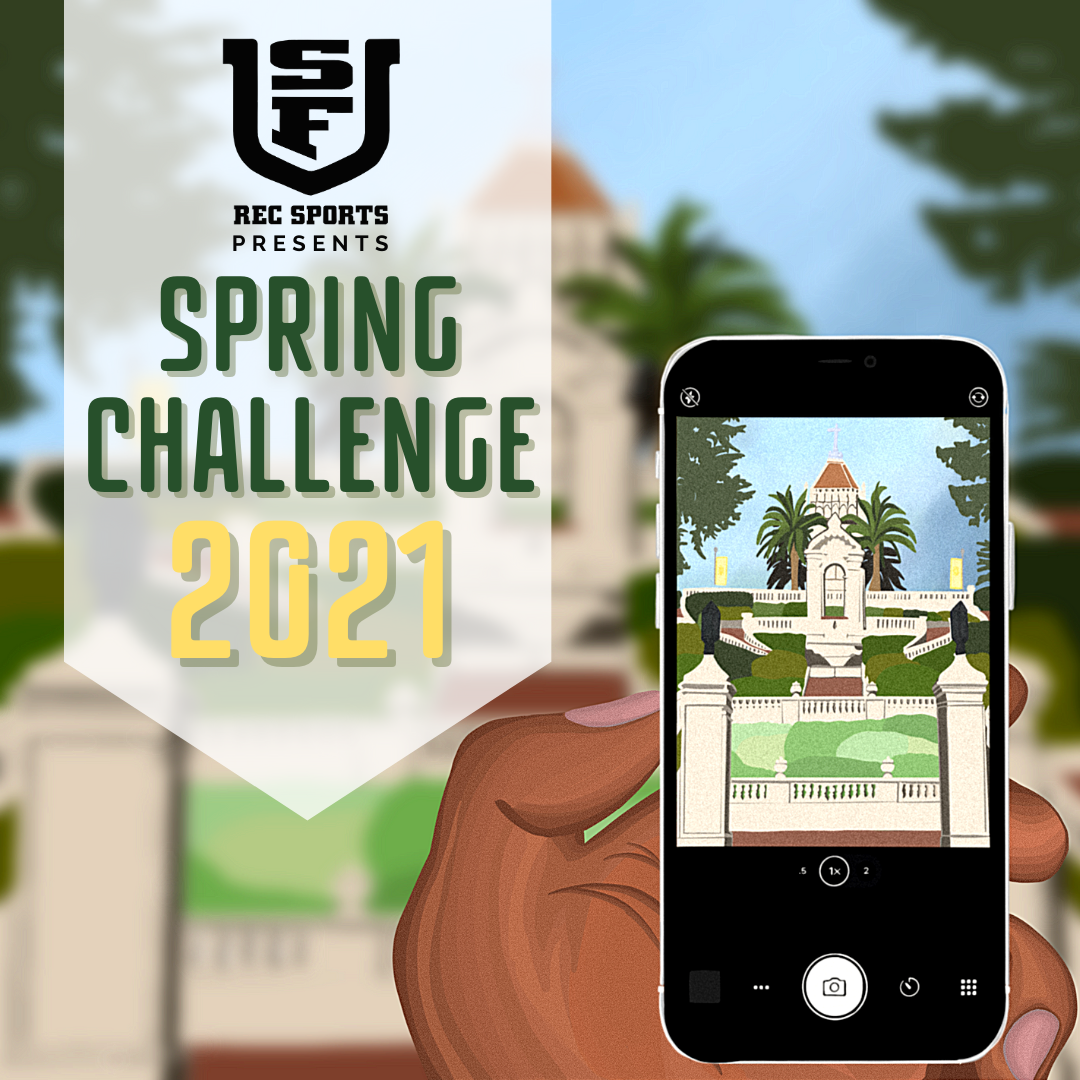 Rec Sports Spring Challenge 2021
JOIN US each week for fun-themed activities to promote your overall health, wellness, and bond with fellow Dons! Follow us on @usfkoret for weekly reminders and rules on how to participate (varies each week).

All participants will be entered into our weekly raffle for a chance to win your choice of a Rec Sports Nike Dri-Fit long sleeve or a 4-week personal training membership with one of our certified personal trainers!

Raffle winners will be announced every Tuesday on social media.

Participate in at least 9 of the 12 weekly activities to automatically WIN an ultra-soft Rec Sports Nike hoodie.

In an effort to support public health recommendations that are aimed at protecting our community from the spread of COVID-19 and to comply with the City of San Francisco's shelter-in-place order, the Koret Health and Recreation Center will remain temporarily closed.

Please visit the Koret page for current programs such as Zoom fitness classes, workout of the day, fitness 101 videos, outdoor recreation and intramural league. 
Hours
| Day | Main Building | Pool |
| --- | --- | --- |
| Monday - Friday       | Temporarily Closed (COVID) | Temporarily Closed (COVID) |
| Saturday - Sunday | Temporarily Closed (COVID) | Temporarily Closed (COVID) |
PROGRAMS & ACTIVITIES STATUS
USF students, faculty and staff ActiveNet login
Access
USF student, faculty, and staff must bring a valid USF ID card to access the Koret Center. We are unable to look up USF individuals with our check-in system. Please do not forget your USF ID when visiting the Koret Center. Thank you!
General Holiday Information
All facilities are subject to availability. Koret Health and Recreation Center will be closed during University holidays. In addition, maintenance closures will occur throughout the year to ensure the safety, cleanliness, and quality of our facilities. (Please check with the Front Desk for specific dates and times. Hours are subject to change without further notice.)
The Koret Center is closed each year for Easter, Thanksgiving, and the Christmas holidays. In addition to the above, Koret is open for abbreviated hours on the following holidays: Martin Luther King Jr., President's Day, Good Friday, Memorial Day, Fourth of July, Labor Day, the day after Thanksgiving, and Christmas Eve.
The Department of Recreational Sports wants to insure that our events are accessible for all persons. Please contact us at (415) 422-6811 to request reasonable accommodations.
Mission
The mission of the Recreational Sports Department and Koret Health and Recreation Center is to provide desired recreational sports activities, programs, and services to USF students, faculty, staff, alumni, and limited neighborhood patrons. The department will offer these groups opportunities to enhance their knowledge, interest and behavior to promote healthy lifestyles.