Title IX
The Title IX office continually strives to maintain and strengthen a climate which fosters civility, mutual respect, and inclusivity for all community members. Our primary concern is your safety and well-being and we are tasked with following up on all reports of sexual misconduct experienced by our community members.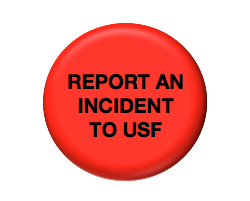 Title IX and Sexual Misconduct
Sexual misconduct is prohibited by federal and state law and by University policy. Sexual misconduct is also contradictory to the University's mission and values and will not be tolerated in our community. Offenses of USF's Sexual Misconduct Policy include, but are not limited to:
Sexual Harassment
Non-Consensual Sexual Contact
Non-Consensual Sexual Intercourse
Sexual Exploitation
Aiding or Facilitating Sexual Misconduct
Relationship Violence
Stalking
To report potential Title IX violations, please email or call the Title IX Coordinator at 415-422-5330 or make a report online. If this is an emergency, please call USF Public Safety right away at 415-422-2911.
Yoga as Healing
A new resource for survivors of sexual assault and sexual misconduct is now at USF. Applications for Fall Semester 2018 are now open!
Campus Title IX Coordinators
For more information about Title IX, or to seek help and resources, you can contact:
Title IX Coordinator- Jess Varga
jvarga@usfca.edu
415-422-5330
Deputy Title IX Coordinator - Students: Julie Orio
orioj@usfca.edu
(415) 422-2823
Deputy Title IX Coordinator - Athletics: Doug Padron
dcpadron@usfca.edu
(415) 422-4927
Deputy Title IX Coordinator - Staff/Faculty: Diane Nelson
dlnelson3@usfca.edu
(415) 422-2441
USF Statement of Nondiscrimination
The University of San Francisco is committed to providing an environment free from gender-based discrimination or harassment. As such, USF does not tolerate any kind of gender-based discrimination or harassment, which includes sexual assault, sexual harassment, and gender-based harassment. Consistent with its commitment to addressing gender-based discrimination and harassment, the College complies with Title IX, or the Higher Education Amendment of 1972, which prohibits discrimination on the basis of sex in education programs and activities.
Any full-time or part-time university official (e.g., faculty member, administrator, residence life staff member, dean, etc.) informed of an allegation of gender-based misconduct involving students or other members of the college community is expected to file a report with the Title IX coordinator and/ or one of the deputy coordinators. Certain university officers who are serving in a privileged professional capacity (e.g., counselors, clergy) are not bound by this expectation, except as required by law.
Anyone who believes they have been subjected to gender-based discrimination or harassment is encouraged to report these incidents. Upon receiving a report, the university will respond promptly, equitably, and thoroughly. In addition, the university will take steps to prevent the recurrence of the discrimination or harassment and correct its effects, if appropriate.
Read USF's full sexual misconduct policy  or review all student conduct policies at the Fogcutter student handbook.