Public Safety & Transportation
Public Safety Operational Hours Update
Please note our office is currently working remotely due to University compliance with San Francisco's COVID-19 Shelter-in-place mandate so some instructions may have changed. If you have any questions please email us at parking@usfca.edu.
If you require immediate assistance, please contact Public Safety Dispatch at 415-422-4201 or dispatcher@usfca.edu.
COVID-19 Campus Parking Update 
Please note that for the time being, daily parking permits are not available for purchase at Public Safety parking kiosks. You must have a valid semester parking permit in order to park on campus. Public Safety is still citing in the parking lots for safety reasons. Faculty and staff can purchase a permit online at a pro-rated amount on iParq. Please see below, under "Parking Permits" for more information on purchasing a semester permit.
The Department of Public Safety ensures a safe learning, working, and living environment at the University of San Francisco. Our 24-hour communication center and uniformed public safety officers proactively prepare against and respond to all reports of accidents, crimes, suspicious persons, hazards, and other emergencies. We provide: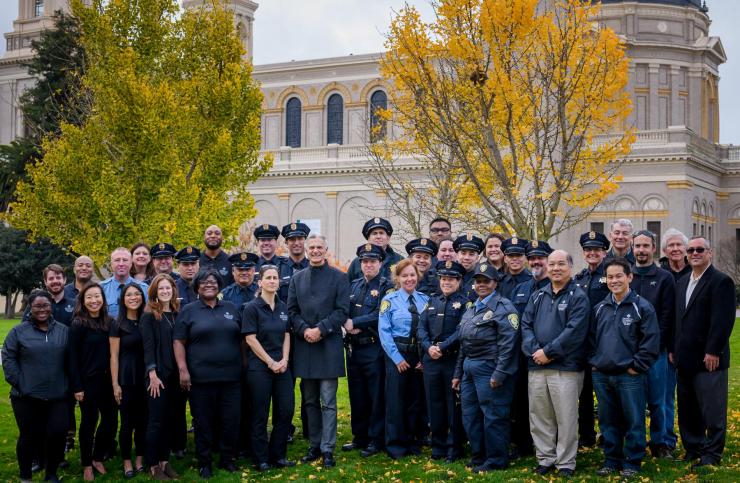 Parking Permits
Faculty and staff can purchase parking permits on iParq either by semester or by academic year. 
Reminders:
All vehicles parked on the USF campus must display a valid parking permit. Payment for the permit alone does not validate parking without the permit.
If you have any outstanding citations, you will not be able to purchase your permit until you have paid for them. By law, appeals to citations can only be made 21 days after the citation date of issuance.
Faculty, staff, student, and affiliate parking permits are not valid in green spaces, loading zones, or visitor's spaces.
For more information on permit types, prices, and options, visit the Parking Permits webpage.
Student Parking
July 2020 Update: Due to University Operations being mainly remote, for health and safety reasons, the University will not be offering semester permits for students to purchase. For emergency purposes, daily permits will be sold at the Lone Mountain Kiosk. All parking permit applications submitted in the 2020-2021 Student Parking Permit Lottery have been cancelled at this time. Please contact the Public Safety Office at parking@usfca.edu if you have any questions regarding this update.
USF has very limited parking and, as such, is unable to provide ample parking spaces for the majority of the USF community. Therefore, in accordance with San Francisco city planning, sustainability efforts, limited campus parking, and in order to reduce the amount of traffic in the residential neighborhood that surrounds the university, all students who live in any University housing facility are prohibited from bringing vehicles to campus and are ineligible to receive semester or annual parking permits.
During the fall and spring semesters, full time and 3-day part time permits are awarded through a one time a year lottery system to students living outside of a 3 mile radius from campus. Only students who live off campus and further than 3 miles from campus are eligible for these parking permits. During the summer, students may purchase any type of parking permit. 
USF encourages students to take advantage of the excellent public transportation system in San Francisco and the Bay Area. Discounted Muni passes are provided to undergraduate students. The USF Muni pass allows students unlimited access to the San Francisco Muni lines. Additionally, there are plenty of bike racks on campus.
2019 Annual Security and Fire Safety Report
In compliance with the Jeanne Clery Disclosure of Campus Security Policy and Crime Statistics Act (Clery Act), the Higher Education Opportunity Act (HEOA), and the Violence Against Women Reauthorization Act of 2013 (VAWA), we are pleased to present the University of San Francisco's Annual Security and Fire Safety Report — containing information for the 2019–20 academic year. The report also includes crime statistics spanning the years 2016, 2017, and 2018. As in past years, crime statistics confirm a low campus crime rate, particularly the low incidence of violent crime. 
For a printed copy of the report, please contact the Department of Public Safety at 415-422-4222 or by email parking@usfca.edu. 
Coyotes on Campus
As some of our community have already noticed, it appears that the USF Lone Mountain Campus is now home to two coyotes. We have had no reports of aggressive behavior by these animals. Use the links below to learn more information:
Progressive Policing Community Advisory Board
The Progressive Policing Community Advisory Board (PPCAB) is a new collaboration between the Department of Public Safety and campus community members to develop and implement  fair, equitable, and effective police practices.
Current PPCAB projects include:
Crime Bulletin Criteria
Officer Liaison Program
DPS Inclusivity Statement
Notice of Hoverboard Ban on USF Campuses
Please be advised a temporary ban on hoverboards and similar battery-charged transportation devices is in now in effect for all USF campus locations. This includes hoverboards, self-balancing scooters, battery-operated scooters, and other similar devices. This ban has been put in place due to the number of safety concerns associated with spontaneous combustions of hoverboards and personal injuries caused by rider falls and collisions. Because of these community safety concerns the use, possession, or storage of these devices anywhere on campus is now prohibited. If you own one of these devices, please ensure that you do not bring it to campus when returning for the fall semester.
Once the Consumer Product Safety Commission (CPSC) has concluded its review on these devices, USF Administration will revisit its position on this ban. A formal statement on hoverboard safety concerns and related studies from the CPSC can be found on their website.
Lost and Found
The Department of Public Safety operates the central lost and found center at USF. Items turned into the Department of Public Safety are logged and when possible, owners are contacted via USF email and phone numbers stored in the university system. Items are stored for a maximum of ONE MONTH. Any items not picked up after one month will be donated to local charities. To inquire if your lost item has been turned in, please contact the Department of Public Safety by calling 415-422-4222, emailing parking@usfca.edu, or stopping by the Public Safety Main Office on the UC 5th Floor. 
Safety On The Street
Practice these safety on the street techniques all year long to help keep yourself safe.
Public Safety and Koret collaboratively offer classes for Women's Self Defense.