Public Safety & Transportation
The Department of Public Safety strives to be a transparent, ethical, trustworthy and accountable department that provides service with respect, care and neutrality that exceeds the community's expectations.  While focused on the delivery of exceptional service, the 24-hour communications center dispatchers, uniformed public safety officers and administrative staff are also committed to ensuring the safety and security of the community keeping in mind and sensitive to the cultural impacts policing has had on the communities of color. We provide:
Progressive Policing Community Advisory Board
The Progressive Policing Community Advisory Board (PPCAB) is a new collaboration between the Department of Public Safety and campus community members to develop and implement  fair, equitable, and effective police practices.
Current PPCAB projects include:
Crime Bulletin Criteria
Officer Liaison Program
DPS Inclusivity Statement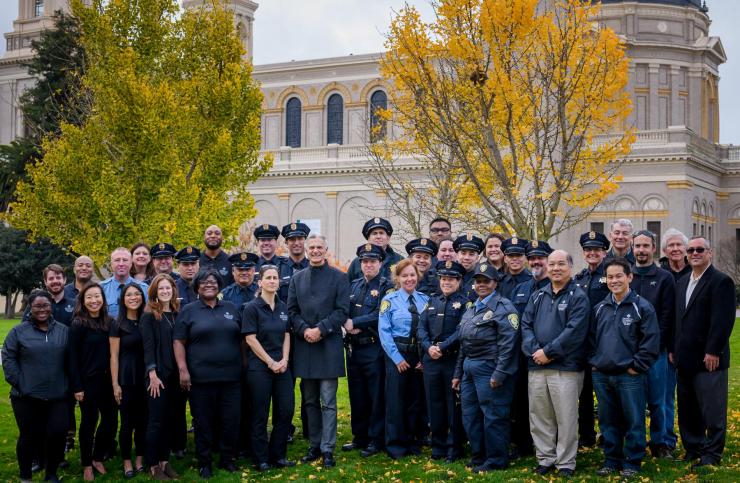 2022 Annual Security and Fire Safety Report
In compliance with the Jeanne Clery Disclosure of Campus Security Policy and Crime Statistics Act (Clery Act), the Higher Education Opportunity Act (HEOA), and the Violence Against Women Reauthorization Act of 2013 (VAWA), we are pleased to present the University of San Francisco's Annual Security and Fire Safety Report — containing information for the 2020-21 academic year. The report also includes crime statistics spanning the years 2019, 2020, 2021, and 2022. As in past years, crime statistics confirm a low campus crime rate, particularly the low incidence of violent crime. 
For a printed copy of the report, please contact the Department of Public Safety at 415-422-4222 or by email parking@usfca.edu. 
Catalytic Converter Theft Advisory
Please be advised that the Hilltop Campus area has experienced an uptick in catalytic converter thefts. Toyota Priuses are the most common vehicle being targeted right now, although several have been stolen from various other makes and models. These thefts are taking place during the day and night and often in public parking lots. 
The reason is the value of the metals used in the manufacturing of the catalytic converters. Catalytic converters contain platinum, rhodium, and palladium. The metals are expensive, and thieves sell the converters to scrap yards for several hundred dollars per piece, depending on the size of the converter and the current rate on the metals inside it. It can cost on average up to $2,000 to replace a catalytic converter and it is illegal to drive your car without one. The resulting gap in your exhaust system also makes the car run poorly until it is fixed.
You'll notice a loud rumbling or roaring sound as soon as you turn on the engine if your catalytic converter is missing. This gets louder when you hit the gas. The exhaust is not working properly, so the vehicle also drives rougher than usual, often with a sense of sputtering as you change speed. Go to the back of the car and look underneath. The catalytic converter is a round canister that connects two pieces of piping in the exhaust. You will see a gaping space in the middle of your exhaust if the converter is missing, and you will likely see signs of the piping being cut away.
The rate of catalytic converter theft varies depending on the current prices of the metals inside it. Price increases typically result in an increase in thefts. Thieves look for easy targets when it comes to catalytic converter theft, and a few simple steps help make your vehicle a less likely target:
Always park in well-lit areas when possible.
If you have a personal garage, keep your car in the garage with the door closed when the vehicle is not in use. 
Park close to a building entrance or to the nearest access road when parking in a public lot. This is helpful due to the increased amount of pedestrian traffic in those areas.
In addition, security devices are available that attach to the converter, making it harder to steal. Having the converter welded in place also makes it more difficult to remove. You may also engrave your VIN number onto your catalytic converter to make it easier to identify in case it does get stolen. 
Coyotes on Campus
As some of our community have already noticed, it appears that the USF Lone Mountain Campus is now home to two coyotes. We have had no reports of aggressive behavior by these animals. Use the links below to learn more information:
Notice of Hoverboard Ban on USF Campuses
Please be advised a temporary ban on hoverboards and similar battery-charged transportation devices is in now in effect for all USF campus locations. This includes hoverboards, self-balancing scooters, battery-operated scooters, and other similar devices. This ban has been put in place due to the number of safety concerns associated with spontaneous combustions of hoverboards and personal injuries caused by rider falls and collisions. Because of these community safety concerns the use, possession, or storage of these devices anywhere on campus is now prohibited. If you own one of these devices, please ensure that you do not bring it to campus when returning for the fall semester.
Once the Consumer Product Safety Commission (CPSC) has concluded its review on these devices, USF Administration will revisit its position on this ban. A formal statement on hoverboard safety concerns and related studies from the CPSC can be found on their website.