Public Safety & Transportation
Public Safety Operational Hours Update
We are open for in-person assistance Monday - Thursday, 8:30 AM to 5 PM and Friday 8:30 AM to 4:30 PM. If you have any questions please email us at parking@usfca.edu.
If you require immediate assistance, please contact Public Safety Dispatch at 415-422-4201 or dispatcher@usfca.edu.
COVID-19 Campus Parking Update 
Please note that for the time being, daily parking permits are available for purchase at the Lone Mountain parking kiosk from 7:45 AM - 8:00 PM Mon-Fri, and 7:45 AM - 12:00PM. You must have a valid semester parking permit in order to park on campus. Public Safety is still citing in the parking lots for safety reasons. Faculty and staff can purchase a permit online at a pro-rated amount on iParq. Please visit our Campus Parking page for more information on purchasing a semester permit.
The Department of Public Safety ensures a safe learning, working, and living environment at the University of San Francisco. Our 24-hour communication center and uniformed public safety officers proactively prepare against and respond to all reports of accidents, crimes, suspicious persons, hazards, and other emergencies. We provide: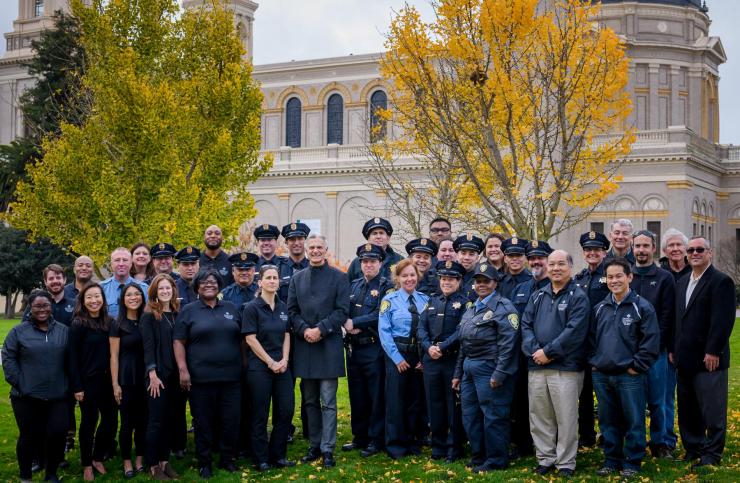 2020 Annual Security and Fire Safety Report
In compliance with the Jeanne Clery Disclosure of Campus Security Policy and Crime Statistics Act (Clery Act), the Higher Education Opportunity Act (HEOA), and the Violence Against Women Reauthorization Act of 2013 (VAWA), we are pleased to present the University of San Francisco's Annual Security and Fire Safety Report — containing information for the 2020–21 academic year. The report also includes crime statistics spanning the years 2017, 2018, and 2019. As in past years, crime statistics confirm a low campus crime rate, particularly the low incidence of violent crime. 
For a printed copy of the report, please contact the Department of Public Safety at 415-422-4222 or by email parking@usfca.edu. 
Progressive Policing Community Advisory Board
The Progressive Policing Community Advisory Board (PPCAB) is a new collaboration between the Department of Public Safety and campus community members to develop and implement  fair, equitable, and effective police practices.
Current PPCAB projects include:
Crime Bulletin Criteria
Officer Liaison Program
DPS Inclusivity Statement
Coyotes on Campus
As some of our community have already noticed, it appears that the USF Lone Mountain Campus is now home to two coyotes. We have had no reports of aggressive behavior by these animals. Use the links below to learn more information:
Notice of Hoverboard Ban on USF Campuses
Please be advised a temporary ban on hoverboards and similar battery-charged transportation devices is in now in effect for all USF campus locations. This includes hoverboards, self-balancing scooters, battery-operated scooters, and other similar devices. This ban has been put in place due to the number of safety concerns associated with spontaneous combustions of hoverboards and personal injuries caused by rider falls and collisions. Because of these community safety concerns the use, possession, or storage of these devices anywhere on campus is now prohibited. If you own one of these devices, please ensure that you do not bring it to campus when returning for the fall semester.
Once the Consumer Product Safety Commission (CPSC) has concluded its review on these devices, USF Administration will revisit its position on this ban. A formal statement on hoverboard safety concerns and related studies from the CPSC can be found on their website.