University Ministry
Visit the UM office (Toler 122) to pick up your copy of the Prayer & Reflections book!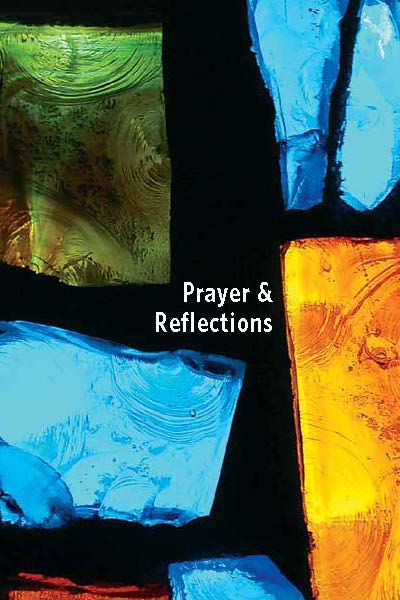 Mission Statement
University Ministry (UM) supports the spiritual, religious and pastoral needs of the University of San Francisco (USF) community. We enrich the USF experience by creating communities grounded in Ignatian spirituality and the Jesuit Catholic mission of USF. UM programs and services encourage USF students, faculty, staff and alumni of all religious backgrounds or none, to connect their faith, spirituality and values with an active engagement in the world, especially with economically poor and systematically oppressed communities, in order to realize the fullness of their humanity, and lead lives of meaning and purpose.
---
Prayer and Liturgy
Weekly Student Mass
Sundays 7 p.m.  | St. Ignatius Church (September 2, 2018 - May 5, 2019)
Interfaith Prayer Service
Thursdays 12 p.m.  | USF Main Campus
Fall: August 23, September 20, October 18, November 15, 2018
Spring: February 7, March 7, April 11, 2019
Commencement Mass
St. Ignatius Church
Fall: Friday, December 14, 2018 | 10 a.m.
Spring: Thursday, May 16, 2019 | 3 p.m.
please contact Brian dusell for more Information
---
Campus Faith Partners
Jewish Student ORGANIZATION (JSO)
Shabbat Dinners
Fridays: August 24, September 21, October 19, November 30, 2018 | University Ministry, Toler 122 | Romero Room
Join us in supporting the Swig Program in Jewish Studies and Social Justice as they welcome SF State Professor Marc Dollinger to speak about his new book, Black Power, Jewish Politics, with a conversation afterward led by USF JSSJ Professors Reggie Daniels and Shaina Hammerman.
Thursday, September 13, 2018 | 6:30 p.m. | Berman Room, Fromm Hall

Yom Kippur "Break the Fast" Meal
Wednesday, September 19, 2018 | 7 p.m. | University Ministry, Toler 122 | Romero Room
Ways to observe Yom Kippur with the JSO and the SF Community:
See SF Hillel Holiday Events for specific events
See FREE Meal & Service Tickets RSVP for tickets to synagogue services and to RSVP for the pre-fast meal and join us on campus to break the Yom Kippur fast.
See Download Absence Letter Template if you need to miss class and need help communicating with your professors.
See Local Service Options to explore the diverse service options throughout the area.
Take a class with JEWISH STUDIES AND SOCIAL JUSTICE PROGRAM
The Swig Program in Jewish Studies and Social Justice minor engages students in both theoretical and practical applications of social justice and activism rooted in the Jewish traditions. Their interdisciplinary curriculum examines Jewish culture, history, politics, philosophy, and language to better understand and strengthen marginalized communities around the globe.
Fall Events with the Swig Program in JSSJ:
Chinese and Jewish: Wed. 9/26 @ 6:30pm in Maraschi Room, Fromm Hall
Rabbi Jaqueline Mates-Muchin—Senior Rabbi at Oakland's Temple Sinai, native San Franciscan, and the first Chinese American Rabbi in history—will share some of her insights on Jewish identities.
Fourth Annual Swig JSSJ Program Human Rights Lecture
"I Want to Be Like Nature Made Me": Unethical Medical Surgeries on Intersex Children
Thurs. 10/25 @ 6:30pm in Maraschi Room, Fromm Hall
A family physician, Medical Advisor for InterAct Advocates for Intersex Youth, and an advisor to Human Rights Watch, Dr. Suegee Tamar-Mattis will deliver the fourth annual Human Rights Lecture of the USF Swig JSSJ Program, on the failure of the legal and medical communities to protect intersex children from unethical medical surgeries in the US.
 
PLEASE contact Naomi Zipursky FOR more INFORMATION
---
Muslim Student Association (MSA)
Muslim Friday Prayer is every Friday at 1 p.m. (during the academic year) in the Accolti Room in Fromm Hall. For more information about Jummah Friday Prayer, please contact Nabeela Rizvi, president of the Muslim Student Association.
USF Muslim Student Association Presents Keynote Speaker
Sheikh Junaid Bhaiyat - Preserving the Islamic Essence
Discussing Muslim stigmatizations, maintenance of a minority religion, and the beauty of Islam.
Wednesday, September 12, 2018 | 7 p.m. | Fromm Hall 125 | Maraschi Room
PLEASE contact Nabeela Rizvi FOR more INFORMATION
---
InterVarsity Christian Fellowship
MEDITATION HIKE
Take some time to unwind this Saturday with us at our Meditation Hike in The Presidio on 9/22 from 10am to 2pm. We will be meeting on campus at 10am and will head out together.
JOURNEY 2018
From October 19 to 21, InterVarsity will be having its annual fall conference. This is an opportunity to take a step back from school and stress, and connect with God with students from schools across Northern California. For more information, ask your CG leader!
Register here.
COMMUNITY GROUPS (WEEKLY ON TUESDAYS)
It's never too late to join a community group! Come fellowship with us as we study God's word. Contact our community group leaders with any questions!
Freshmen Community Group
Tuesday | 7 p.m. | KA 499
Julia: 408.508.9019
Jenna: jcdreyfus@dons.usfca.edu
Upperclassmen Community Group
Tuesday | 7:30 p.m. | UC 305
Natalie: 224.307.9753
Austin: aagilespurnell@dons.usfca.edu
PLEASE contact Katelyn Dixon FOR more INFORMATION
---
Orthodox Christian Fellowship
PLEASE contact Andrei Antokhin FOR more INFORMATION
---
Latinas Unidas
PLEASE contact Gladys Perez FOR more INFORMATION
---
Kasamahan (Filipino-American community)
PLEASE contact Janessa Rozal FOR more INFORMATION
---