University Ministry
Visit the UM office (Toler 122) to pick up your copy of the Prayer & Reflections book!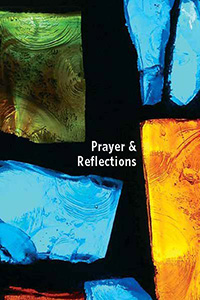 Mission Statement
University Ministry (UM) supports the spiritual, religious and pastoral needs of the University of San Francisco (USF) community. We enrich the USF experience by creating communities grounded in Ignatian spirituality and the Jesuit Catholic mission of USF. UM programs and services encourage USF students, faculty, staff and alumni of all religious backgrounds or none, to connect their faith, spirituality and values with an active engagement in the world, especially with economically poor and systematically oppressed communities, in order to realize the fullness of their humanity, and lead lives of meaning and purpose.
---
Interfaith Partners tabling event + general UM welcome to transfer students
UC 1st floor (undercaf)
11:30 a.m. - 1:30 p.m.
---
Making Our Own Quiet Spaces
A series of programs presented in conjunction with Quiet Spaces: Picturing Sanctuary in the Illustrated Book
All events are located in Thacher Gallery unless otherwise noted.
Intro to Zen Meditation with Geoffrey Ashton
Thursday, Jan. 24, 12 p.m.
Know Your Rights Workshop with Erin Brigham and Evelyn Ho
Tuesday, Jan. 29, 1 p.m.
Solo Music Performances with Daria D'Andrea and Giacomo Fiore
Thursday, Jan. 31, 12 p.m.
Interfaith Prayer Service with University Ministry
Monday, Feb. 4, 12 p.m.
Electronic Sound Collective Performance
Monday, Feb. 4, 5-6 p.m.
Out of Place: The Power of Art in Unexpected Spaces
An Evening with Cheryl Haines
Wednesday, Feb. 6, 6-7:30 p.m.
Xavier Auditorium, Fromm Hall
---
Prayer and Liturgy
Weekly Student Mass
Sundays 7 p.m.  | St. Ignatius Church (September 2, 2018 - May 5, 2019)
Interfaith Prayer Service
Thursdays 12 p.m.  | USF Main Campus
Fall: August 23, September 20, October 18, November 15, 2018
Spring: February 4, March 7, April 11, 2019
Commencement Mass
St. Ignatius Church
Fall: Friday, December 14, 2018 | 10 a.m.
Spring: Thursday, May 16, 2019 | 3 p.m.