Mobile at the University of San Francisco
A new mobile app is here! To have the best experience, please uninstall the current app and download the new app now.
Welcome to USF, wherever you are. We're committed to making university information and communications more accessible on the go.
USFMobile App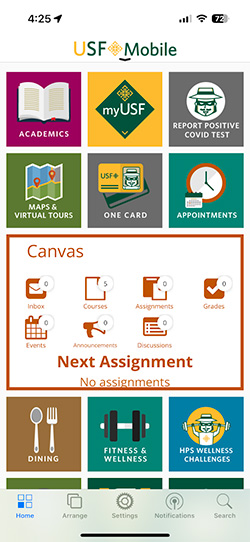 Whether you're a visitor to the University of San Francisco or a member of the community, see content and events especially for you. Customize your homescreen and place your favorite resources at the top. Download the official USFMobile app now. Go Dons!
Access your classes, schedule, grades, and holds
Schedule appointments and book rooms on campus
Customize your homescreen for a more personalized experience
Order food for easy pick up and add funds to your One Card
Find the nearest bus stops and arrival times
View upcoming university events, Koret hours, daily exercise classes, and public activities at USF — search, bookmark, and add to your calendar
Instantly get access to your events, courses, messages, assignments, and grades from Canvas.
Choose to receive notifications from the University including academic holds, food pantry, ministry, and more.
For frequently asked questions about USFMobile, see FAQs: USFMobile
Tips
Make sure your iPhone or Android phone is updated.
To access realtime data for the Canvas widget, make sure to click the widget and follow the onscreen instructions.
If you notice anything that needs to be updated or added, please give us your feedback.