Intramural Sports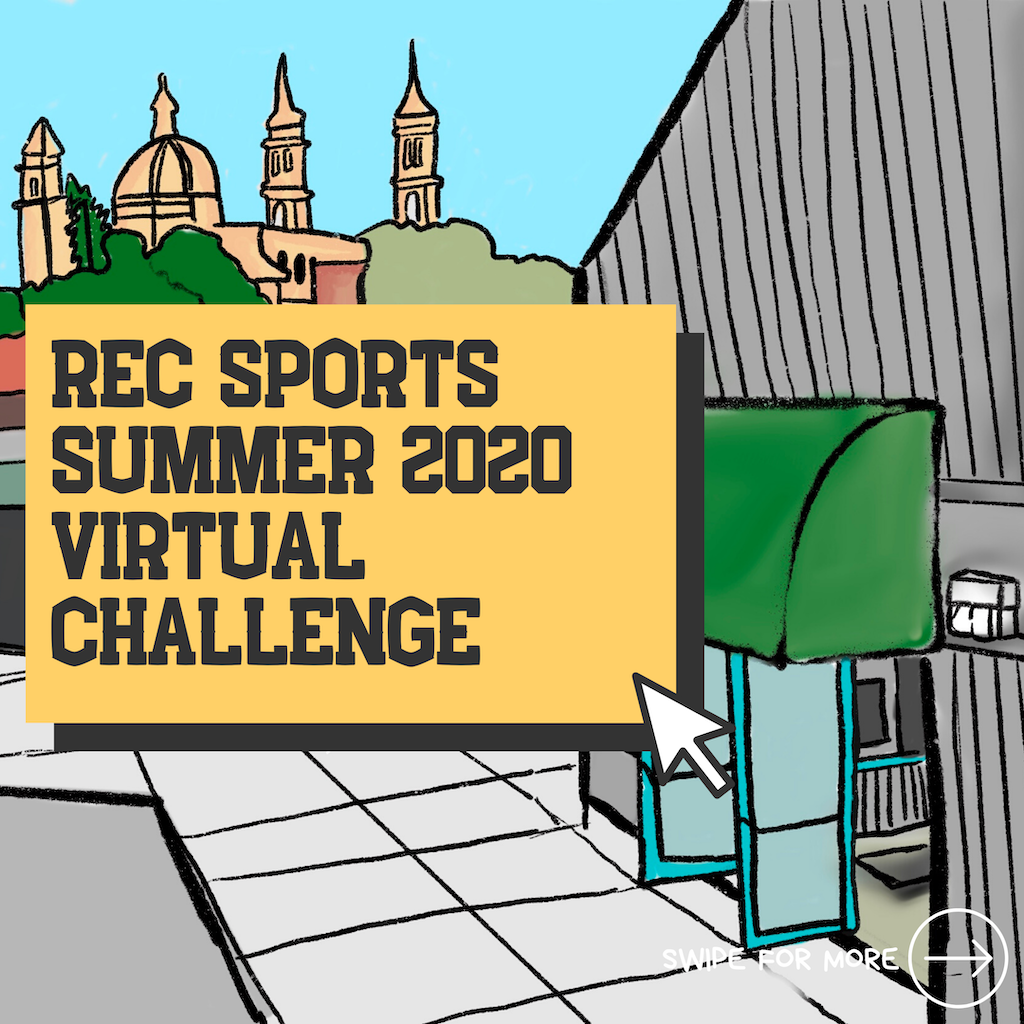 CHALLENGE SUBMISSIONS
Submit on the Rec Sports Summer Virtual Challenge Google Form or tag the Koret Health & Recreation Center (@usfkoret) on Instagram to complete the challenges! For every challenge you complete, you will be entered into the grand prize raffle- Rec Sports Swag Bag!
WEEK
CHALLENGE
DESCRIPTION
WEEK #1: June 1st- June 7th
Testimonial Challenge
We know that being a part of Rec Sports Programming
is an important part of your college experience so share
your story! What's your favorite memory or advice for
incoming students?!
WEEK #2: June 8th- June 14th
Group Fitness Challenge
Participate in one of Koret's Group Fitness Classes!
WEEK #3: June 15th- June 21st
Squat Challenge
Do 100 squats throughout the week!
WEEK #4: June 22nd- June 28th
Push Up Challenge
Do 100 push ups throughout the week!
WEEK #5: June 29th- July 5th
4th of July BREAK NO CHALLENGE
 
WEEK #6: July 6th- July 12th
Movement Challenge
Show us how you choose to move! Do you take fitness
classes, dance, walk...what do you do to stay active?!
WEEK #7: July 13th- July 19th
Tik Tok Challenge
Who said Tik Tok's aren't a workout?! Send us a Tik Tok
video you spent time to teach yourself!
WEEK #8: July 20th- July 26th
Virtual 5K Challenge
Track yourself on a solo Walk, Run, or Hike
WEEK #9: July 27th- August 2nd
Summer Challenge
With our new normal, what did you do this summer?!
Spring 2020 Sports
| Day | Sport | League | Location | Start Date | Start Time |
| --- | --- | --- | --- | --- | --- |
| Monday | Indoor Soccer | Open | Swig Gym Court #2 | 2/10 | 6 p.m. |
| Tuesday | Volleyball | Open | Swig Gym Court #3 | 2/11 | 6 p.m. |
| Wednesday | Basketball | CoRec | Swig Gym Court #2 | 2/12 | 6 p.m. |
| Thursday | Basketball | Men's | Swig Gym Court #2 & #3 | 2/13 | 6 p.m. |
| Saturday | Outdoor Soccer | Open | Negoesco Field | 2/15 | 3 p.m. |
All dates and times are subject to change.
All of our Intramural leagues, unless specified, are considered open, meaning men and women can compete on the same teams. The only exception being basketball where we provide options for CoRec, and Men's.
Refunds/Cancellations
All refund requests must be made in writing to the Recreational Sports Manager at jyjavier@usfca.edu.  Requests will be reviewed and, if granted, will be given as credit to your Active Net account. The credit can be used for any other Koret services.
Team Registration
Captains can create their teams as soon as registration opens.  Team Registration will close one week prior to the beginning of league play.  Teams must have a minimum of 5 participants, without the help of Free Agents, in order to be included in the semester schedule.  Teams that do not meet the minimum number of participants by the Team Registration deadline will be dropped from the semester schedule. The maximum number of participants per team is 12.
Online Registration
Step 1: Login your ActiveNet account.
Step 2:  Pay the intramural registration fee  
All participants must pay a registration fee of $5 prior to registering for an intramural league. If registering after team registration closes, participants will pay the Late Registration fee of $10. The Late Registration period closes before the first week of play. Participants will not be permitted to register after the deadline.
Step 3: Select sport/league
After paying the fee, a participant is permitted to register for as many intramural leagues as they like.  Participants are limited to one team per league. Free Agents may register for ANY free agent team and use the code 'free' to complete registration.
Free Agents
Individuals who do not have enough members to form a team are invited to participate in all intramural sports as free agents. All participants that register on a Free Agent team will be placed on an assigned team prior to the start of the season.  Free agents must be registered prior to the start of play (use code 'free' to join any free agent team).
Scheduling
Schedules will be created the week after Team Registration closes. Game start times will be determined by the number of teams in an individual league. The first game of the day will start at the posted time, see the schedule above. League schedules will be posted online under the ActiveNet "Sports" tab for all to view. The top four teams will advance to the playoffs, with seeding being based on W-L record. Playoff scheduling will be #1 v. #4 and #2 v. #3 with the winners playing each other for the championship. All semifinals and finals will be played on the same day with the championship being scheduled 30 minutes after the end of the semifinals.  Playoffs will be held the week of April 13th.