CAPS Services
Counseling and Psychological Services (CAPS) is offering remote individual and group teletherapy to students residing within California via a confidential platform. (State regulations prevent provision of therapy across state lines.) 
CAPS invites students to schedule an initial intake appointment with a CAPS therapist. During this initial intake, our therapists will assist students in obtaining the appropriate services to address their concerns by recommending services within CAPS or referring students to professionals in the community (outside of the university). Student concerns that can be addressed within a brief model of therapy are usually referred to CAPS, while concerns requiring longer-term or specialized therapy and/or medication prescription are best addressed by professionals outside of the university.
CAPS utilizes a short-term model of therapy for individual and couples sessions in order to use its resources most effectively and assist students in addressing issues common in a college setting. Some of the concerns that are commonly addressed in short-term psychotherapy at CAPS are:
Personal: Stress and anxiety, mild depression, anger, loneliness, guilt, self-esteem, grief and loss
Relationship: Romantic relationship difficulties, sexual concerns, roommate conflicts, difficulties with coworkers or classmates, concerns with family or friends
Developmental: Identity development, adjustment to college, life transitions, cultural concerns
Academic: Performance anxiety, perfectionism, underachievement,  motivation, concerns about future school and work
Other: Spiritual concerns, body image/food preoccupation, healthy lifestyle choices, minor alcohol and drug use concerns, sexual assault, discrimination and oppression
Check out our 2019-2020 Annual Report here!
Students whose mental health needs cannot be met with short-term psychotherapy or who require a particular type of service not offered at CAPS, require a meeting with a clinician once per week or more, or require assessment for or the prescription of psychotropic medication will be referred to resources outside of the university. Students may be referred to resources and services outside of CAPS on or off campus after the initial intake or during the course of treatment at CAPS (e.g., if factors indicating a need for such services become apparent during or after the intake assessment).
During the period of time when CAPS' office is closed due to COVID-19 precautions (beginning Tuesday, March 17, 2020, until further notice) and we are offering remote therapy services via phone and video conferencing, we can only provide therapy to students currently located in California, and we cannot offer therapy to students at serious risk to themselves or others or experiencing psychotic symptoms. These conditions/symptoms are outside the ethical scope of practice of remote therapy/teletherapy and outside of CAPS' regular scope of practice. Ethical guidelines and licensing regulations prevent CAPS from providing remote therapy to clients outside of California.
Concerns best served in the professional community outside of CAPS are those requiring visits with a therapist once per week or more, requiring more than 8 to 12 psychotherapy sessions, and/or those that require comprehensive or specialized services, including but not limited to the following:
History of multiple psychiatric hospitalizations
Chronic suicidal plan and/or intent and/or severe self-injury behaviors; history of suicide attempts within the past year
Indications that short-term therapy may be detrimental or non-beneficial, as specified by the treating clinician
Evidence or risk of significant deterioration in mental or emotional functioning, requiring more intensive intervention
Manifestations of psychotic symptoms without willingness to remain on medication for stabilization of symptoms
Inability or unwillingness to provide the necessary information to thoroughly assess symptoms
Other issues requiring specialized services not available through CAPS, such as

Significant drug and/or alcohol problems, such as substance dependence and/or past failed treatments
Significant or longstanding eating disorder with no period of remission, no previous treatment, or that may pose a medical danger
Request for formal psychological evaluation or testing
Services to fulfill students' court-mandated assessment or treatment requirements
Noncompliance with treatment recommendations
Documentation Letters
Please note that CAPS does not provide letters to verify a need for emotional support animals. If you need such a letter, a mental health or medical clinician who has treated you previously may be able to provide it, or you should seek services with a mental health clinician off campus.
Also note that CAPS can't provide accommodation letters for students we have seen fewer than three times for assessment and therapy in an academic year. Students seeking such a letter who are not existing CAPS clients should seek services with a mental health clinician off campus or ask an off-campus clinician who is currently/has recently assessed and treated you.
Medication (psychiatry services)
CAPS does not offer medication services. Contact your primary doctor and/or your insurance company for information about psychiatric service providers nearby who take your insurance. CAPS and Student Life Case Management can also provide information on and guidance in finding off-campus medication services using your insurance or for low or sliding-scale fees if needed.
Ongoing and Specialty Therapy Services
CAPS offers brief, intermittent therapy. If you are seeking ongoing weekly therapy, treatment for serious mental health conditions, or specialized services such as intensive eating disorder or substance use treatment, please contact your insurance company for information about providers in the area who accept your insurance. Contact information for your insurance company can usually be found on their website or insurance card. CAPS may refer you for off-campus services after initial assessment or at any point during treatment if we determine our services will not meet your needs, per our Scope of Services.
If you have concerns about a USF student for which you need confidential consultation and support or you are a USF student with mental health concerns that would benefit from talking to a professional counselor or are experiencing a mental health crisis, CAPS All Hours is available to you for free! When you call our All Hours line at (855) 531-0761, you will be connected with a professional counselor. This line is available to serve USF students on our main Hilltop campus and other campuses.
The on-call counselor's job is to assess your safety and to consult with you and try to help with your problem. All consultations are confidential, with information being given only to the on-call counseling staff and CAPS staff in most cases. Note that if the on-call counselor believes that there is an imminent risk of harm to the caller or other parties, they will contact the appropriate emergency services.
We are available to consult with faculty and staff who have concerns about a USF student. Call CAPS during business hours to speak with a CAPS counselor at (415) 422-6352, or call (855) 531-0761 on evenings, weekends, or holidays to speak with a professional counselor when CAPS is closed.
Our website provides helpful information for faculty and staff about supporting students and when and how to refer students to CAPS.
USF faculty and staff in need of counseling services can contact the CONCERN Employee Assistance Program (EAP) at (800) 344-4222.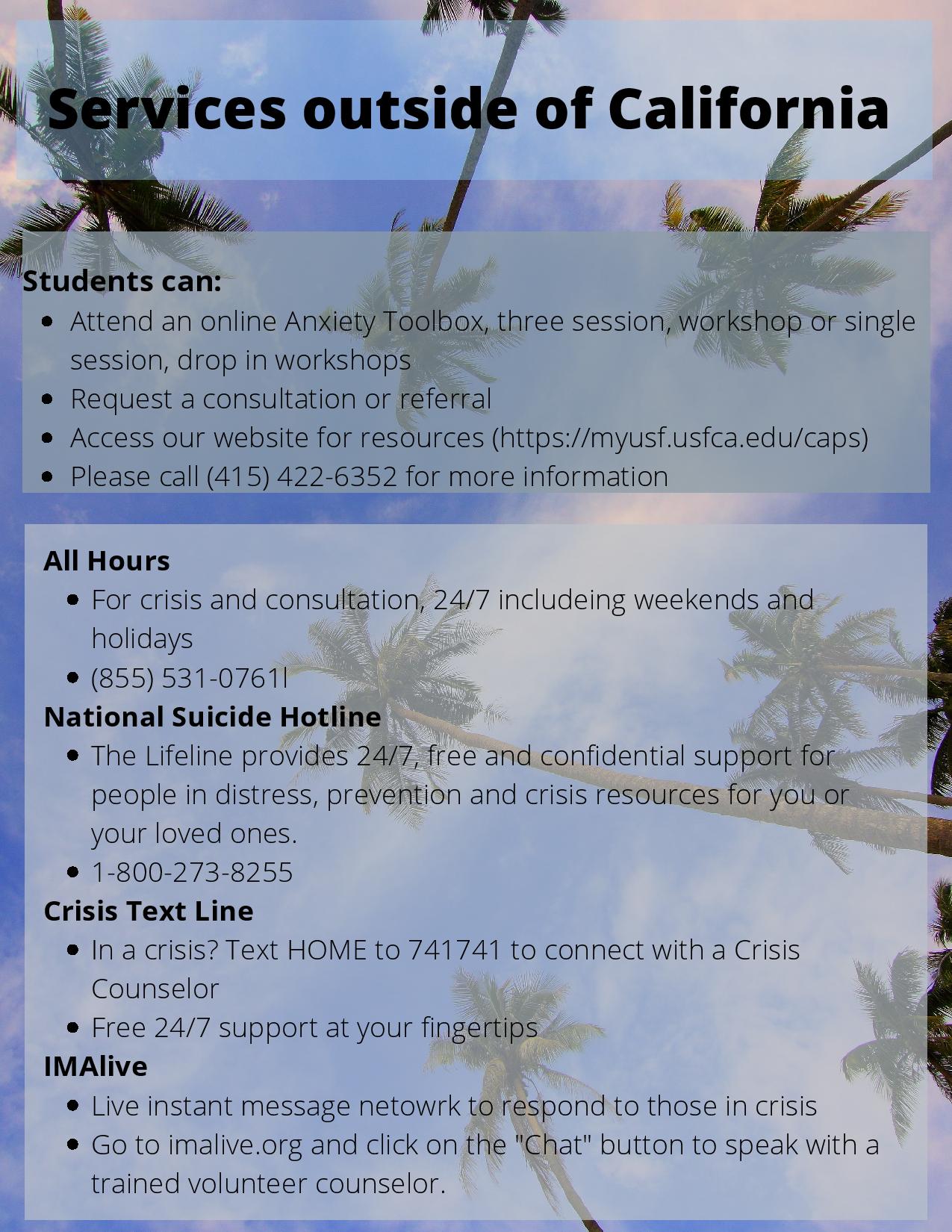 Information in Languages Other Than English