Workshops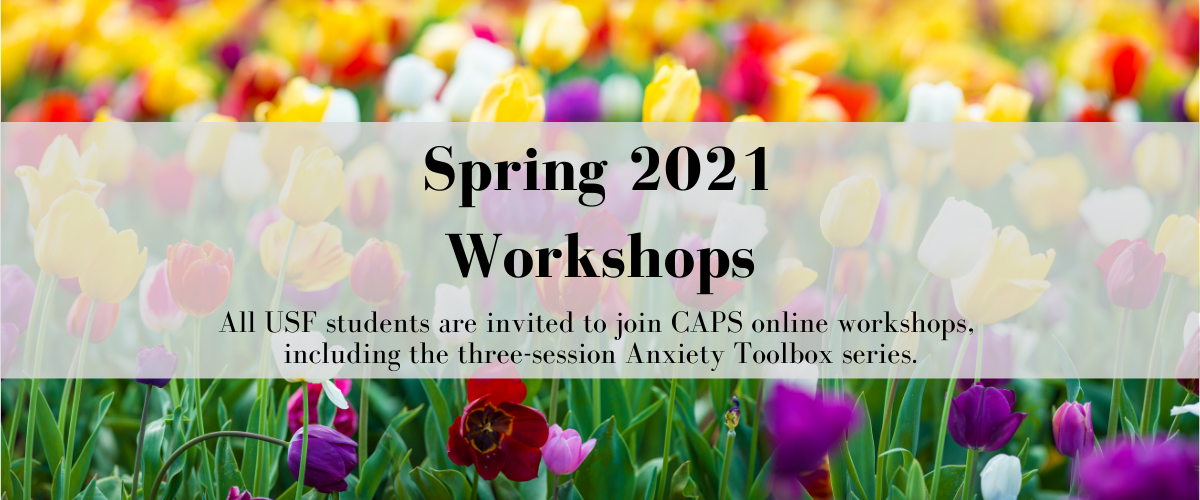 All USF students are invited to join CAPS online workshops, including the three-session Anxiety Toolbox series. Any USF student can also request a consultation or help with referrals, access our extensive website resources, or call CAPS' All Hours line 24/7 at (855) 531-0761 for mental health support any time.  Additionally, CAPS offers remote Single Session Therapy and brief individual, couples, and group teletherapy to students residing within California via a confidential platform. (State regulations prevent provision of therapy across state lines.) Please note that workshops are not a therapy service and should not be used as a substitute for therapy.
Anxiety Toolbox Workshop Series
A three-session workshop series based in cognitive-behavioral science to help you gain skills for understanding and managing stress and anxiety. Participate in all three sessions, as they build on each other. Exercises in between sessions help you put the skills learned into practice. See the FAQ  and other sections below for more information.
While COVID precautions are in place, CAPS is offering our Anxiety Toolbox workshops virtually! There is an accompanying downloadable workbook (also available in a web version). 
Tuesdays: February 16th & 23rd & March 2nd, 1–2 pm
Wednesdays: March 24th & 31st & April 7th, 10–11 am
Tuesdays: April 13th, 20th, & 27th, 3–4 pm
Q: How do I access these workshops?
A: You can access the workshops online through Zoom.
Q: When will the workshops take place?
A: Check the Schedule section, or CAPS during business hours for information.
Q: How long is each session?
A: Each session lasts about 50 minutes.
Q: Will others in the workshop be able to see or hear me?
A: No, your video and audio will be turned off/muted throughout the workshop.
Q: Will I be able to ask the facilitator questions?
A: Yes. The chat function will be available for you to type out questions to the facilitator. Other participants will not be able to see your questions.
Q: Will there be a workbook?
A: Yes, there is a downloadable workbook (also available in a web version). There are additional resources and exercises in the workbook for you to complete in between sessions.
Q: Is Anxiety Toolbox considered therapy?
A: No, Anxiety Toolbox is a psychoeducational workshop. It cannot take the place of psychotherapy. Please call CAPS during business hours or refer to other sections of our website for ways to access therapy services.
Virtual Wellness Workshops
Open to all USF students. See below for more information about our different types of workshops.
Mindful Mondays
Join CAPS every Monday 1:30 to 2:00 pm as counselors lead you through a guided mindfulness activity. Mindfulness is the practice of purposefully bringing attention to the present moment, without judgment, and can help reduce stress and anxiety. 
Dates:
February 1st
February 8th
February 22nd
March 1st
March 8th
March 22nd
March 29th
April 5th
April 12th
April 19th
April 26th
May 3rd
May 10th
Wellness Wednesdays
Join us Wednesdays 11 am to noon to learn about skills for coping with a variety of mental health topics. Please join sessions on time. 
Workshop Descriptions
See drop-down menu below for schedule and how to register online
Ahhh, Sleep: Learn the ways sleep impacts the body and mind and how to get a better night's rest using effective techniques. 
Ambiguous Loss: Our lives have been flipped upside down due to the pandemic and we have experienced many "ambiguous losses" -- canceled trips and vacations, inability to spend time with friends, not moving to campus.  Learn how to shift from despair to hope. 
Battling the Blues: Spot the signs of depression in yourself or someone else and learn how to help a friend with depression or to improve your mood if you are battling the blues.
BRIDGE (Building Relationship Intimacy and DialoGue Effectiveness): A three-part workshop that focuses on helping you develop skills to foster and maintain relationships. While it is not necessary to attend all three parts, we highly recommend it, since each session may build on the previous one.
Part 1: Self-Reflecting on Values, Communication Style, and Current/Past Relationships
Part 2: Building Listening and Communication Skills
Part 3: Managing Emotions, Conflict, and Boundaries  
Getting Unstuck: A three-part workshop that focuses on managing depression symptoms. Please note that you are registering for all three sessions, as each one builds on the previous ones.
Part 1: Better understanding the experience of depression.
Part 2: Exploring how thoughts and behaviors impact depression.
Part 3: Addressing how we can begin to make changes to our thoughts and behaviors so we can better manage depression. 
Healthy Relationships and Love Languages: Recognize the signs of an unhealthy relationship, differentiate relationship stages, and get in depth about understanding your love language and that of others.
Wellness Wednesday Schedule
Therapy Unplugged
A safe and welcoming space where Black/African American students can get support with any issue that may be affecting their mental health, connect with similarly identified students, and develop skills to improve their psychological fortitude. Held Thursdays 4 to 5 pm. Call CAPS during business hours to sign up.
Like groups, workshops provide an opportunity to realize you're not alone—other students are there to get help dealing with similar issues.
Workshops can provide practical skills and knowledge to build your coping tools, insights about yourself, and perspectives.
CAPS' three-part Anxiety Toolbox workshop series gives participants the chance to practice what they learn in between each of three workshops. Each workshop builds on the last to enhance participants' learning experience.