Workshops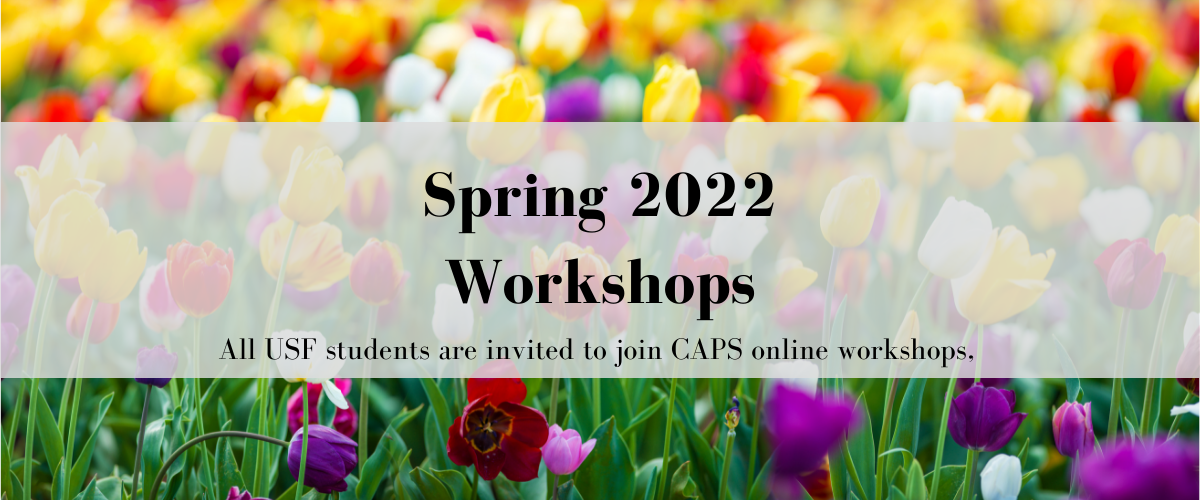 All USF students can sign up for our workshops and workshop series. Sign up by calling CAPS during business hours or registering on our website when online registration is available.
Virtual Wellness Workshops
Open to all USF students. See below for more information about our different types of workshops.
Join us Wednesdays 11 am–noon to learn about skills for coping with a variety of mental health topics. Please join sessions on time. 
---
Body Image and Self-Compassion: February 23, 2022 Register
Workshops provide an opportunity to realize you're not alone—other students are there to get help dealing with similar issues.
Workshops can provide practical skills and knowledge to build your coping tools, insights about yourself, and perspectives.
CAPS' one-time workshops provide information and skills to deal with a variety of issues common to college students, such as stress, anxiety, relationships, and more.
CAPS' three-part Anxiety Toolbox workshop series gives participants the chance to practice what they learn in between each of three workshops. Each workshop builds on the last to enhance participants' learning experience.