Group Therapy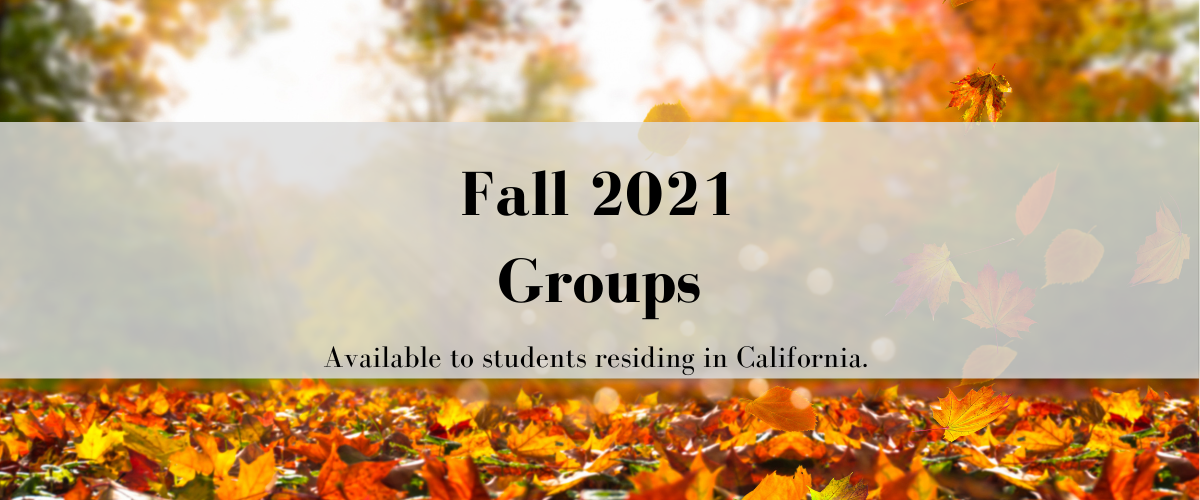 Fall 2021 groups will be held remotely through secure video. Note that group times may change, or groups may be canceled based on demand and other factors. This page will be updated regularly. Please contact CAPS at (415) 422-6352 or -6351 during business hours if you have any questions. While therapy groups can only be offered to students residing in California, due to state licensure laws, all USF students, regardless of location, are invited to join CAPS' online workshops.
Fall 2021 Groups
Note that most of our groups start at the beginning of the semester and are closed to new members after the first few weeks. The following drop-down section lists the groups available this semester and when they are held.
---
AAPI (Asian / Asian American and Pacific Islander) Support Group:
This group will offer a safe and supportive space for self-identified AAPI students to connect with one another, discuss shared challenges and experiences, and reflect on personal strengths, moments of joy, and various ways of healing within our community. Facilitated by two AAPI therapists.
Wednesdays, 3:30–4:30 pm
This support group will meet weekly over Zoom, beginning on 9/29 (or later). To join this group, please register online by clicking the registration box.
Register
ACT for Anxiety and Depression: Acceptance and Commitment Therapy (ACT) helps people identify their core values and commit to taking actions in line with them, while accepting discomfort and things they cannot change. Mindfulness meditation and changing unhelpful thought patterns are emphasized as well.
Thursdays, 1:00–2:30 pm
Mindfulness & Stress Reduction: This four session group will help you apply mindfulness to daily life and teach skills for building self compassion and gratitude.
Four Wednesdays, 2:30–3:30 pm: October 27th, November 3rd, November 10th, & Novemver 17th
Trans & Non-Binary Support: Weekly supportive space for self-identified trans, non-binary, and gender nonconforming students to come together for grounding, connection, and support. Explore identity, discuss shared struggles, and celebrate accomplishments. Co-facilitated by a member of the community and an ally. 
Tuesdays, 1:00–2:00 pm
Understanding Self & Others: The USO group is an interpersonal process group that aims to help you understand yourself and your patterns of relating to others, such as family, friends, or romantic partners. In addition to helping you see your patterns, the group gives you the chance to practice interacting and get support.
Wednesdays, 2:15–3:30 pm
Wise Mind: DBT Skills for Anxiety & Depression: Dialectical Behavior Therapy (DBT) provides skills for managing difficult emotions and interpersonal concerns more effectively by addressing behavioral, emotional, and thought patterns that cause distress. Participants must be in concurrent individual therapy.
CLOSED FOR FALL
Fridays, 10:30 am–12 noon
Groups help you realize you're not alone and reduces isolation. While each of us is unique, none of us are alone in our struggles. Thus, groups can be especially valuable for individuals dealing with depression, social anxiety, loneliness, and life transitions.
Groups facilitate giving and receiving support. One misconception about groups is that members take turns receiving individual therapy from the therapist while others observe. Members are actually encouraged to provide each other support, feedback, and connection.
Groups help you find your "voice." Participating in a group can help you become more aware of your feelings and needs and learn effective ways of expressing them.
Groups help you relate to others in healthier ways. Often people don't understand why their relationships aren't working. Groups provide the opportunity for you to see how you relate to others in real time and receive direct feedback.
Groups provide a safety net. As members learn and practice skills in a group, their confidence for practicing them in other situations grows. Members also carry the group's support with them between meetings.
Many CAPS groups are held on a weekly basis throughout the semester, and students are not limited to a set number of group meetings, as they are with brief individual therapy appointments.