Group Therapy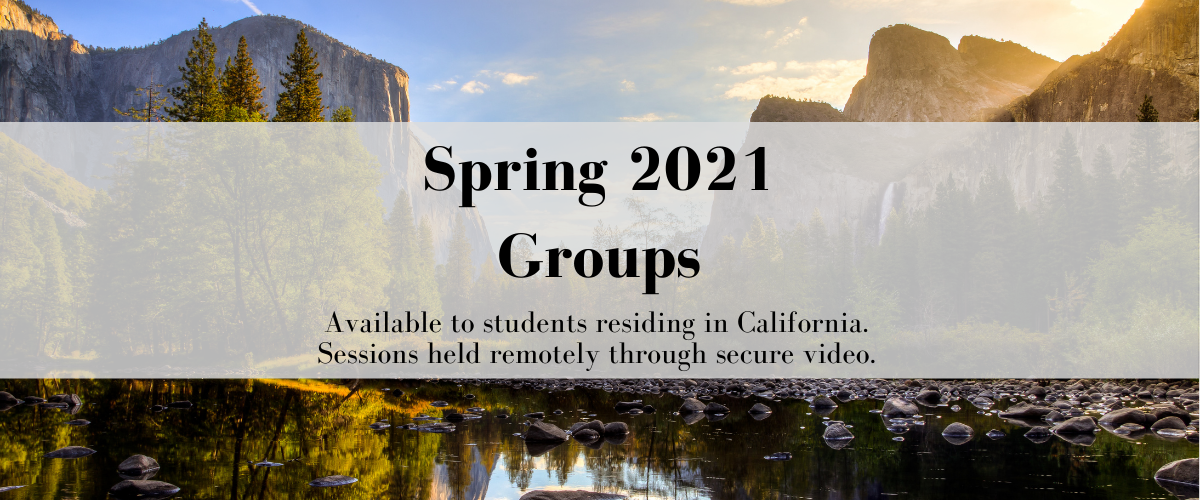 Welcome to our groups page. Spring groups will be held remotely through secure video. Note that group times may change, or groups may be canceled based on demand and other factors. This page will be updated regularly. Please contact CAPS at (415) 422-6352 or -6351 during business hours if you have any questions. While therapy groups can only be offered to students residing in California, due to state licensure laws, all USF students, regardless of location, are invited to join CAPS' online workshops, including the three-session Anxiety Toolbox.
Spring 2021 Groups
Note that most of our groups start at the beginning of the semester and are closed to new members after the first few weeks. Please reference list of available groups below.
---
ACT for Anxiety & Depression: Acceptance and Commitment Therapy (ACT) helps you accept the unwanted situations you cannot change, and live life in line with your values anyway. Learn tools to reduce anxiety and depression. Didactic and experiential format with some group discussion. 
Thursdays 10:10–11:30 am
February 25th–April 22nd 
Trans & Non-Binary Support: For self-identified trans, non-binary, and gender nonconforming students to come together for grounding, connection, support, and healing. Facilitated by an ally.
Tuesdays noon–1 pm
Understanding Self and Others: Better understand yourself and develop more satisfying relationships. Become aware of thoughts and feelings and how your background affects relationships. 
USO #1:Tuesdays 2:10–3:30 pm
USO #2: Wednesdays, 3:00–4:30 pm
CLOSED for Spring 2021
ACoA: Reclaiming Self: A semi-structured support group for clients who grew up in a family impacted by addiction or chronic illness. Adult children of alcoholics (ACoAs) tend to overextend themselves, fear losing control, avoid conflict, place other's needs ahead of their own, and rarely ask for help. Through experiential exercises, building cohesion and trust, and open discussions, the group focuses on issues such as self-compassion, vulnerability, and boundary setting. 
Thursdays, 2:30–3:45 pm
Wise Mind: DBT Skills: Dialectical Behavior Therapy (DBT) provides skills for managing difficult emotions and interpersonal concerns more effectively by addressing behavioral, emotional, and thought patterns that cause distress. Participants must be in concurrent individual therapy. 
Fridays, 10:30 am–12:00 pm
Eating Disorder Support Group: Support group for students who are in treatment off campus for anorexia, bulimia, or binge eating disorder. A space to connect with others and work toward recovery. 
Thursdays 11:45am - 12pm (Group Cancelled)
Participating in a therapy or support group helps you realize you're not alone. While it is true that each of us is unique, none of us is alone in our struggles. Group therapy reduces isolation by giving members a place to connect on similar issues. Thus, this type of healing modality can be especially valuable for individuals dealing with depression, social anxiety, loneliness, and life transitions.
Groups facilitate giving and receiving support. One misconception about groups is that members take turns receiving individual therapy from the therapist while others observe. Members are actually encouraged to provide each other support, feedback, and connection.
Groups help you find your "voice." Participating in a therapy or support group can help you become aware of your own feelings and needs and learn effective ways of expressing them.
Groups help you relate to others in healthier ways. Often people don't understand why their relationships aren't working. Groups provide the opportunity for you to see how you relate to others in real time and receive direct feedback.
Groups provide a safety net. As members learn and practice skills in a group, their confidence for practicing them in other situations grows. Members also carry the group's support with them between meetings. They can share with a group of people who care about them and will listen.
Many CAPS groups are held on a weekly basis throughout the semester, a unique opportunity to receive weekly services through CAPS!
Group members often form close connections and maintain them after the group ends.