The Davies Forum
Each semester a different group of selected students called Davies Scholars participates in the interdisciplinary Davies Seminar under the direction of that semester's Davies Professor.
Current Davies Forum
Spring 2023
Planetary Feminist Activism: Confronting Crisis through Collective Strategies
Taught by Elisabeth Jay Friedman and Dorothy Kidd
It can seem nearly impossible, and certainly daunting, to address the multiple crises deepening
inequalities around the globe. While it is important to analyze these deep systemic inequalities, and how they will gravely impact our communities and our planet for years to come, this Davies Forum starts with a much more proactive premise. We feature the ways that women and gender non-conforming people around the world have collectively responded to not only the pandemic and other grave emergencies, but also the unjust systems they reveal. By reclaiming and redesigning a wide panoply of organizational forms, art, communications, and media tools, these community leaders have built and augmented connections and diffused practical information to articulate and enact visions of planetary justice that address our contemporary realities.
Upcoming Events
Lisa E. Bloom
Author of Climate Change and the New Polar Aesthetics: Artists Re-image the Arctic and Antarctic
We will be hosting Lisa for a book talk on April 11th from 3:00 - 4:25 pm in McLaren 252 with a reception to follow in Thacher Gallery from 4:30 - 6:00 pm.
In Climate Change and the New Polar Aesthetics, Lisa E. Bloom considers the ways artists, filmmakers, and activists engaged with the Arctic and Antarctic represent our current environmental crises and reconstruct public understandings of them. Bloom engages feminist, Black, Indigenous, and non-Western perspectives to address the exigencies of the experience of the Anthropocene and its attendant Necosystem failures, rising sea levels, and climate-led migrations. As opposed to mainstream media depictions of climate change that feature apocalyptic spectacles of distant melting ice and desperate polar bears, artists such as Katja Aglert, Subhankar Banerjee, Joyce Campbell, Judit Hersko, Roni Horn, Isaac Julien, Zacharias Kunuk, Connie Samaras, and activist art collectives take a more complex poetic and political approach. In their films and visual and conceptual art, these artists link climate change to its social roots in colonialism and capitalism while challenging the suppression of information about environmental destruction and critiquing Western art institutions for their complicity. Bloom's examination and contextualization of new polar aesthetics make environmental degradation more legible while demonstrating that our own political agency is central to imagining and constructing a better world.
For more on her work see her website: www.lisaebloom.com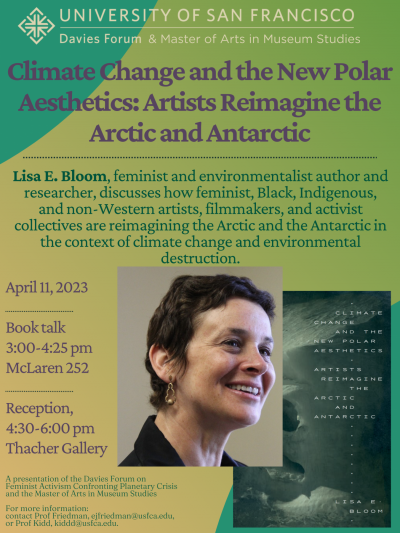 ---
Previous Events
Sasha Costanza-CHOCk
Oracle for Transfeminist Technologies Workshop (w/ Coding Rights)
When: March 28th, 2023 from 2:40 - 4:25 pm in LM 245
Throughout history, human beings have used divination procedures (such as Tarot decks) to help understand and reshape the future. In this workshop, participants will learn about what an intersectional transfeminist lens can bring to the discussion about AI; engage in a speculative design exercise; generate ideas for new technologies; and discuss how to partner with community-based organizations to design new technologies. 
Dr. Sasha costanza-chock will also be speaking later in the evening
Join us for an even where Dr. Sasha Costanza-Chock speaks to us about Community-led Practices to Build the Worlds We Need.
Fromm Hall, Berman Room from 7 - 8:30 pm.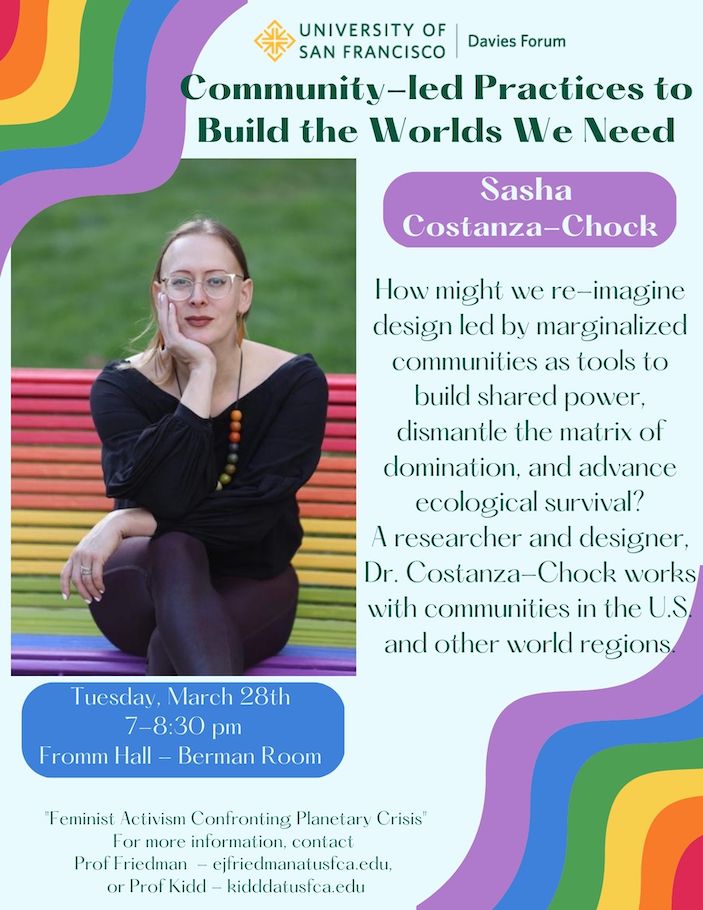 Previous Davies Forums
Fall 2022 Davies Forum
Fall 2022 Davies Forum Seminar Series:
Thursday, August 25

th

, 2022 7-8:30pm: Dr. Angus Fletcher,

Professor of Story Science at Ohio State's

Project Narrative

, joins Davies Forum instructor Dr. Indre Viskontas in a conversation about

The New Neuroscience of Literature:

 

How Poems, Novels, and Films Boost Creativity, Courage, and Resilience. 

Thursday, September 22

nd

, 2022 7-8:30pm: Dr. Thalia Goldstein,

from George Mason University, will discuss her work on the effectiveness of theatre as a way of teaching children morality and empathy, how children think about moral issues at the fiction-reality boundary, and how young children and adults understand and react to watching fictional worlds as audience members. 

Thursday, October 6

th

, 2022 7-8:30pm: Earlonne Woods and Nigel Poor

, hosts of the popular

Ear Hustle

podcast, join Dr. Viskontas in conversation about giving voice to those who have been silenced by society. Ear Hustle launched in 2017 as the first podcast created and produced in prison, featuring stories of the daily realities of life inside California's San Quentin State Prison, shared by those living it. Co-founded by Bay Area artist Nigel Poor alongside Earlonne Woods and Antwan Williams

— who were incarcerated at the time — the podcast now tells stories from inside prison and from the outside, post-incarceration. 

Thursday, November 3

rd

, 2022 7-8:30pm: Dr. Sue Savage-Rumbaugh,

psychologist and primatologist, will talk about her work as the first scientist to conduct language research with bonobos. Recognized by Time Magazine as one of the 100 Most Influential People in the World, her wholistic approach to language immersion with apes speaks to the communication abilities that we share with our closest relatives in the animal kingdom. Her current work involves exploring music-making as a way of connecting with the bonobos. 
More about the course: 
Fire enabled our ancestors to cook food and spend less time seeking sustenance and more time building civilizations. By some, it's considered the tool that paved the way for the expansion of the human brain, as we were better able to fuel our most metabolically-costly organ, and free up time to gather together. But the invention of stories arguably allowed us to pass on the gains we made from one generation to the next, to share experiences and thoughts, to imagine the consequences of our actions. Literature is a technology just like any other, though perhaps even more powerful than anything else the human mind has brought into existence. When it comes to using stories to facilitate societal change, one modern framework stands out, and dovetails beautifully with the pillars of story science: the Public Narrative. This framework divides effective storytelling into three parts the Story of Self, the Story of Us and the Story of Now. These three parts effectively map onto story science, and provide a scaffold with which we can investigate how our brains create and respond to stories. 
In this course, we will examine storytelling through the lens of neuroscience and explore the role it plays in building our identities (self), our social groups (us) and understanding our environment (now). As our society reckons with how marginalized groups have been silenced or ignored throughout history, understanding the power of stories and how they are told effectively to change society could not be more relevant. This course aims to further this understanding by surveying the neuroscience of stories and integrate this knowledge with the Public Narrative framework, so that students can utilize what they learned to effectively further the public good and their own values.  
Spring 2022 Davies Forum Seminar Series: 
"Restorative Justice & The Environment: The Future is Indigenous Rematriation" with Corrina Gould
March 22, 2022
7:00 PM-8:30 PM
View the recording of Restorative Justice and the Environment
**Please note, due to technical difficulties, the recording of "Restorative Justice and the Environment" begins approximately 5 minutes into the speaker's talk. We apologize for any inconvenience.**
"Radical Redistribution: Reparations for the Black Descendants of Enslaved Africans" with Dr. Cornel West
February 23, 2022
7:00 PM-8:30 PM
"Genocide and Reconciliation: Native Americans and a Potential Path toward Restorative Justice" with David Treuer
February 1, 2022
7:00 PM-8:30 PM


View the recording of Genocide and Reconciliation
Forgiving the Unforgivable: The United States, Slavery, and Genocide
Taught by Aaron J. Hahn Tapper, Swig Program in Jewish Studies and Social Justice
Humans make mistakes. We do things that we shouldn't do. The question is not whether or not this will happen; rather, how should we deal with these regular occurrences after the fact? Because humans are social creatures, and interacting with others is part of normal lives, forgiveness and apologies are central to the human experience. They are a component of one's relationship with other individuals, other collectives, and even oneself.
But what does forgiveness mean? When someone forgives another person, what happens? And what happens when one group of people does something wrong to another group? What about if something heinous—perhaps best framed as something unforgivable—happens? In the twentieth and twenty-first centuries, these questions are not merely theoretical; they aren't thoughts limited to the ivory tower.
This course grapples with some of the most important elements of being a human (i.e., determining the best way/s to move through mistakes, even those that might be called indefensible) and a member of U.S. society (i.e., confronting the systemic legacy of both slavery and Indigenous genocide). Creating a context for students to learn about foundational questions at the core of their twenty-first-century identities, students will find that the structure and content of this course is relevant to themselves personally as well as to their student selves attending a university on "American soil."
Spring 2021 Davies Forum
Making Sense of a Post-Western World: Interdisciplinary Tools, Global Perspectives
Taught by Nora Fisher Onar, International Studies
The United States and Europe—in many ways, epicenters of the COVID-19 pandemic—may emerge diminished in their global leadership role(s). This outcome, in tandem with political turmoil in the United States, arguably has accelerated a structural trend underway for at least a decade, the eclipse of Western primacy in world affairs. To make sense of our nascent post-Western order, students will develop a toolkit drawn from "global International Relations": an interdisciplinary approach to world affairs which foregrounds traditionally marginalized perspectives on outstanding economic, social and security challenges. We will ask if, why, and how the United States-led West is in decline, and seek to understand what this process—and our persistent common challenges as humanity—look like from Asia, Africa and Latin America. The course, as such, speaks to anxieties about the West's relative decline. But rather than respond with economic and cultural nationalism (atavistic energies which have been exacerbated by today's pandemic), the seminar explores how our present crisis and the post-Western world it augurs offer not only challenges, but also opportunities to build a more equitable global community. Our inquiry, as such, will be driven by the overarching, analytical but also normative question: How, in a world after Western primacy, can we better live together?
Fall 2020 Davies Forum
Political Animals: Democracy from Athens to America
Taught by Jessica Blum-Sorensen, Classical Studies, and Nathan Dennis, Art History and Museum Studies
Designed specifically to run during an election year in the United States, this seminar examines the origins and development of democracy as a political ideal from Classical Athens to the present through the historical interactions between philosophical design and social narrative, the archaeology of democracy and its visual legacy, and the historical and cultural parameters that have empowered and amplified certain voices in the democratic process while disenfranchising others. The "Founding Fathers" of the United States looked to the Classical past as a model for their new Republic. But what did (or still does) such a model entail? The worlds of Greece and Rome were built on rhetorics of the ideal citizen – male, able-bodied, wealthy, and native-born – and on the exclusion of the Other, constructed through gender, ethnicity, nationality, and even aesthetic values. This course, therefore, investigates the physical and rhetorical construction of American democracy through the lens of the Greco-Roman past, placing contemporary discussions of citizenship and authority, the visual emblems and architectural spaces of political power, and the future of democratic ideals in the context of the historical, spatial, literary, and visual dynamics of democracy's own origins. 
Spring 2020 Davies Forum
The End of the World: U.S. Values and the Apocalyptic Imagination
Taught by Lois A. Lorentzen, Theology and Religious Studies
Apocalypse is both a state of affairs and an interpretation of that state of affairs…the script by which reality is being managed, imagined, narrated, sometimes to stress the blunt horror of the end of a world-genocide, ecocide, some cultural or local omnicide -and sometimes then to stress the wild hope for a world to come
(Catherine Keller – Apocalypse Then and Now,13)
The world as we know it is about to end. Reading the news (or Facebook posts) one might conclude that the United States, if not the world, is on the verge of ecological, political, social and economic collapse. Climate change, the nuclear threat, failing political systems indicate to many that "we are in apocalypse." Popular culture embraces apocalyptic themes with movies (The Road, The Book of Eli, The Matrix, I am Legend, Children of Men)and popular TV shows (The Walking Dead, The Rain, The 100, Z Nation). In the context of climate change and broken political systems, collective and individual helplessness/hopelessness may lead to despair that our collective problems are so overwhelming that no human solution is possible. The end is near.
The preceding may seem overdramatic (as is the idea of apocalypse). The intention of apocalyptic discourse is to highlight urgency and the need for immediate change. Climate scientists for example, say that collectively we must act now (and it may already be too late). Yet, contemporary existential threats of the "end of the world" whether by nuclear disaster, climate related catastrophes, social/political breakdown, are normalized, part of the daily news, university classes – the backdrop to our everyday lives. Our students (and their professors) too often become temporarily enraged and "activist" in the face of urgent social/environmental problems, but then give up.
Yet as Keller notes above, apocalyptic imaginings also "stress the wild hope for a world to come." This course explores both the despair and the wild hope of contemporary U.S. apocalyptic visions as a lens to uncover "values in contemporary America", the intent of the Davies Forum.
Fall 2019 Davies Forum
Decolonizing International Human Rights
Taught by Sadia Saeed, Sociology
The adoption of the Universal Declaration of Human Rights in 1948 ushered in an age of human rights activism by states, non-governmental organizations, grassroots social movements and individuals. The result has been spectacular. An impressive array of rules governing issues as diverse as the rights of indigenous peoples, warfare, and global economic justice (to name a few) has altered both state policies and how states are evaluated. Yet, the elucidation of this trend continues to be mired in controversy. Where, when, how and why did human rights originate? Are human rights universal and eternal or are they an expression of a particular culture and time? Do human rights reflect international consensus or are they reflective of power inequalities among states?
Taking cues from critical and postcolonial theory, an emerging scholarship is revisiting these questions in a bid to decolonize international human rights. The aim is to analyze how histories of capitalism, colonialism, and racism have intersected with Enlightenment thought to produce a mixed legacy. This mixed legacy, which is the main subject of the present seminar, reflects that human rights discourses have both aided imperial interventions and provided a language for emancipation. This Davies seminar will examine this aspect of international human rights from a global, historical, and sociological perspective.
Spring 2019 Davies Forum
Silicon Valley Uncovered
Taught by Tamara Kneese, Media Studies
Once known for its vast plum and apricot orchards, the stretch of land comprising the Santa Clara Valley is now home to major corporations like Intel, Google, Facebook, and Apple. Silicon Valley is a hub of innovation, so-called disruption, and a booming tech economy. It is also a place of extreme wealth inequality. San Jose was the birthplace of Cesar Chavez's United Farm Workers Movement. Today, as Google plans to build a "village" in downtown San Jose, the many janitors, cafeteria staff, security officers, and other contract workers who power tech campuses are also fighting for recognition and living wages in one of the most expensive regions of the US.
Going beyond stereotypes of Soylent and scooters, we will uncover both historical and contemporary cultures in Silicon Valley. In this Davies Forum, we will critically approach the imaginaries associated with Silicon Valley as a place and an idea, especially looking at the structural inequalities that allow the tech industry to flourish. How do Silicon Valley narratives impact the San Francisco Bay Area and the broader world? What new forms of collectivity and organizing, as well as oppression, are emerging in this changing landscape?