Campus Climate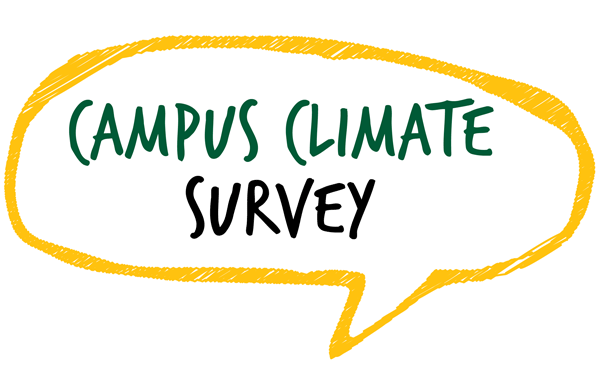 You answered the survey. The results are in.
Campus Climate Update Open Session
A year after the release of the campus climate survey results, faculty, staff, and students are invited to an update from Vice Provost and Chief Diversity Officer Mary Wardell-Ghirarduzzi regarding the ongoing university-wide outcomes shaped by the survey results. All community members are encouraged to attend these open sessions, and discuss how the campus community can continue to be engaged in the campus climate process.
Monday, April 22 4–5 p.m. Cowell 107
Tuesday, April 23 11:45–12:45 p.m. UC 4th Floor Lounge
Wednesday, April 24 12–1 p.m. UC 503 (Live-streamed via Zoom)
Wednesday, April 24 5–6 p.m. Cowell 107
Thursday, April 25 11:45–12:45 p.m. UC 4th Floor Lounge
What is the USF Campus Climate Survey?
The University of San Francisco administered a campus climate survey in fall 2017, asking all students, staff, and faculty to share their perspectives on what it is like to live, learn, and work at USF. The survey, administered by the consulting firm Rankin and Associates, asked about experiences related to current attitudes, behaviors, standards, and practices of employees and students. The results of the survey were presented to the campus community in spring 2018.
The USF Climate Assessment
We at USF have assessed our campus climate to determine how we can affirm and strengthen an inclusive community.
The assessment entails four main steps:
This past spring of 2017, a team from Rankin & Associates Consulting conducted conversations with small groups of students, faculty, and staff to learn about our current climate.
In the fall of 2017, we, with the help of Rankin & Associates, distributed a campus climate survey that all students, faculty, and staff were invited to complete.
Last fall and winter, Rankin & Associates gathered the survey responses and analyzed the findings. In spring 2018,  Rankin & Associates shared the results with the entire USF community at town hall meetings, and recommended suggestions for improvement.
Moving forward, this academic year we are sharing the results campus-wide to highlight the survey findings and improve the campus climate across the USF community.
Thank you for participating in the survey. Your voice matters.