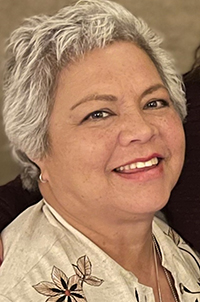 Eliza Lynn Escott-Kendall (1957-2022) passed away on Sunday, November 27th, in her home in Oakland, California, after a two-year battle with ovarian cancer. After receiving her degree from the University of San Francisco (USF) in 1992, Eliza remained a dedicated and loyal employee at USF for 35 years, serving for the last 24 as the Community Administrator for the Jesuit Community at Loyola House. 
Donal Godfrey, S.J., University Chaplain, remembers Eliza:
"The Jesuit Community deeply loved Eliza. I always felt her job at Loyola House was more like a vocation for her. She made a huge difference in our lives and throughout the university. I will  miss her very much."
Eliza will be remembered as a beautiful human, loving wife and mother, supportive sister, and loyal friend. She was a brave warrior remembered for her kind and loving demeanor and biting wit and humor.
She is survived by her husband, family, and countless friends whose lives she touched over the years, including her extended USF family. 
A celebration of Eliza's life will be held on Monday, December 12, 2022, at 1:00 pm at St. Ignatius Church. A reception to follow at the Gleeson Library Atrium. In lieu of flowers, contributions in memory of Eliza can be made to the Ovarian Cancer Research Alliance (OCRA), website.
Fond memories and expressions of sympathy may be shared at Neptune Society of Oakland for the Escott-Kendall family.