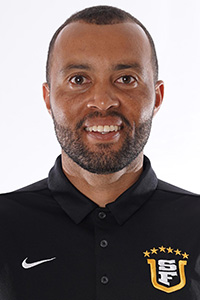 Just over a year ago I was named the new head coach of one of the most historic college soccer programs in our country, at the University of San Francisco. I brought in Javier Ayala and Sam Reynolds as assistant coaches because we share the same philosophy of developing our athletes holistically. High character and a strong culture have been the foundation of our coaching for myself and my assistants. And we have never lost sight of that as a coaches.
I've always been captivated by the power of sport, and soccer in particular, to bring people together from different cultures, races, religions, sexual orientations or socioeconomic backgrounds. It's this unification of our differences that has always motivated me to build teams to have a culture of inclusivity, respect and responsibility, and I want to be very clear when I say that:
The USF men's soccer program does not tolerate any sexual misconduct or discrimination. The USF men's soccer program does not tolerate any acts of racism or bigotry. This program respects all individuals regardless of race, gender, sexual orientation or socioeconomic status.
The USF men's soccer program stands with all survivors of domestic and sexual violence and promise that we will do more to ensure that the young men our staff holistically develop will uphold the highest standards for ourselves, our communities and our future.
The USF men's soccer program supports the university in its actions to hire a full-time deputy Title IX officer focused on the Department of Athletics as well as a full-time student advocacy professional. As a staff, we will continue to work with administration on a zero-tolerance policy for the men's soccer program, which includes but is not limited to suspending any player with an open Title IX investigation until the investigation is closed.
Our staff knows that the USF men's soccer program starts with its leadership. As the head coach of the program, we can and will do more to ensure our student athletes are constituents of a safe environment for all people on campus and in their communities. We can accept and learn from losses, we can accept setbacks, but we will never accept any kind of sexual misconduct or violence.
Tuesday, Jul 21