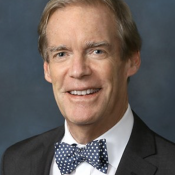 June 22, 1947 - May 15, 2022
We mourn the recent passing of long-time adjunct Professor D. Peter Harvey. Prof. Harvey joined the adjunct faculty in 2001, teaching entertainment and media law. In 2014, Prof. Harvey created the Europe Intellectual Property externship program "on the back of a napkin" with his colleague Julia Holden and many USF Law alumni have benefited from the robust and enriching summer curriculum.
For four decades, Prof. Harvey practiced intellectual property law, with a focus on trademark and copyright law, and previously served on the board of the International Trademark Association (INTA).
School of Law Externships Director Anne Sidwell said of Prof. Harvey: "He was a kind, energetic cheerleader for all his students and colleagues. I admired his intelligence, creativity, and humility. I am very honored to have worked with him, and I'll miss him very much. "
We extend our heartfelt sympathy to Professor Harvey's family, friends, and colleagues.