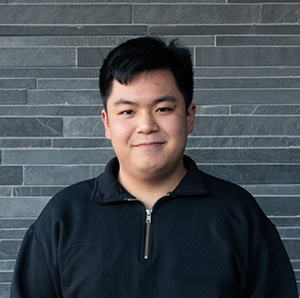 Dear USF Community, 
I am saddened to inform you of the passing of USF student Ryan Mak, who was set to graduate this December with a BA in politics and minors in legal studies and peace and justice studies. Ryan passed away on Aug. 18, 2023 at age 22.
From the time he enrolled at USF in fall 2022 as a transfer student from Hong Kong, Ryan immersed himself in the life of the university and distinguished himself as an outstanding student, engaged leader, and "honored and beloved friend, senator, and Swiftie" as his student colleagues in ASUSF put it. 
Ryan served as ASUSF Senate's pre-law representative last year and was actively involved with outreach to law and pre-law organizations, trying to help a number of them rebuild. He authored more than eight senate resolutions on topics ranging from lowering textbook and tuition costs to supporting transgender athletes, making him one of the most active members of the Senate since its inception. "Put simply, Ryan was the embodiment of the values that drive the educational and personal journey of being a student at the University of San Francisco," ASUSF said in a statement. "It was a privilege of a lifetime to serve alongside Ryan Mak."
Adjunct Professor and Director of Debate in the Department of Rhetoric and Language Robert Boller called Ryan an outstanding individual who was a beacon at USF. "As a member of the USF debate team, Ryan was a particularly articulate speaker and a highly respected teammate. His infectious smile and wit endeared him to all of his peers. Ryan frequently won speaking awards at tournaments and was a leader by example. Our hearts go out to his family and many friends. He will be sorely missed."
Ryan was also a board member of the Philosophy Club and Supporting Immigrants and Refugees Club. He was involved with TransferNation, Model UN, Board Game Club, and the Bay's Own Boba Association (BOBA). 
Ryan's academic adviser, Professor Brian Weiner of the politics department, said Ryan was an extraordinary student and young man. "Smart, conscientious, and exceptionally thoughtful, Ryan was on track to graduate this December with a perfect 4.0 gpa. But his achievements went well beyond the classroom. Ryan had an infectious energy and intellectual curiosity. He was an award-winning debater; a member of the Model UN club and the Philosophy club. His enthusiasms were broad and deep, ranging from constitutional law to Taylor Swift. He will be deeply missed by all who had the all-too-brief gift of having known him."
A vigil to celebrate Ryan's memory will be held at 7 p.m. Sunday, Aug. 27 in Gleeson Plaza. 
I know I speak on behalf of the entire USF family when I say that we are holding Ryan Mak's family and friends in our thoughts and prayers. 
Sincerely, 
Angélica Quiñónez
Director, University Ministry
A number of support services are available to the USF community