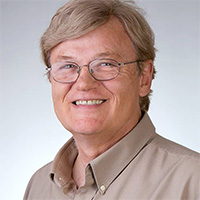 The College of Arts and Sciences is saddened to inform you that Dr. Philip Hanson, Associate Professor of Rhetoric and Language, passed away on February 19, 2021. He was 71.
Phil was at the University of San Francisco for twenty three years, 1997-2021. His research and written works made him one of the foremost experts in the fields of expository writing and twentieth century American literature and film. He is most widely recognized for his book This Side of Despair, which was named one of Choice Magazine's Outstanding Academic Titles for 2008 and included in The Journal of Scholarly Publishing's list of 2007-2008 "Significant Books."
Phil has also written short stories, poetry, and several academic articles such as "The Feminine Image in Films of the Great Depression," which was published in The Cambridge Quarterly. During his academic career he has served on over eighteen committees and received several prestigious honors, including USF's Jesuit Grant in 2005. He finished his undergraduate summa cum laude with Phi Beta Kappa at the University of Minnesota, moving on to earn his doctorate and teach at University of California at Berkeley before coming to USF.
Notes of condolences can be sent to Cynthia Hanson, 202 Virginia Circle Martinez, CA 94553.
A Celebration of Life Service will be held on March 28th, 2021 at 3:00 pm via zoom. Meeting ID: 998 5413 0178/ Zoom Passcode: 753149
Please hold Phil's family (his wife, Cynthia; their children, Christopher,Lindsey and Thomas; and grandchildren Jazmine and Alexia) and friends in your thoughts and prayers at this time in gratitude for his life, scholarship and service.