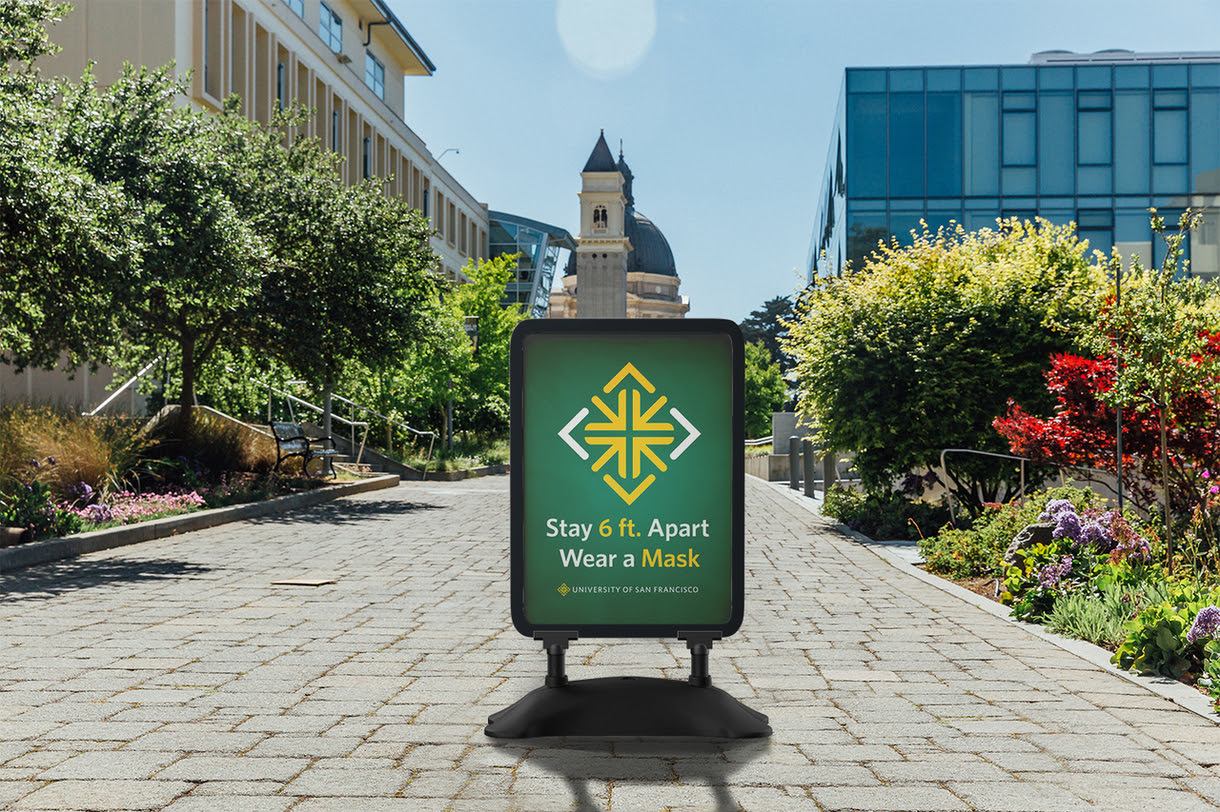 Dear USF Students, Staff, and Faculty,
In the midst of balancing your life and responsibilities during the pandemic and shelter-in-place orders, I know there's also a pressing question on your mind: What will the fall 2020 semester look like at USF?
As I communicated earlier, we intend to reopen the USF campus in mid-August for the fall semester with in-person and hybrid classes. Reopening is, of course, contingent upon the county and state public health orders.
Today, I am sharing the USF Campus Roadmap for Reopening.
While we do not yet have a definitive course of action to announce, the following seven points from our roadmap detail how we are preparing now to reopen.   
1. Prioritizing health and safety
The health and safety of students, faculty, staff, and visitors on campus are our highest priorities and guide every decision we make. We will make data-driven decisions based on research, advice, and regulatory protocols. We will also rely on our own expertise and national best practices. Above all, we will make decisions rooted in our Jesuit values and educational principles as expressed in cura personalis and cura apostolica.
2. Taking a community-based approach
All members of the USF community will be expected to adhere to practices outlined in the roadmap to ensure the health and safety of the entire campus community. Following are initial steps we are taking to ensure everyone observes health and safety practices on campus:
Members of the Public Health Working Group are creating a Canvas course that will outline expectations and practices.
We are ordering face coverings for faculty, staff, and students, since face coverings will likely continue to be mandatory.
We are increasing hand sanitizing stations throughout campus.
3. Ensuring academic excellence
Regardless of the mode of instruction (in-person, hybrid, online, or a mixture of all three), USF will deliver a rigorous and innovative academic experience for all students. USF will continue to:
Set the highest academic standards grounded in our Jesuit tradition;
Offer high-impact, transformational learning experiences; and
Provide students with a personal learning experience with faculty members who teach their classes.
4. Implementing testing and contact tracing
The Public Health Working Group, composed of faculty, staff, and students, is actively pursuing opportunities to have access to testing for the virus on our campus and in our community as well as appropriate technologies to support that. We will be deeply engaged with the City and County of San Francisco to trace, monitor, and contain the spread of the virus.
5. Converting to a low-density campus
We will make changes to the physical spaces, signage, and other aspects of our facilities to allow for proper social distancing.
We will ensure that all residence halls have only one or two students per room. There will be no triple rooms on campus.
We have identified spaces on campus and procedures for isolating any student who may need to be quarantined. We will adhere to the best standards of social distancing. Not only are we implementing physical changes in the classrooms to promote social  distancing (see No. 6 below), we are examining all spaces on campus, from dining halls to offices, to ensure that social distancing can be observed. We are also using technology where appropriate to facilitate social distancing. We are placing appropriate signage throughout campus — in open areas as well as inside buildings and in classrooms — reminding community members and visitors to observe appropriate social distancing practices.
We will increase cleaning rotations for classrooms, public spaces, and restrooms to ensure a sanitized environment.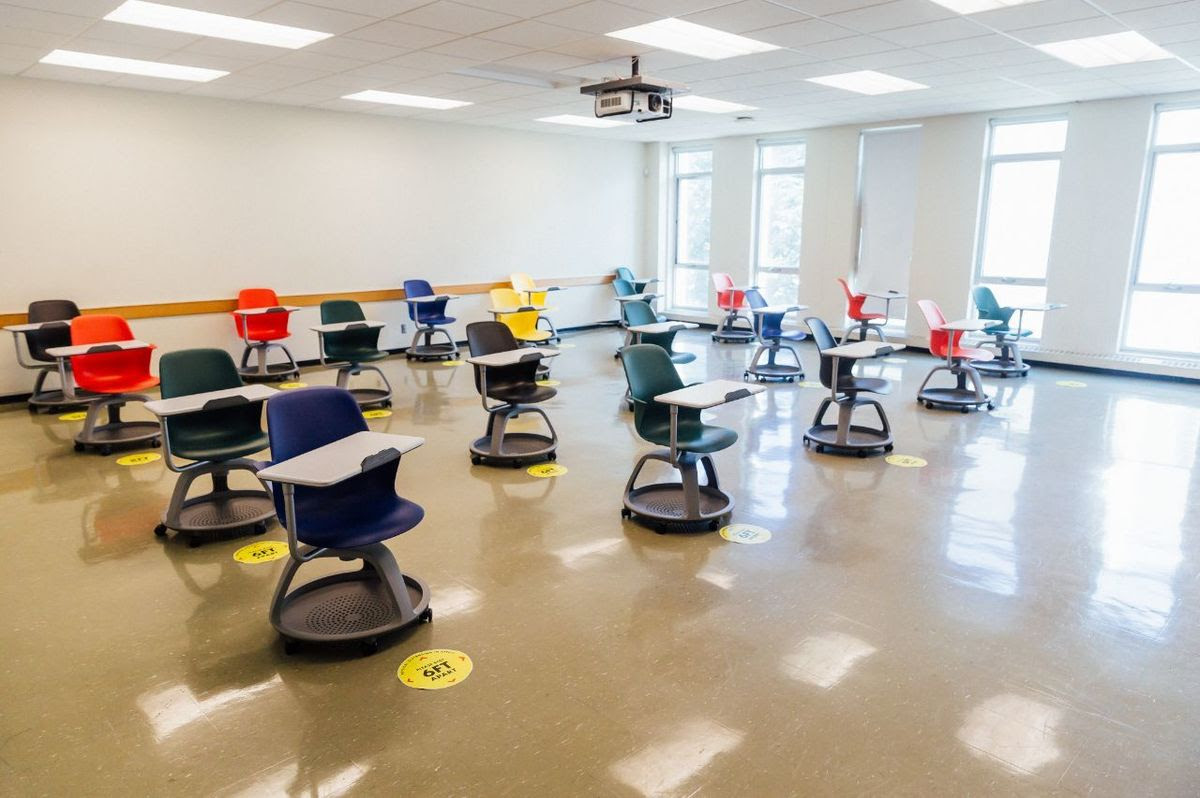 6. Ensuring social distancing in classrooms
We are taking every precaution to allow for recommended social distancing in every one of our classrooms on campus. One of the advantages of the University of San Francisco is that we already have a lower student-to-faculty ratio than most of our nearby peer institutions. This teaching model allows our students to be in a classroom together with their professors while still maintaining proper social distancing. Preparations taking place in our classrooms include:
Inventorying each classroom to document the maximum occupancy that allows for a distance of at least six feet between individuals;
Installing signage in each classroom to indicate the appropriate distance for safe seating;
Installing new and upgraded IT equipment in 104 classrooms and labs to ensure we have the latest technology for high-quality instruction across campus; and
Exploring hybrid teaching models that combine remote instruction with some on-the-ground learning. 
7. Changing the academic calendar
We are discussing adjusting our typical academic calendar to conclude the fall semester before Thanksgiving and before the beginning of the flu season in San Francisco. This change would significantly reduce the number of students traveling back and forth to campus during November and December, and likewise reduce the chances of spreading illness.   
 
We believe these and other steps to prepare campus as outlined in the roadmap will protect the health and safety of our community while ensuring that students this fall will have the high-quality educational experience they expect from the University of San Francisco.
In the meantime, we appreciate the work already being done by our faculty to prepare to deliver their courses this fall in-person, remotely, and through a hybrid model using the best technologies available to us. We have built in key pivot points throughout the fall semester, so if the spread of COVID-19 does require us to transition fully to remote learning, we will be prepared to do so quickly and efficiently, minimizing disruption to the academic experience.
To reiterate, the seven points outlined above will allow us to return safely to campus this fall and ensure the best possible experience for our community. Yes, the campus will look different and classrooms, offices, and common spaces will have a different setup. However, while we can't predict the future impact of COVID-19, I am hopeful that, if conditions allow us to gather this fall, the University of San Francisco campus and community will be prepared and ready.
In the coming weeks and months, you will be receiving updates on our progress to prepare for the fall semester and what you can do to prepare to return to campus. Please refer to the COVID-19 Resource Page for additional information.
Sincerely,



Paul J. Fitzgerald, S.J.
President
Thursday, May 21