Students
Cohort 5
Meet the students from Cohort 5, 2020-2022!
Anisa Abeytia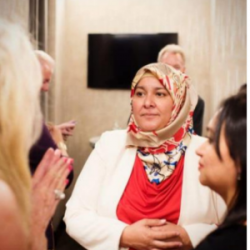 Anisa Abeytia is a research and policy professional with a background in humanitarian diplomacy. She worked with Congress, the Department of Homeland Security, and the State Department to shape US – Syria policy, with a focus on domestic immigration. Her research interests include the social inclusion of Syrian refugees in Europe, the role of online platforms on the social inclusion of vulnerable populations in offline environments, and access to sociospatiality in the upward mobility of refugee populations. She regularly presents her research internationally, most recently at the University of Cambridge. Her articles are published via national and international web-based and print media, including a book chapter and policy briefs for UNESCO and The Hill. She is the recipient of a Student Forum Award (2019) from the American Sociological Society and an Emerging Scholar Grant from the Lilly Family School of Philanthropy, University of Indiana/Purdue. Previously, Anisa operated a private practice as a clinical nutritionist in Dubai, specializing in utilizing the field of epigenetics to understand hypothyroidism and endocrine dysfunction. She is a published poet, former USC varsity rower and worked in Hollywood for the producer of the Godfather.
Victoria Añíbarro Celicious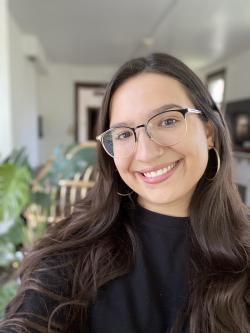 My name is Victoria Añíbarro Celicious. I was born in a small town in Upstate New York, lived abroad in England for 5 years, but ultimately grew up in the suburbs of Chicago. I was initially drawn to Migration Studies and more specifically, serving marginalized communities, because of the migration stories of both of my parents. My desire to engage in social justice and equity work was further solidified in seeing my mother work closely with displaced families for over 20 years.
I recently received my B.A. in Cultural Anthropology from Hamilton College. At Hamilton I became especially interested in the intersections of migration, community engagement, education, and gender. My ethnographic thesis was rooted in partnerships with female international students and focused on ways in which these women navigated transnational identity. 
Since my completion of my undergraduate degree, I have had the privilege of serving middle school students on the West Side of Chicago through City Year Chicago, an educational equity program. While my role has been primarily teaching, I have continued to examine my interactions and conversations with students within a framework of mobility. I am interested in further exploring what learning looks like in spaces you are not "from", as well as external and internal perceptions of a student's experience, and how that shapes or shifts identity across many ages.
Cindy Bejarano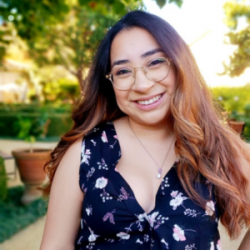 My name is Cindy Bejarano a first-generation student blessed to be accepted into the program. I recently graduated from San Francisco State University with a major in Women and Gender Studies and a minor in Latin Studies. The two areas helped me understand the intersectionality within human rights. My goal has always been to advocate for women right's but within the last couple years it has shifted to advocate for undocumented Central American women. My internship with The Women's Building in San Francisco led me to a path towards the undocumented population. As the first women-led community center, aimed to advocate for women, the center really opened my eyes to the injustices and criminalization of several racial minorities. I noticed majority who arrived were undocumented individuals seeking assistance for jobs, school, food, shelter and other areas aimed for survival. After hearing several migrant stories, majority of my research papers became about Central American women and their struggle in navigating their corrupted country and the U.S. I want to do more towards the undocumented community as there are many push-pull factors for migration but not many factors that contribute or focuses on the well-being and survival for undocumented women. I hope to gain additional tools to deeply advocate for undocumented and first generation Central American women/girls and their families.
Gabrielle Hagans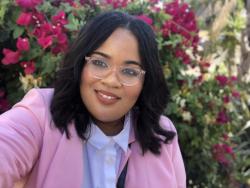 My name is Gabrielle Hagans and I'm from Lawrenceville, Georgia. In 2016 I graduated from Barry University with a bachelors degree in marketing. Upon graduating, I realized that I was actually passionate about international affairs and development. Therefore, I decided to join the Peace Corps in Nicaragua. During my time in the Peace Corps I gained invaluable skills and first hand knowledge of the challenges that communities face in a developing nation. However, I believe that It wasn't until spring of 2018 when I fully grasped the challenges and adversities that Nicaraguans truly faced. Being able to witness the brutalities and civil unrest first hand was eye opening. My service was cut short and all the volunteers were evacuated. Although, I was devastated to leave my small community that welcomed me with open arms, I couldn't help but to think about the tragedies that were about to unfold. Many of my colleagues and friends migrated to other countries to protect themselves and their families. Hearing their stories and witnessing their ability to pack up their entire lives and move to another country that they knew nothing about, really inspired me. I became more aware about migration, immigrants, refugees and asylum seekers. I decided later that year that I would pursue a career in immigration. I currently work at an immigration office in San Francisco. On a daily basis, I am in constant contact with refugees, asylum seekers, and people who have migrated from across the world. 
I'm very excited to be part of this year's MIMS cohort, I believe that it will equip me with the necessary tools to better understand migration and it will guide me in making more informed and conscientious decisions in my line of work.
Kaytlin Hancock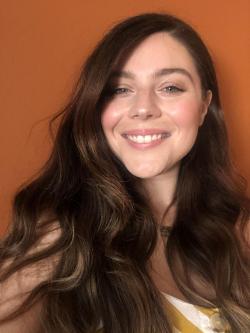 My name is Kaytlin Hancock, I grew up in Canberra, Australia and migrated to the U.S in 2018. I have a bachelors in International Development from La Trobe University in Melbourne, Australia and am excited to start this new journey at USF. In Australia I worked closely with migrant communities, assisting asylum seekers and refugees adjust to life in Australia, whilst navigating the particularly draconian immigration system. I am passionate about refugee rights and the freedom of movement, as well as the history of human migration. Through this course I hope to get more involved with immigration reform and advocacy for the rights of the migrant in the United States, as well as back home. 
Mary Kober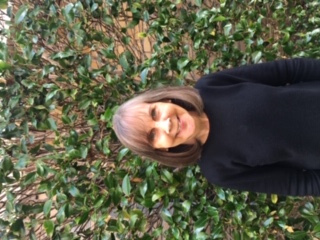 I've worked at USF the last 11 years in Admissions and now in financial aid. I received an MA in Human Rights Education from the School of Education and became very interested in international issues. I went to Greece in 2017 and volunteered for a short time with a Norwegian NGO working with refugees. That experience fueled my desire to continue learning about refugees, internally displaced people, and the world of humanitarian aid. In the fall of 2019 I ventured to Spain to volunteer with an organization that supports asylum seekers and migrants. These experiences were amazing and gratifying, and confirmed my passion in working alongside these groups of people and help them however while also respecting their dignity. I am excited about the experiential education portion of the MIMS program to view how organizations work on the ground, how policies and practices are put into place, and see praxis in action.
I am immensely drawn to work in this field and to experience both the challenges and the rewards.
Pamela Mercado Garcia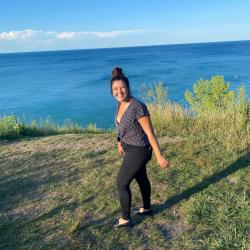 My name is Pamela Mercado Garcia, and I migrated to the United State when I was 12 years old from Cancun, Mexico. I was able to become a permanent resident of the United States in 2015, which allowed me to able to go attend college in the U.S. I graduated with a bachelor's degree in International Affairs from Eastern Michigan University. I currently reside in Ann Arbor, Michigan, and work as an Immigrants Rights Organizer for the southeast region of State at Michigan United. Since migrating to the United State, I've found the topic of immigration from Latin American countries fascinating since it had a huge effect on my life. During my undergrad, most of my research focused on grassroots organizing in Latin America, specializing in rural and indigenous communities.
I've enrolled in this program because I currently work and live in a border community.  Even though it doesn't get much media attention, the CBP has jurisdiction to stop and detain undocumented immigrants throughout Michigan due to the 100-mile zone. I hope to that during my time in the program I can learn more about the origins of immigration policies in the United States that make it difficult for an immigrant without proper status to become legal residents of the country. 
Josephine Roberts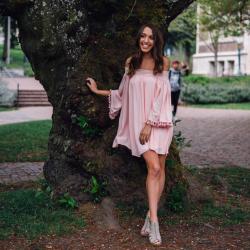 Hello, my name is Josephine Roberts. I was born in Portland, Oregon and raised in Seattle, Washington where I finished my undergraduate degree. I graduated from the University of Washington in Globalization of Anthropology, with a double minor in Human Rights and International Studies. I started out my college experience wanting to go into Fashion Marketing and Design. I then came across an opportunity with a small non-profit who was partnered with the UNHCR my freshman year of undergrad. I decided to travel overseas and work in a refugee community in Indomini, Greece. I became fascinated with the movements of individuals across vast distances. After completely changing my route of education, I finished my BA with more understanding and first hand experience than I had originally intended.
Through the course of my final two years at the University of Washington, I was an intern for the International Rescue Committee, working in their refugee resettlement division. This experience expanded my knowledge on the legal side of Migration, and allowed me to work one-on-one with clients working through the first 90 days of resettlement. During my time at the IRC, I was also able to start a small program that assisted women and young females with information and guidance on women's health in the United States. This project also provided a safe space for clients to ask questions or share concerns with a female identifying case works.
During the course of my Masters program, I plan on conducting research that will help me better understand migration paths, and how I can better prepare myself to assist refugee and migrant communities. I have specific interests in South American Communities, Islamic Studies and African Migration. I am excited to begin taking research seminars that will help me narrow down a research project, as well as meet everyone who is interested in Migration Studies as much as me.
Omar Santiago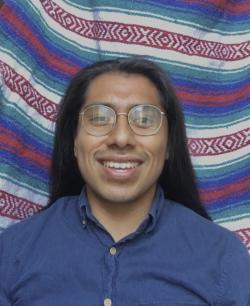 Born in the state of Oaxaca, Mexico, in a small rural village, Omar Santiago and his family migrated to the United States. From his early years in college, he was active in student-led clubs focused on increasing representation for undocumented students in higher ed. He obtained his B.A in History, minor in Latin American Studies from Sonoma State University. The first in his family to receive a degree from an American University. Being a DACA recipient, he adheres to the belief that every undocumented person should have the right to a pathway to citizenship.
Casey Ticsay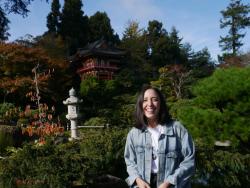 Casey Ticsay is a Filipino-American writer and filmmaker who specializes in educational and instructional media. She received her BA in broadcast communications and minor in world literature from San Francisco State University. During her junior year, she studied TV foreign reporting at the Danish School of Media and Journalism in Aarhus, Denmark. 
Following her undergraduate studies, Casey produced, shot, and edited video features for organizations such as Mission Neighborhood Centers and Access Exchange International, traveling to communities throughout Mexico, Germany, England, and the Netherlands. 
She's a contributing writer at El Tecolote, a bilingual neighborhood newspaper based in San Francisco's Mission District. She reports on topics in and beyond the Bay Area such as immigration, US colonialism, and gentrification. 
Her desire to understand her family's immigrant experience in North America and ambition to uplift the personal narratives among those often invisibilized and sensationalized in mainstream media drove her to apply to the University of San Francisco. 
With a master's in Migration Studies, Casey hopes to gain a deeper understanding of the root causes of forced migration and its link to foreign and economic policies, while learning how she can generate change in the journalism field and contribute to solutions in global migration. 
Ariadna Zarate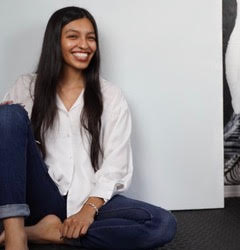 My name is Ariadna Zarate. I was born and raised in Bakersfield, CA. I am the first person in my family to attend college and I hope that this is the start of a trend that will continue in my family; I am also optimistic that other kids of color who come from poor neighborhoods like myself have the opportunity to go to college.
I graduated from Humboldt State University with a BA in Child Development and a minor in Family Studies. I am now focused on obtaining my MA because I need to add higher educational credentials to get me through the door of some of the organizations I would like to work with. With my MA, I plan to use the tools that I have acquired throughout my studies to empower marginalized people. Once I graduate, I aspire to work for organizations such as RAICES or ACLU that give disenfranchised people a voice. One of my main goals is to inspire kids to be advocates for the communities that they come from.
Carol Zavaleta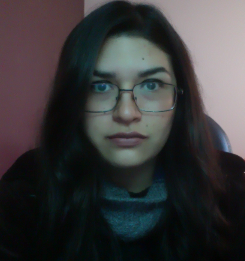 My name is Carol Zavaleta, I am a Peruvian lawyer particularly interested in the role that law, public policy, and social mobility play in expanding access and opportunity for immigrants. My academic coursework is focused on how poverty and inequality affect asylum seekers and possible refugees as a disadvantaged population. Coming from a family that was forced to migrate to other countries looking for a safe haven has made my life goal to fight for immigrants' rights, especially because of the situations of imminent risk in which they live. Conclusively, I want to help people who haven't been given a fair chance in society.