The 3rd Annual Women Shaping the Catholic Social Tradition Speaking Series Proudly Presents Kerry A. Robinson
5:30–7 p.m.  |  Friday, Nov. 15
Fromm 120 (Xavier Auditorium)

Kerry Robinson is global ambassador for the Leadership Roundtable, where she previously served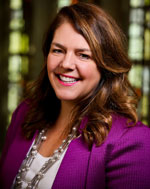 as executive director. From 1997 to 2007, she was the director of development for Saint Thomas More Catholic Chapel and Center at Yale University. Robinson is a member of the Raskob Foundation for Catholic Activities in Wilmington, Delaware, and a member of the board of directors of Foundations and Donors Interested in Catholic Activities (FADICA). She is a frequent writer and speaker on the subjects of philanthropy, development, and the Catholic Church. 
Free parking will be available in the Koret lot on the southwest corner of Turk Street and Parker Avenue; no parking permit required. There are two lots with separate entrances: the upper lot is accessed via Parker Avenue; the lower lot is accessed via Turk Street.
Cosponsored by University Ministry, Ignatian Spiritual Life Center at St. Agnes, the Bob and Joan McGrath Institute for Jesuit Catholic Education, the Office of Diversity Engagement and Community Outreach, the President's Advisory Council on the Status of Women, and Women in Leadership and Philanthropy. 
The annual Women Shaping the Catholic Social Tradition Speaking Series lecture honors the memory of Sr. Dorothy Kazel, OSU, Sr. Ita Ford, MM, Sr. Maura Clarke, MM, and lay missionary Jean Donovan — four Catholic women murdered on Dec. 2, 1980 for their commitment to justice in El Salvador. This series commemorates their witness and lifts up the Catholic sisters and lay women who continue to shape the Catholic social tradition.