Community Partnerships
Community organizations reimagine the world as it could be. They lead, organize, and serve to bring the ideals of equity and justice closer to reality. Just as important, they serve as co-educators for USF students' community-engaged learning. They share their wisdom, energy, and heart with students, faculty, and staff. Without their partnership––USF would not be able to educate our students for the common good. We appreciate the dedication, generosity, and brilliance of all the community organizations working with USF.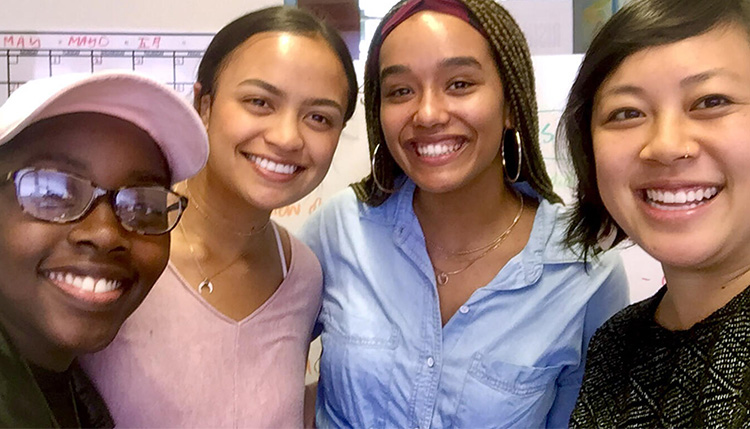 What makes the community-engaged course collaboration successful is the relationship between the organization and the program––the ability to sync classroom curriculum with lived experiences and community work. This is particularly important for organizing which is oftentimes romanticized. In actuality organizing involves a lot of data entry, bothering strangers, and following up with people over email and phone. It also involves a lot of personal, internal, and emotional work so organizers can work effectively and meaningfully with others. It is these repetitive tasks combined with deep care and detail that allow our teams to go out on the streets, stay informed, vote, and maintain relationships with each other."
Celi Tamayo-Lee
Co-Director, San Francisco Rising
The following examples of community-campus partnerships illustrate the community impact and transformative journey of community-engaged learning.
Sowing the Seeds of Transformative Justice (Maya Jane Visconte '25, shares their vision for the final Community Empowerment Activist project guided by the value of transformative justice)
Collaboration For Equitable Education (Darius Moore '25, reflects on his experience with Engage San Francisco Literacy Tutor with the Rosa Parks elementary school)
From Southern California to Sacramento: Finding Community at the McCarthy Center (Joshua Dineros '23, reflects on his experiences as a USFVotes team member, McCarthy Fellow in Sacramento, and Community Empowerment Activist)
Organizing for 'Open the Courts' (Kacie Williams '22, shares her experience working alongside San Francisco Public Defender's Office to lift the voices of incarcerated individuals and their families and the challenges of remaining too long in our county jail system)
Bridge the Digital Divide with Community Tech Network! (Joshua Chan, volunteer coordinator at Community Tech Network (CTN) and Community Partner Co-Educator Fellow '23, reflects on the partnership with USF student volunteers in their commitment to building meaningful connections with the elders they train)
Divine timing at the Public Library (Sadie Mills '23, reflects on her experiences as a McCarthy Fellow in San Francisco and Community Empowerment Activist working alongside the SFPL for the One City One Book campaign to support incarcerated communities)
Honoring Our Own Divinity (Alyssa Traina '25, reflects on a Community Empowerment Activists class with co-educator, Sister Destiny Muhammad––about honoring our divinity through storytelling, the arts, and community)
Learning is a Comfortable Environment (Richard Dzreke '25, reflects on his summer as an Equity Intern combatting learning loss with young students in the YMCA of San Francisco's Power Scholar Academy, which helped him understand how to be an effective educator)
Community Building Through Art (Alaia Zaki '23, reflects on the Community Empowerment Activist mid-year retreat and mural walk with community leader, Chris Gazaleh)
Learning How to Listen (Zachary Sexton '24, USFVotes team member and Community Empowerment Activist reflects on his work with the Tenderloin Neighborhood Development Corporation, what he's learned from the community, and how he plans to use the skills he has honed in the future)
Community Engaged Learning (Priana Aquino '22, writes about her experience working with community partner, 826 Valencia, for a Community Engaged Learning course)
Profiles of Pandemic-Responsive Community-Engaged Learning (The Leo T. McCarthy Center for Public Service and the Common Good explores and celebrates six diverse community-engaged courses and programs, highlighting the creative, innovative, and impactful ways they adapted in response to the global COVID-19 pandemic.)
Transit Justice for All (Isabel Tayag '21, reflects on her experiences as a Community Empowerment Activists working on a transit justice campaign with her host internship, the South of Market Community Action Network)