Business Cards
Personalized line information is necessary to process the order. Please use the Business Card Form in Hilltop Shop to place orders.
For questions regarding your order, contact Purchasing Services at purchasing@usfca.edu or at x5895.
Specifications (See sample below):
Business Card – Front Side:
The left side contains the Full Name Logo with tagline in three colors. The University logo is the only logo allowed to appear on University business cards. No variations are allowed.
Line 1:  Person's name in bold
Line 2:  Title
Line 3:  If applicable, overflow for long title or additional title.
Line 4:  Department Name in bold
Line 5:  Building Name and Location
Line 6:  Street address
Line 7:  City, state, zip
Lines 8 thru 11:  Contact information as needed, may include office phone, mobile phone, fax, email, social media addresses, or pronouns
Business Card - Back Side:
The business card back prints yellow with the university's tagline reversed out white. The only exception to this format is when a secondary foreign language (such as Mandarin) is required.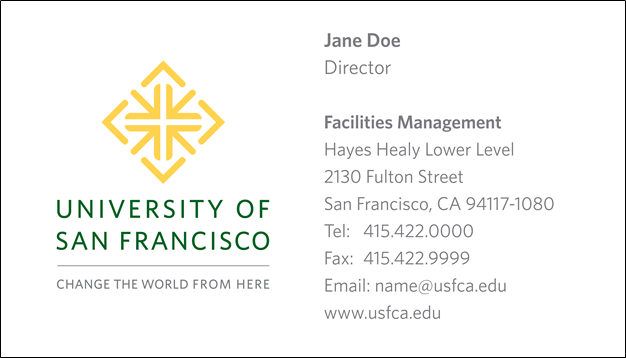 Standard USF Faculty and Staff Business Card price list can be viewed from this form: price list page.
For all other Business Card pricing not intended for faculty and staff, please contact Copy Mill at copymill@copymill-sf.com.
Important Notice:
If Stationery and Business Card orders do not meet the specifications as outlined, Purchasing Services may not process your request without the written approval from the Office of Marketing Communications.