File a Report
Remember that all emotional responses to sexual misconduct are normal. You may feel upset, very calm, or anything in between. Everyone copes differently. Resist the urge to blame yourself or think you should have done something differently. It is important to reach out to a friend you trust and utilize all available resources when you feel ready. You are not alone. We are here to help. If you are in the midst of an emergency, please call USF Public Safety immediately by dialing 2-9-1-1.
Options for Reporting an Incident
Contact the campus Title IX Coordinator or a Deputy Coordinator listed here:
Title IX Coordinator: Jess Varga
jvarga@usfca.edu
(415) 422-4563
Deputy Title IX Coordinator - Students: Julie Orio
orioj@usfca.edu
(415) 422-2823
Deputy Title IX Coordinator - Athletics:
Staffing changes - name and contact information forthcoming
Deputy Title IX Coordinator - Staff/Faculty: Diane Nelson
dlnelson3@usfca.edu
(415) 422-2441
Call the Dean of Students Office at (415) 422-5330.
Report online directly to USF.
Report online through Callisto, a third party online site offering additional sexual assault resources and reporting options.
Tell other USF employees - like your Resident Advisor, Residence Director, or other trusted USF faculty or staff.
Call USF Public Safety at (415) 422-2911 (emergency) or (415) 422-4201 (non-emergency).
Call the Police - an SFPD officer will visit you. In an emergency call 911. Non-Emergency call (415) 553-0123.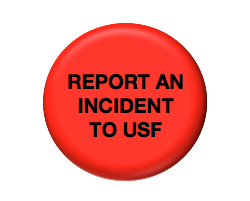 Report a Concern Through Callisto
There are accountability options available to you through the University only, through the criminal system via SFPD, or through both. If the alleged perpetrator is a USF student, the survivor is encouraged to file a complaint through the university disciplinary system.
If you seek medical attention, the hospital is required by law to report any incident of a sexual offense to the San Francisco Police Department (SFPD). However, that does not require you to press formal charges at that time, but you can choose to in the future.  The hospital will not notify the University.
Public Safety is obligated to forward any report to SFPD; however, a decision to press formal charges or to meet with SFPD is not required.