Dear Members of the USF Community,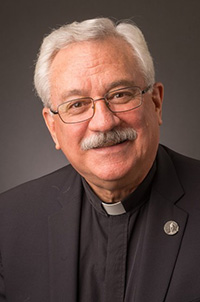 I am delighted to share the news with you that Rev. John P. Fitzgibbons, S.J., has joined our community to serve as chancellor of the university.
Rev. Karl Kiser, S.J., provincial of the USA Midwest Province, has missioned Fr. Fitzgibbons to USF, and Rev. Sean Carroll, provincial of Jesuits West, has received him and affirmed this mission. 
The position of chancellor at USF, which reports to me, has been vacant since 2017 when President Emeritus Rev. Stephen Privett, S.J., left the university to become president of Verbum Dei High School in Los Angeles. Fr. Privett also served as USF president from 2000-2014.
Fr. Fitzgibbons will serve as a member of the President's Cabinet and the Leadership Team, as well as the university's chief mission officer, succeeding Erin Brigham. After her very successful term in this critical role for the university, she will now focus on her leadership of the Joan and Ralph Lane Center for Catholic Social Thought and the Ignatian Tradition. I am grateful for her exceptional work as chief mission officer.
As chancellor, Fr. Fitzgibbons will also be a principal ambassador of the university to our alumni, benefactors, and neighbors.
Prior to joining USF, Fr. Fitzgibbons was president of Regis University in Denver, where he served for 10 years, from 2012 to 2021. Returning to USF is a homecoming: he first came to USF in 2006 when then-president Fr. Privett named him an academic dean and vice president for administration. After serving as assistant provost for faculty development at Marquette University from 2009 to 2012, he took office as the 24th president of Regis. 
A native of Omaha, Nebraska, Fr. Fitzgibbons joined the Jesuits in 1973 and was ordained a priest in 1985.
Fr. Fitzgibbons holds a doctorate in English from Loyola University Chicago, a master's in sacred theology from the Jesuit School of Theology at Berkeley, a master's of divinity from the Weston School of Theology, a master's of arts in English from the University of Chicago, and a bachelor of arts in philosophy and English from Saint Louis University. He also serves as a member of the board of trustees at Loyola University Chicago and a member of the board of directors at Georgetown University.
I am grateful for the gifts, talents, experience, and wisdom that Fr. Fitzgibbons brings to this assignment. Please join me in welcoming him back to our community.
Sincerely,
Paul J. Fitzgerald, S.J.
President