Dear Members of the USF Community,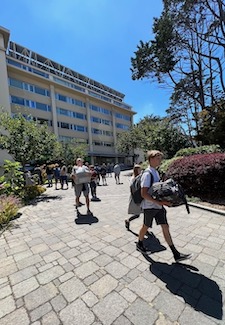 Over the past several weeks, our campus has been bustling with students moving in and making their residence hall rooms their own, meeting new friends, connecting with new mentors, and finding their way around our beautiful campus. New transfer and graduate students have arrived, and continuing students have made their way back. As I walk around campus, I feel the excitement, the promise, the possibilities of the year ahead. It's among my favorite moments in the life of our university each year — second only to commencement!
This fall we welcome approximately 1,140 first-year students who come from 51 states and territories and 61 countries, 34 percent of whom are the first in their families to attend college. In addition, more than 300 transfer students have joined us. Over 3,000 new students and family members filled War Memorial Gym for our welcome gathering, which was among 70 orientation and welcome programs to help new students become part of the fabric of USF, including events for first-generation students and Spanish-speaking families, and an inaugural orientation for Asian American and Pacific Islander students. In addition to the more than 1,400 new undergraduate students, this fall we also welcome 1,400 new graduate students across our schools and the college.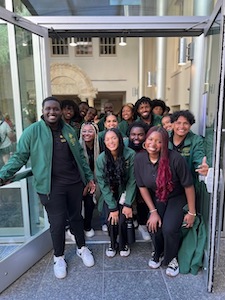 I am grateful to the amazing staff in Student Life — and the volunteers from across the university — who helped our students move in, answered questions, and set them up for success as the semester begins. I have had the pleasure of meeting so many of these students, and I can tell you this with certainty: they are smart, they are creative, they are bonding, and they are here to change the world for the better. 
I was happy to see our faculty, librarians, and staff at convocation earlier today (if you missed it, the video will be posted online soon), where Interim Provost Eileen Fung and I provided a number of updates on the state of the university and how we are working to ensure USF students have the resources, support, and opportunities they need to realize their dreams. Critical work ahead includes growing enrollment and diversifying our revenue streams by evolving our academic offerings. To that end, we are engaged in a redesign of our undergraduate core curriculum, working to reinvigorate existing programs and create new ones to meet the needs of a post-pandemic world. I also shared updates on facilities projects, including work in Presentation Theater that will allow it to reopen this fall, new student housing in the Lone Mountain Pacific Wing, progress on the basketball practice facility opening in September that will make the gym available for more campus events, and planning for interdisciplinary life and health science programs in the Jesuit tradition that will inform the renewal and modest redesign of the Masonic East building. 
At the heart of all of this work — and of all that we do — is our commitment to students, ensuring that they take away from their USF education the skills, the sensitivities, and the knowledge to create a more just, humane, and sustainable life for the communities and projects they will go on to lead. This commitment is rooted in the arts, humanities, and sciences, and it is solidly aligned with USF's Jesuit Catholic values, values that find expression in the other faith traditions, Buddhism, Hinduism, Islam, Judaism, and more, that inspire so many members of our USF family. Our shared values inspire our students, faculty, staff, and alumni to live their lives as agents of change and leaders in radical hospitality — in sharp contrast to the increasing and alarming tribalism we see here in our country and around the world. As I see and reflect on the wonderful promise of our current students, the dedication and commitment of our staff, librarians, and faculty, and the inspiring work of our alumni, I am heartened and hopeful for our collective future.
For those of you affected by wildfires, torrential rains in Mexico and Southern California, and other calamities, my deepest sympathies. For those who passed a quiet and peaceful summer, with time to relax, reflect, and recharge, my congratulations, and for those of you who were mostly working on university projects these last few months, my gratitude. I wish each and every member of our beloved USF community a successful, inspiring, and joyful year. 
Sincerely,

Paul J. Fitzgerald, S.J.
President